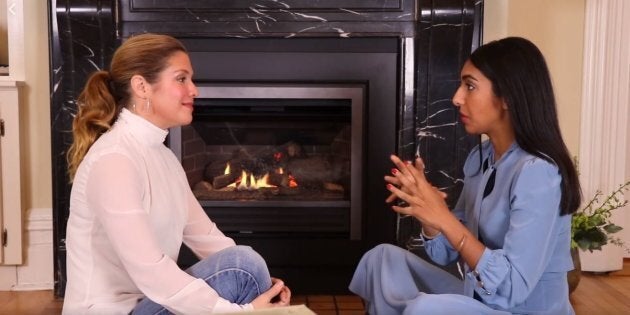 There's a reason Rupi Kaur's work has resonated with so many readers. The Canadian poet writes honest reflections about life and isn't afraid to tackle serious issues, such as sexual assault, gender dynamics, and healing after trauma.
On Saturday, the wife of Prime Minister Justin Trudeau sat down with Kaur to discuss the poet's personal challenges and how she's overcome them.
"I think one of the biggest struggles that I've had to go through, that's kind of allowed me to be where I am today, is feeling and experiencing so much that I just didn't have the words to describe," Kaur told Grégoire Trudeau. "Whether that was violence that was inflicted onto this body, or just experiencing all of these heavy, heavy, emotions that I was never taught to express."
According to the poet, this "sense of voicelessness" is what spurred her to get on stage one day and share a poem she had written.
"In 2009, I woke up and just did everything that my personality was against," she said. Because of this experience, Kaur says she was able to find healing in her poetry, however, she also realized that healing never ends.
"You know, I thought like, 'OK I've written about this topic now for long enough and that means I must have healed from it.' But that isn't how it works," she said. "Healing is like everyday work and there is no finish line. And I think the process of healing really starts with self-reflection and sitting with yourself. [But] I think you also have to sit with the people you love and that you trust and allow them to carry you and support you, cause there are gonna be days that you can't carry and support yourself."
Kaur only addresses her experiences with abuse and sexual violence in her poetry, however, last year, she gave her first TEDx Talk where she described her experience with sexual assault and how she decided to take back her body following the incident.
Grégoire Trudeau's interview with Kaur sheds light on how important it is for victims to talk about their experiences and ask for help. In fact, this is a message Grégoire Trudeau has been trying to send through her work as a women's activist.
While in Vancouver earlier this month, the 42-year-old told CBC that there is power in sharing stories. "We realize that by sharing our path of suffering, by sharing our stories and what has happened to us, we are realizing that we are not alone in this," she said.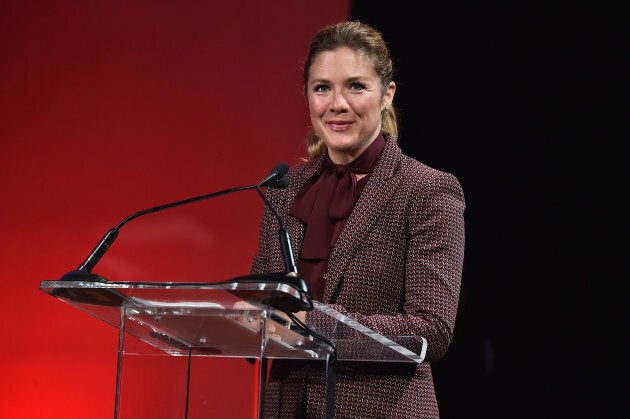 The campaign not only asks people to speak up against gender-based violence, but also encourages them to talk about ways they can help end violence against women.