Sophie Grégoire Trudeau isn't just the wife of Canada's Prime Minister. She's also a mom with many talents.
On Sunday, Grégoire Trudeau revealed her artistic skills by sharing a photo of the paintings she made of her kids. She then opened up about the importance of encouraging young Canadians to pursue the arts.
"My daughter Ella-Grace asked me to prep a canvas for her after seeing me finish the two paintings of her and Xavier," the 41-year-old wrote on Facebook. "My heart is just melting. When kids do art, they just let go and are so calm and present... We could all learn from their example!"
Grégoire Trudeau is right. Arts and crafts benefit children in a number of ways, including helping them develop fine motor skills, strengthen their problem solving, and encouraging them to be creative, critical thinkers.
Not only that, but research shows that the arts have a positive effect on mental health, for children and adults alike. According to the Washington Post, creating art is a form of meditation since it trains the mind to focus on the task at hand. Creating art also "emphasizes acceptance of feelings and thoughts without judgment and relaxation of body and mind."
For kids specifically, "the biggest advantage is that art can express things that are not expressible verbally," Dr. Sarah Deaver, the President of the American Art Therapy Association, told The Huffington Post. "That's a huge advantage for people who don't have the language to talk about what's inside of them."
On Facebook, many users praised Grégoire Trudeau for encouraging her kids to create art and pursuing the arts herself. "You too are inspiring your children through your love of art," one wrote. "This is just one important reason we must always encourage and support artistic expression!"
Another said: "As an artist, teacher and hopefully one day art therapist I applaud this post! I'm a firm believer in the arts and hope to live to see the day when society places as much stock in the arts as other professions."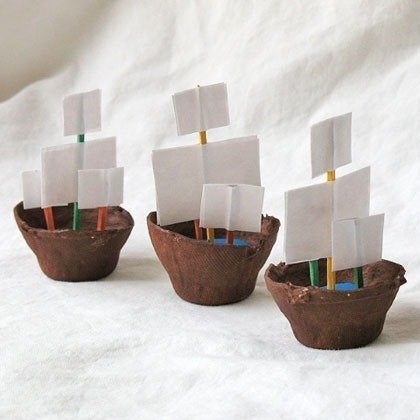 Fun And Easy Egg Carton Crafts For Kids