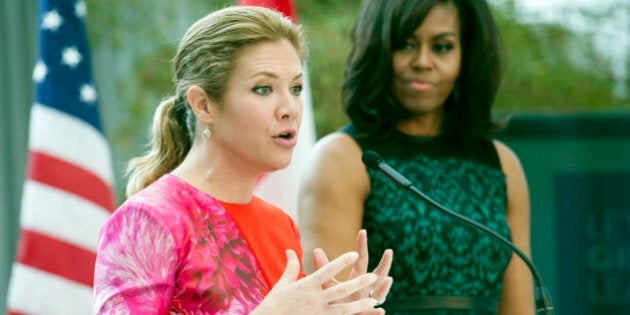 The #PrayforSophie hashtag continues to gain momentum, and so do the scathing commentary, the vicious memes, cowardly tweeting and news reports on theories like Tall Poppy Syndrome. The backlash has even gained notice internationally, framing Canadians as a society of complainers.
All because a working mother publicly acknowledged that being a mother to three young children, a wife who is actively supportive of her husband's career, a citizen who wants her country to shine positively on the world stage, and an ambassador to numerous charities and causes -- let alone a woman who may have needs and wants of her own -- is a lot to handle and she needs help.
You see, it's 2016 and we women can have it all. At least that has been the message we've received since we were pre-pubescent girls.
Yes, Sophie Grégoire Trudeau asked for help.
And with that request, a firestorm has ensued that has attacked her station. I don't mean her ambiguously political role as the spouse of Canada's prime minister or her status of privilege. I very much mean her standing as a working mother.
Sophie is being publicly shamed for having nannies. She is being shamed for her willingness and drive to play an active role in her community, her country and on the global stage. She is being shamed for supporting her husband. And, worst of all, she is being shamed for asking for help.
Countless Canadian working mothers, this writer included, work outside their homes. And to do so they have the support they need to care for their children. And, like Sophie, we support our partners, we engage in activities that are important to us personally or professionally, and we try to be good sisters, friends and so on.
We wear many hats -- some out of necessity and others out of desire and choice. You see, it's 2016 and we women can have it all. At least that has been the message we've received since we were pre-pubescent girls. That if we want it, we can have the family, the career, the loving relationship with our partner and, well, anything else our hearts so desire.
Yet, in order for us to have it all we have to do it all.
Even though the number of working mothers in Canada has increased 133 per cent since 1976, working mothers do the bulk of household chores. Seventy-nine per cent of working mothers remain responsible for laundry and moms are twice as likely as dads to take care of the cooking.
Despite these feelings of overwhelm, working mothers find it difficult to ask for help. Asking for help is a sign of weakness. It's a sign that we were foolish to think we could have it all. It's a sign that our suspicions were right -- we aren't very good mothers and we can't cope with the demands at work.
This fear of not measuring up and the guilt that comes with it is only made worse when a working mother like Sophie has the courage to ask for help, and then in response, is shunned, ridiculed and told to take off her shoes and get back into the kitchen.
This guilt and stress is taking a toll on working mothers' physical and mental health. According to a survey 88 per cent of working parents suffer from stress-related health problems and another survey found that one in four working moms cry alone at least once a week. This is having a real impact on our children, our relationships and the work we do inside and outside our home.
It's time we get over the guilt.
Most of the time, mommy guilt is based on social expectations and the unwritten rules that tell us what we should and shouldn't do to be a good mother, wife, professional and so on.
Instead of taking on this guilt, we need to rally against these traditional ideals. This starts by assessing our very personal situations to determine what it is that we need at home, at work and elsewhere in our lives to keep doing the things we want and need to do for ourselves and our families.
Then we have to be bold enough to ask for that help.
Follow HuffPost Canada Blogs on Facebook