A Halifax book launch for a Montreal cartoonist was cancelled last week after the cartoonist was flooded with threatening messages because of her transgender identity.
Sophie Labelle was set to host the event at Halifax's Venus Envy sex shop and bookstore to celebrate the launch of her comic book, "Dating Tips for Trans and Queer Weirdos."
She said she's used to dealing with transphobic vitriol, but days before her May 17 event she received thousands of messages including death threats.
"They filled my page with neo-Nazi imagery and references to the Second World War and the Holocaust," Labelle told HuffPost Canada on Tuesday.
"(Their message) is that there's only two genders, (to) gas trans people...it comes from a vision of the human race influenced by eugenics and this idea that there's only one way to be human and I think we need to fight back against that."
She was made the target of an online "raid" on trans-positive spaces by alt-right, conservative, and anti-transgender groups.
She said she faces online harassment regularly.
"I would say a big raid like that might happen once every other month, maybe not that big of a raid, but a raid happens quite frequently," Labelle told HuffPost Canada on Tuesday.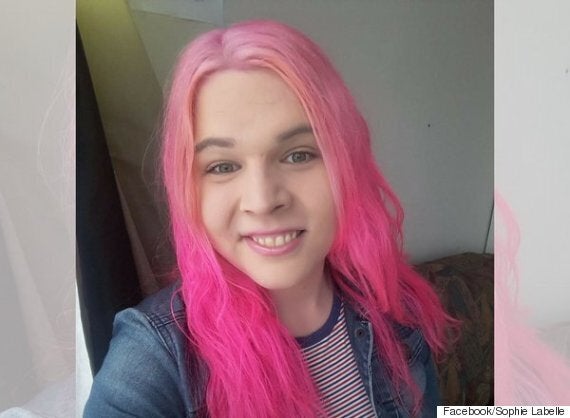 "But then I get smaller groups attacking me pretty much every other day— we're talking about a couple dozens of people— so really my daily life is to ban those people and to delete their comments."
Labelle said after one of the hate groups was shut down by Facebook, she became the main target and began to receive hateful messages and anti-LGBTQ images. Her home address was also posted online, forcing her to move.
She runs an popular Facebook page called Assigned Male Comics, where she regularly posts her work. Her storylines are focused on LGBTQ characters — mostly youth and teenagers — as they navigate life.
Store couldn't guarantee safety
Venus Envy Halifax's business owners and customers also received threats over the event.
"The safety of our guests, staff, and customers is our highest priority," the post read.
"We don't allow bullying or threats, and we have no tolerance for transphobia, homophobia, racism, or misogyny (especially the vicious cocktail of these that rears its ugly head at trans femmes on the Internet)," it said.
Often targeted because she depicts youth
Labelle said that one of the reasons she gets targeted online is because her comics often feature young people.
"People often see trans-ness as a perversion or a fetish," she said.
"So seeing queer and trans youth interacting and having as a life— it really pisses them off."
Labelle said the book she was supposed to celebrate is one of her cutest stories yet.
"It's the most adorable one that I've ever produced," she said, explain it's a love story between two queer teenagers.
"And yeah, I got neo-Nazi threats for that."
Galvanized by the threats, Labelle said the incident has made her more determined to keep drawing.
"I think that the kind of work that I do is necessary.," she said.
"What I really want is to empower trans people, to get them to talk about our microaggressions that we live (through) on a daily basis in a relatable way and feel like we're part of society's imagery."
She's hoping the backlash will broaden the public's awareness about transphobia.
"People don't have to interact with that kind of thing," she said.
"They cannot imagine that this is our daily lives, this is what we're going through for being visible and outspoken, and having a positive message about trans-ness."
Stay On Top Of The Trends

Get the biggest lifestyle news sent to your inbox