For some, saying sorry is a reflex, but overusing the word may be sending the wrong message.
Not that you shouldn't own up and genuinely apologize when you've done wrong, but "sorry" manages to find its way into statements that don't have anything to do with reparation.
"Sorry, I have a question." Or, "Sorry, I'm boring you aren't I?"
It's been discussed and studied time and time again as a "feminine" characteristic. And abusing the word "sorry" is also known as a Canadian thing. But forget who's doing the over-apologizing — either way it's a habit we need to drop.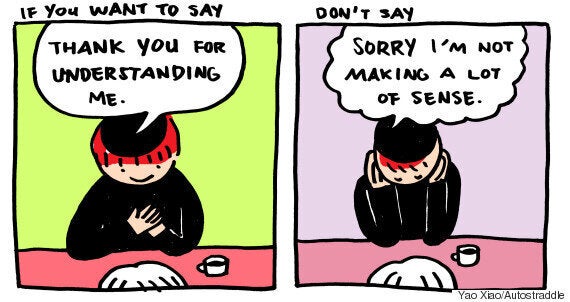 In a work setting, it may not evoke the tone you're going for either. Gmail even developed a plugin to call your attention to any qualifiers you may be using in emails. Think, "I was just wondering" or "sorry to bring it up again."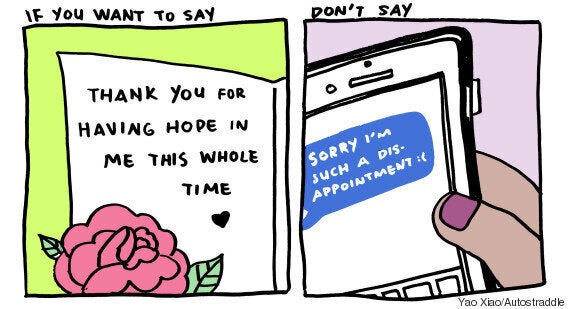 Apologizing too much can be read as insincere over time. Karina Schumann, a psychologist who studies the use and abuse of the word "sorry," tells the National Post that the word can be used as more of a "politeness strategy," as opposed to an apology. The Post calls this the "northern sorry" that Canadians tend to use in an effort to maintain peace without being passive aggressive.
She tells Upworthy she was inspired to create the comic when she realized how much she appreciated her friends, but that it may not be conveyed well with the word "sorry." Perhaps a thank you would be better.
By changing the terminology, Xiao showed how a more positive tone can change the conversation. Instead of "apologizing for simply existing," which can put your friends in the position of needing to comfort you, writing or saying "thank you" better shows that what you really meant to do was demonstrate your appreciation.
Life Hacker suggests having an "apology recap." After you say sorry, consider whether you actually did something wrong. And if you didn't, is that what you really wanted to say?
It'll take practice, but when in doubt, visual aids always help.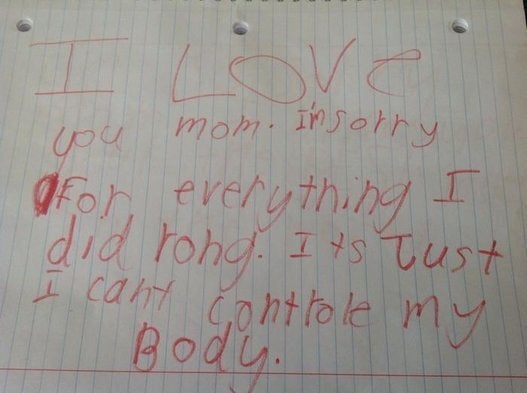 Kids' Sorry I'm Not Sorry Notes Are Hilarious