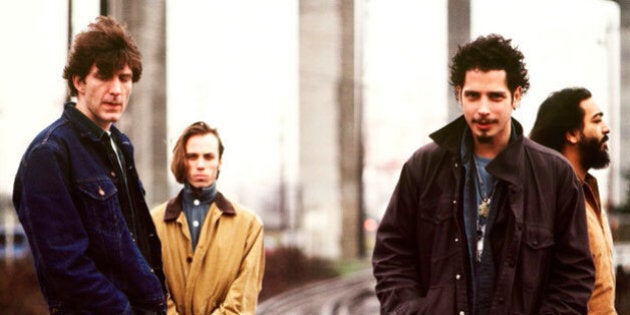 By early 1994, Grunge had already changed the mainstream musical landscape forever. At the decade's onset, the success of albums such as Nirvana's "Nevermind" and Pearl Jam's "Ten," had thrust the Seattle rock scene onto the world stage taking many of it's brightest proponents along for the ride.
Despite arriving a little late in the game, Soundgarden's fourth studio album, "Superunknown," which was both a critical and commercial success, catapulted the band to the top of the charts and solidified their place in rock's major leagues.
So here we are, 20 years later, and we're still talking about it because there have been few bands since that have nailed a breakthrough album to the wall with such force. Truly a magnum opus, "Superunknown" took everything that Soundgarden was up until that point –– a kind of gnarly, riff heavy, droned out force that was slightly too cerebral for mainstream metal audiences –– and turned them into hard rock heavyweights that embraced a certain dark and twisted psychedelia, which flourished in the presence of a newly evolved penitent for songwriting.
"Superunknown" was Soundgarden's first fully formed musical effort. Although 1991's "Badmotorfinger," was a step in the right direction, this time around all of the pieces fit. On "Superunknown," we saw much more refined songwriting from the band, more detailed arrangements and a more intentional approach to atypical time signatures, but most importantly we saw the successful integration of pop structures into some of the most robust and well-crafted songs of their career.
It was also the first time that fans of the band were able to hear the rawness in Chris Cornell's voice in such an upfront and melodic way. Songs like the illustrious "Black Hole Sun" and "Fell On Black Days," cast Cornell's vocal abilities in a much more nuanced light. Lyrically, the album was shockingly dark, even for Soundgarden. Despite the media having named Kurt Cobain the genre's reigning poster boy for teenage angst, "Superunknown" saw Chris Cornell step out of the shadows to very openly take on ideas of substance abuse, depression, suicide, fear, seclusion and revenge, making him one of alternative rock's most respected songwriters.
What remains so great about this album even 20 years after the fact is that it stands as a monument to a very distinct moment in this band's history -- the moment they finally figured it out. "Superunkown," wasn't just another breakthrough, it was a shinning example of how, given enough time and persistence, a band can learn to convey their specific message –– no matter how crude––in a way that the masses wish to understand. Soundgarden may have bridged an ever-widening gap between rock and pop with this release, but they did it with what was left of grunge's integrity and a ton of fervor.
Soundgarden will be performing "Superunknown" live and cover-to-cover for the very first time at this year's iTunes Festival during SXSW on March 13th. Can't make it? Then tune into a live stream of the show via www.iTunes.com/Festival.