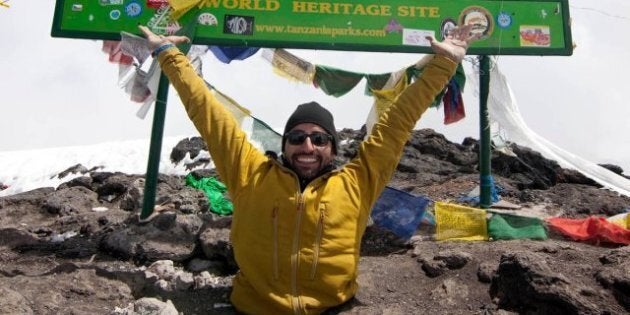 Never tell Spencer West that he can't do something.
A congenital spinal disorder rendered his legs useless, so at age five, West underwent a double amputation to remove them. Doctors predicted that West would never walk and told his parents that he would never be a productive member of society. Even then, with all odds against him, West pushed limits and learned to walk on his hands.
His biggest challenge -- so far -- was climbing Mount Kilimanjaro for charity last June. West summited Africa's tallest peak, climbing hand over hand to 19,341 feet, and raising more than half a million dollars for Free The Children's clean water projects in Kenya. That was last summer.
Today, we were with West as he kicked off the We Walk 4Water campaign, starting a 300-kilometre trek from Edmonton to Calgary. He and his buddies, David Johnston and Alex Meers -- all veterans of Kilimanjaro -- are walking in solidarity with the millions of women and children around the world who must walk for hours each day to collect water for their families.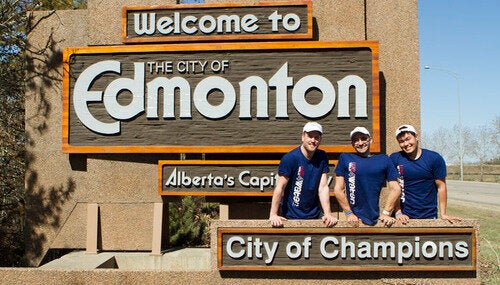 This morning, West warmed up and took his first steps with students from Johnny Bright School, along with Degrassi's Munro Chambers and Aislinn Paul. En route, West will be joined by Grammy-Award winning artist Nelly Furtado; reality TV personality Ethan Zohn, and U.S. Army veteran and Dancing with the Stars winner J.R. Martinez. But perhaps most touching are two very special guests, Me to We Artisans Mama Leah and Mama Monica, who flew all the way from Kenya's Maasai Mara to take the first few steps with West. He's now leading the way with an entourage behind him.
West can use the support. He has been training for weeks to prepare for the walk, which might prove even more difficult than his Kilimanjaro climb. No one can predict how same repetitive movement for hours at a time will affect him and knows he must take care of his joints. His trainers have told him he must be careful to stretch.
Money raised will support Free The Children's year-long Water Initiative to provide 100,000 people around the world with a permanent source of clean water.
Already on his way in Edmonton, West will walk an average of 30 kilometres daily over the next 11 days -- on his hands and in his wheelchair -- all the way to Cowtown.
We like to say that West is a giant. He's brought new energy and a renewed perspective to Free The Children. There is a perception among some that it's really difficult to change the world. But West, who has faced many challenges, proves that if he can do it, anyone can. He's redefined possible.
As West begins his latest journey, watch for updates at Huffington Post Canada online in the days to come. Learn a bit more about West here:
Craig and Marc Kielburger are co-founders of international charity and educational partner, Free The Children. Its youth empowerment event, We Day, is in 11 cities across North America this year, inspiring more than 160,000 attendees from over 4,000 schools. For more information, visit www.weday.com.