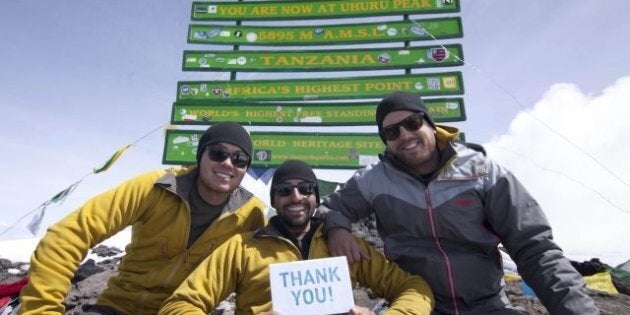 In the past, Spencer West had been told he wasn't capable of accomplishing a lot.
Born with an abnormal development of the spine called sacral agenesis, West had to have his legs amputated below the pelvis at age five. As a result, many people thought he's never be a functioning member of society, and doctors told his parents about as much.
But in June, the 31-year-old proved his naysayers wrong. With the support of his two best friends, David Johnson and Alex Meers, West did something most people will never attempt to do or even dream of -- he summitted Mount Kilimanjaro. And he did this in seven days by climbing mostly on his hands.
The Huffington Post Canada Impact caught up with West after he returned home to Canada to ask him about the highs and lows of climbing 5,895 metres up one of the world's highest mountains.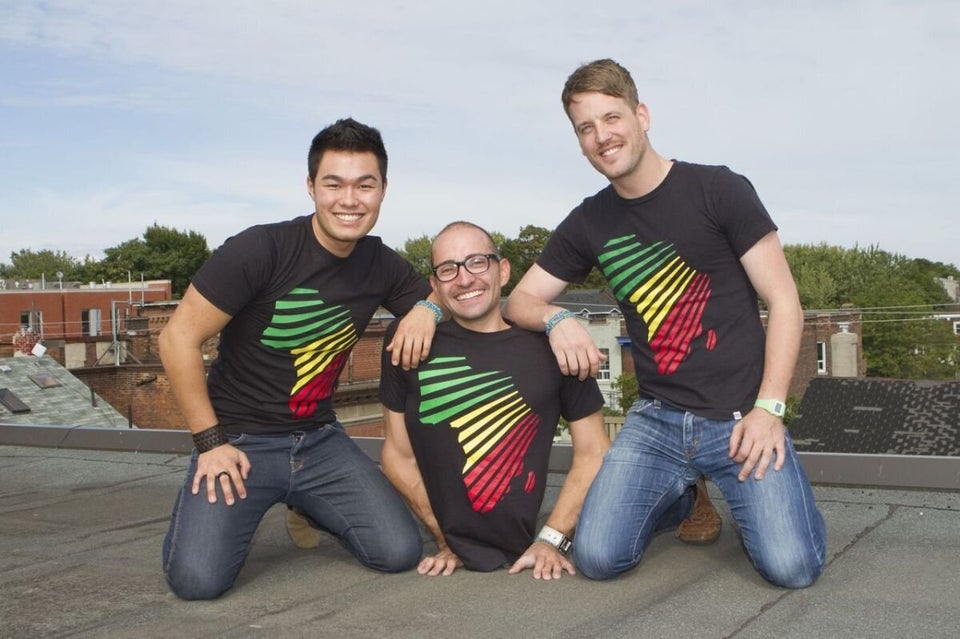 Pictures Of Spencer West's Mount Kilimanjaro Climb
How did your parents react when you told them your plans?
My poor mother; she's so lovely, but the minute I told her [my climbing plans] she was like, "oh man, really?" She was a nervous wreck the entire time -- for the whole year leading up [to the climb] and then during. My dad, on the other hand, is still mad that we didn't ask him to climb with us.
How did you physically prepare for the climb?
We were working with a personal trainer for almost a year. The YMCA was really great about giving us memberships and we started running on their track. There's a hill in Riverdale Park (in Toronto) we could run up just to get us ready for the mountain. When I wasn't in Toronto, with my trainer, I tried to do as much as I could on the road.
As the climb grew near, did you have any fears or doubts?
Absolutely. Of course. It's the largest free-standing mountain in Africa, and half of the climbers don't make it to the top. The one thing you can't train for is altitude sickness. Some people I know climbed it and said it was amazing, while others said it was the hardest thing they'd ever done. It was really hard to gauge what it was actually going to be like. There was [a lot of] nervousness, fear and anxiety.
What happened when the going got tough on the mountain?
To be fair, even on the first day it was difficult. We anticipated I'd be able to [climb] half (of the mountain) on my hands and half in my wheelchair. But when we got there, on the first day, it was more than half on my hands and a lot less in my chair. From day one, we thought it was going to be a lot harder than we expected. Contrary to popular belief, your arms aren't meant to be walked on, especially for eight days in a row.
How did you cope with the challenges?
I had to let go and let someone help us. I put my faith in someone else because my guide said, "I don't know if we're going to make it at this pace if you keep walking this much. You're going to have to let us carry you a bit."
What were the weather conditions like?
It was challenging at night. We were sleeping in a tent on the ground and it was cold. At one point, we were using three shirts, a fleece jacket, a toque and gloves and were still cold, huddled together in a tent.
Your friends suffered from altitude sickness (headaches and vomiting) in the days leading up to -- and on -- summit day. How did you push on?
I thought, "Today is one of those days I wish I had legs because if I did I would carry my friends to the top. I stood between my friends and slowly, hand by hand and foot by foot, we walked until we made it to the top. As we were walking, I thought [climbing was] for all those kids who have been bullied or for anybody who thought they could be held back. I want to use this [climb] as a symbol to show [everyone] that anything is possible. Once we made it to the top it was definitely bittersweet. We all collapsed and hugged and cried a bit.
Cairns, which are inukshuk-like rock formations, lined the route up to the top and became very meaningful during rough times on the mountain. How did they help get you through?
They're a symbol for when you feel lost, they'll show you the path again. That was probably the most powerful and spiritual moment that my buddies and I had on the mountain -- other than the summit; [there] was this idea we're all cairns in some way. I've never actually understood why people are so inspired when I tell them things about my life, but when I heard this story, I thought, "Maybe I'm a cairn; maybe I'm a symbol for when [people] feel lost." If I can do [this], then so can [anyone].
It's just incredible. We've been beautifully overwhelmed by the response and so humbled by how interested people are in what we're doing. Never in our wildest dreams did we think it would ever get this big.
You came up with the idea of fundraising for sustainable clean water projects last summer after seeing the effects of a drought in Kenya. What was it like?
It was one of the largest droughts in East Africa in over 60 years. I saw cattle that were just skin and bones. This incredible community... needed my help.
What will a clean water source mean for the Kenyans you're trying to help?
Kids will no longer have to go to the river to collect water. They can go to school and focus on getting an education and won't have to worry about where water is going to come from for their crops and livestock.
For more information about West's Redefine Possible campaign and the Free the Children initiative, visit West's blog here.