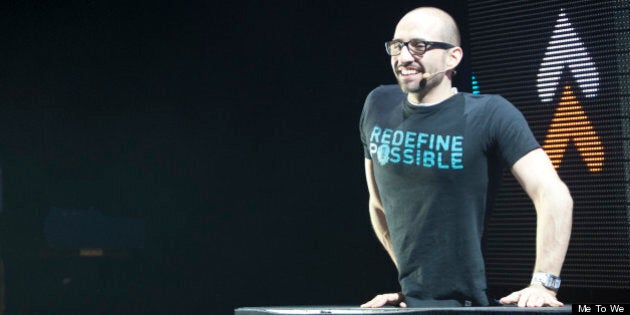 When we set out to walk from Edmonton to Calgary three days ago, we didn't really know what to expect. Last summer our journey to raise money for clean water in developing communities had us climb Kilimanjaro, but in some ways Alberta's flatlands offer more unforgiving terrain than mountainous peaks.
The repetitive motion is tough on joints -- especially when you're walking on your hands. I'm not afraid to admit that I'm sore. There's been a lot of Rub A535 going around. So after an exhausting two days, it was a relief to be greeted by the warmth of a community that is equally passionate about clean water rights.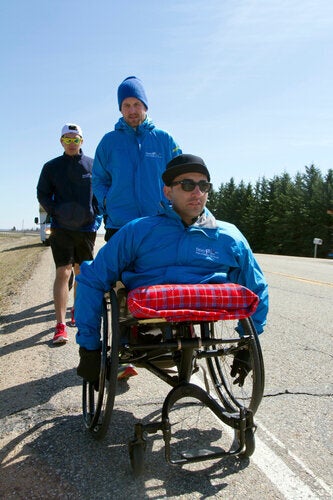 Spencer with singer Tyler Shaw and buddy Dave Johnson. Photo: Michael Rajzman
Yesterday, our pace had started off somewhat slow, to be honest. The whirlwind of the first two days' treks combined with the distance covered meant that my best friends, Alex Meers, Dave Johnson, and I weren't as physically energized as we'd hoped.
By early afternoon, as the sun started to beat down, we were approaching the small town of Hobbema, the 100-kilometre mark of our 300-kilometre journey. It appeared as though a small group waited for us up ahead -- a few dots on the flat horizon.
But as we grew nearer we realized this wasn't a handful of onlookers. This was a crowd at least one hundred strong at the road's edge. It turned out to be supporters from the Samson Cree Nation. And not just some of them. All of them.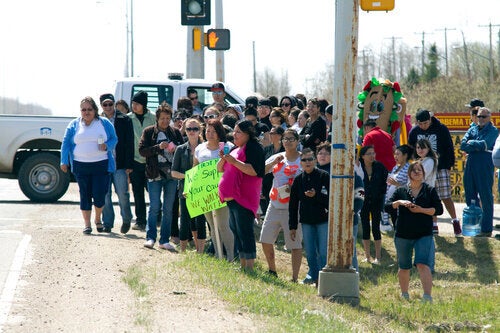 The community had heard about our journey to support Free The Children's clean water programming overseas, and did a little preparation of their own in an anticipation of our arrival. Well, more than a little! To say that their welcome was overwhelming doesn't do it justice.
The cheering came first, and when that subsided, we were surrounded and presented with gifts -- including a traditional blanket, which I was soon wrapped in. And that was followed by a short speech from the band administrator, Cyndie Buffalo, who let us know the entire community supported our goal for clean water; a cause which they hold very close to their hearts.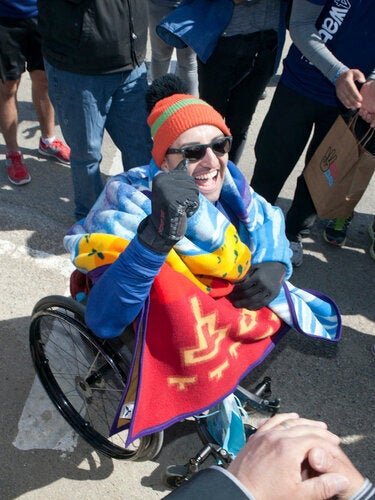 It wasn't until after we said our goodbyes and returned to the highway that we noticed the envelope tucked inside the box the blanket had come in. Inside the envelope was a beautifully written letter of support from the community -- and a very generous donation. It was one of those moments you can neither predict nor forget. We've said all along that support and awareness is our true ambition. And that remains.
We wanted desperately to think them, but we had no words. And we had already bid them farewell. Our 11-day trek resumed.
By Spencer West, Clean water activist, long-distance trekker, Me to We motivational speaker and double amputee.
Spencer West was born with a rare congenital spinal disorder and lost his legs at age five. As a double-amputee, West climbed Mount Kilimanjaro on his hands and raised over half a million dollars for clean water in developing communities. He's now in the midst of his latest journey, walking from Edmonton to Calgary to support clean water programming overseas. West is a Me to We motivational speaker and the author of Standing Tall: My Journey. Visit the We Walk 4Water campaign page to find how you can go the distance for clean water.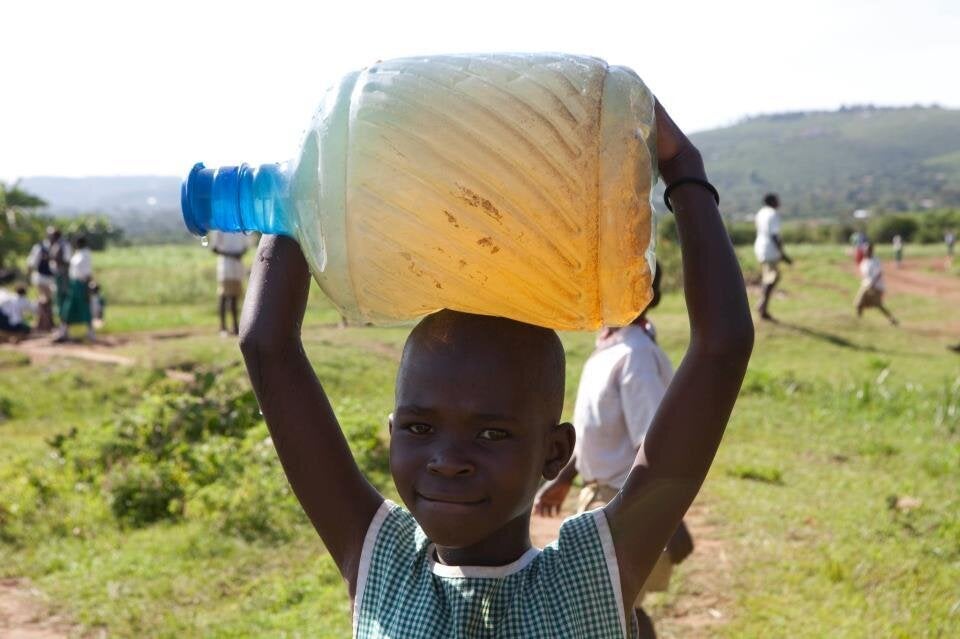 6 Water Charities In Canada