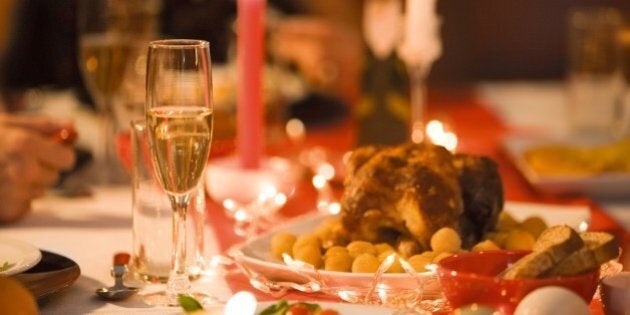 It's that time of year, when holiday cheer is upon us. For me, food and throwing fun dinner parties are both an integral part of celebrating the festive season.
Coming from India, I discovered a new love of eating turkey and all the classic sides that go with it, whether it's candied yams, buttermilk biscuits or silky soft mashed potatoes.
But when it comes to appetizers, instead of the usual chips, cheese plates or nuts, I plan to shake things up a bit this year with a few classic Indian appetizers -- lightly spiced and easy to make. For those who like it hot, or just mildly spicy, one can always take things up a notch. That's certainly a lesson I learned travelling through India for my new cooking show, Essence of India, returns to Canada's Gusto TV in January. The network is airing a full month of holiday food programming throughout December, so there are lots of ideas and recipes to mix things up.
Appetizers are always a good, easy way to experiment with new flavours and spices, and maybe bring a dash of spice into one's usual culinary repertoire -- especially around the holidays to set your celebration apart.
In researching and planning recipes, I didn't want to stray too far from the traditional meals served in North America. Two of my go-to recipes that are relatively simple to make are crispy Indian fritters and the other is a tangy street food called chaat. Who doesn't love fried potatoes with a dash of spice? Served with ketchup or chutney, they are sure to add that little 'wow' factor to your holiday table.
So here's an Indian fritter recipe, one I learned from my grandma's New Delhi kitchen on a cold winter's night. It's a recipe I tinkered with, so it's quite easily made in any kitchen across the globe. And with the wonderful addition of home delivery of almost any grocery item one's heart desires, experimentation is easy. Here's a few ways to spice up your holiday meals!
Indian-Spiced Vegetable Fritters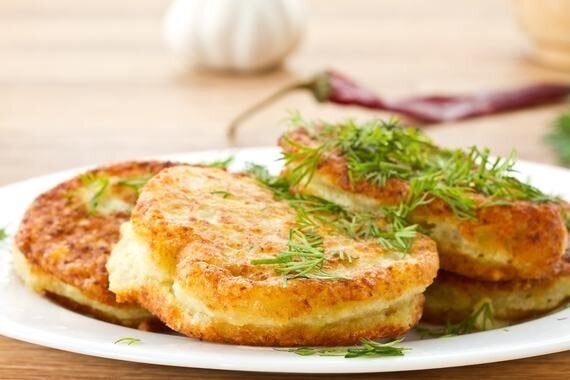 These are delicious potato and vegetable snacks that are best served as an appetizer or a starter. They are crispy on the outside, velvety smooth on the inside, and when served warm, they are my idea of perfection.
1 medium onion, peeled and diced
2 large russet or Idaho potatoes, boiled, peeled and mashed.
1 large or 2 thin carrots, peeled and grated
3 tablespoons all-purpose flour
1/2 teaspoon ground coriander
1/2 teaspoon ground turmeric
2 tablespoons ginger garlic paste
In a medium sized bowl, mix the mashed potato, grated carrots, corn, and peas.
Add cumin, a tiny pinch of turmeric, ground coriander, ground cumin, salt to taste, a little bit of ginger, garlic paste, 3 tablespoons of flour, and one beaten egg to the bowl. Mix all the ingredients together till there is a consistency.
Divide and shape the vegetable mixture into small round pieces.
Add about three tablespoons of oil to a saucepan over medium heat.
Place vegetable fritters in pan. Fry for about 4-5 minutes until bottoms are golden-brown on both sides.
Transfer to paper towels to drain;
These can be eaten plain or with mint chutney or even ketchup
If you want to keep the recipes as healthy as possible, use the oven to heat them at 300 degrees F for about 15 minutes and then broil them for a few minutes on each side for colour. That removes the deep frying step, but makes for a very satisfying dining experience.
Indian Street Chaat Recipe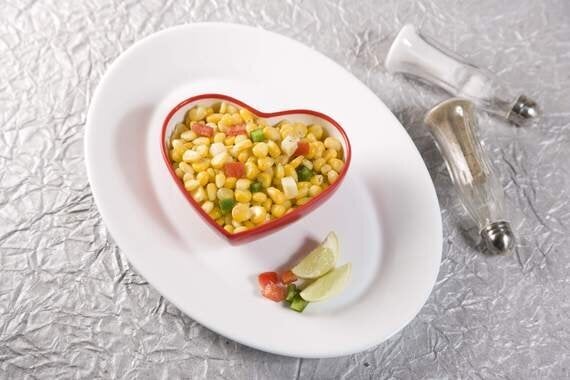 Another great and very simple Indian appetizer I make is chaat. It's a very popular Indian street snack eaten all over India.
It's a tangy, sweet, salty, spicy little treat found on every street corner. It really incorporates all the flavours of India. Making it at home can be a little challenging due to so many ingredients, but with my easy-to-follow recipe, this should be a breeze. My creative little twist is to add corn, a vegetable easily available in almost every grocery store. Fresh or frozen, corn is a great addition!
2 potatoes boiled and peeled (cubed)
One cup of boiled chickpeas
1 large Green Chili (sliced)
¾ cup plain Yogurt (optional)
One Onion (finely chopped)
1½ tbsp fresh Cilantro (finely chopped)
For Chaat Masala or Chaat spices:
Heat a frying pan and fry all the chat masala ingredients, until crisp.
Remove from heat and grind into a fine powder. Set aside.
Blend yogurt with ½ cup water until smooth. Set aside.
Heat butter in the same frying pan and fry potato cubes, chickpeas and green chili, until brown, on high heat.
Add boiled corn, salt, and sugar. Stir for 15-20 seconds and remove from heat.
Drizzle lemon juice and toss well.
Transfer the mixture into serving bowls.
Add 2-3 tbsp yoghurt (this is an optional step and ingredient) on each bowl and garnish with chopped onion and cilantro.
Sprinkle some of the prepared chaat masala or if you prefer a milder spice, just some cumin powder and serve.
These two simple appetizer dishes are sure to have your guests coming back for more - especially those with a spicier palate.
Gusto TV's Christmas Cooking Countdown
Watch Gusto TV's 'Christmas Cooking Countdown' starting December 8, with the best holiday cooking specials from home and abroad every evening until December 25 on Gusto TV. Get all of the recipes and more at gustotv.com, including daily features starting December 1 from favourite hosts Nigel Slater, Rick Stein, Rachel Allen and more. Catch a FREE PREVIEW of Gusto on now with Bell TV/Fibe Ch. 619/1619 and Eastlink Ch. 743 to January 8, 2015. On the west coast, Gusto can also be found on TELUS Optik TV.
Popular in the Community