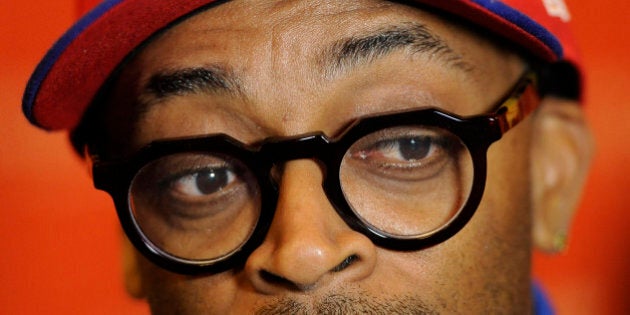 Since 1993, Spike Lee's Forty Acres and a Mule Filmworks has tackled tough issues and produced compelling drama that has gives a voice to communities that are underrepresented in mainstream media. Today, Spike Lee is giving a new generation of filmmakers a leg up and giving other communities a voice.
To date, Forty Acres and a Mule Filmworks has backed 13 projects and helped emerging filmmakers raise the balance of their production funds through Kickstarter campaigns and introductions to other key players in the film industry.
On Tuesday, February 10, 2015, after a VIP reception, an enthusiastic audience at the launch event for the Toronto Black Film Festival was treated to a unique film for which Spike Lee provided backing. Directed by Asian-American film-maker, Josef Kubota Wladyka, Manos Sucias, "Dirty Hands" in English, was shot along Colombia's Pacific Coast and in the predominantly Black barrios of Buenaventura. This feature film brought to life real-life experiences through a screenplay written by Josef Kubota Wladyka and Alan Blanco.
Manos Sucias follows Jacobo, an impoverished fisherman an experienced trafficker, and his half-brother, Delio, a novice, as they drag a submerged torpedo filled with packages of cocaine through mangrove swamps and choppy waters. The opening scenes reveal the desperate circumstances that lead both young men to undertake such a perilous journey into the world of organized crime.
On the surface, Manos Sucias appears to be a departure from some of Spike Lee's other projects. For example, the dialogue is in Spanish and the location is far from urban Bedford-Stuyvesant where Spike Lee got his start. Yet, there are similarities.
Manos Sucias gives a voice to the people of Buenaventura's barrios and exposes "bottom of the food chain," a side of the international drug trade not often seen. Gritty, disturbing and yet revealing the vulnerability of the protagonists, Manos Sucias reflects the theme of families surviving in urban ghettos explored in some of Spike Lee's other work like Do the Right Thing and Crooklyn.
An interactive Q&A session with Josef Kubota Wladyka and the audience via Skype took place after Tuesday's screening at the Toronto Black Film Festival.
In the words of the director:
"Manos Sucias is not another movie that glamourizes cocaine and the drug trade, rather it's a film that unveils the realities of exploitation of the children, impoverished fishermen, and families who are forced to be a part of this world. "

Josef Kubota Wladyka
With its naturalistic acting and the great care that has been taken to use the authentic local dialect it's easy to understand why Manos Sucias was recognized at the Tribeca Film Festival with the Best New Narrative Director award.
Readers will want to keep an eye out for the theatrical release of Manos Sucias.
https://www.youtube.com/watch?v=I0L-S9FVmrE
It will be interesting to see the other features and documentaries that emerge from Spike Lee's efforts to assist emerging film-makers.
Toronto Black Film Festival continues until February 15, 2015 with free industry panels and screenings of other innovative features, shorts and documentaries from Black filmmakers around the world at Carlton Cinema and Jackman Hall, Art Gallery of Ontario.