On Sunday evening, six people were killed and eight others injured when a gunman opened fire in a Quebec City mosque shortly after prayers.
One tweet summed up the instant, terrifying effect attacks like these can have even if people are nowhere near the scene:
"My parents just called me, rattled, to ask if I was ok in Quebec City," Faizal wrote. "'Better not tell anyone you're Muslim', my mom said. I'm done."
"Imagine not feeling safe in Canada while praying," he added.
This act of terror comes just days after U.S. President Donald Trump signed an executive order that banned citizens of seven predominantly Muslims countries from travelling to the U.S. for 120 days, and blocked the entry of Syrian refugees to the country.
"For two days I've been crying over the events in the US, while grateful that I'm in Canada. Now I'm crying again," the anchor tweeted in regards to Trump's #MuslimBan and the Quebec City attack.
And if there's one thing the 27-year-old wants his Twitter followers to know, it's this:
"The thing about Muslims is that we're just people like you. That's it. The end."
CLARIFICATION - Jan. 31, 2017: An earlier version of this story cited early reports indicating more than one attacker was involved in the mosque shooting. One suspect, Alexandre Bissonnette, has since been identified.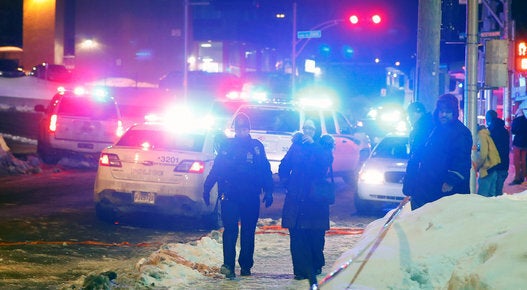 Terrorist Attack Shooting At Quebec City Mosque