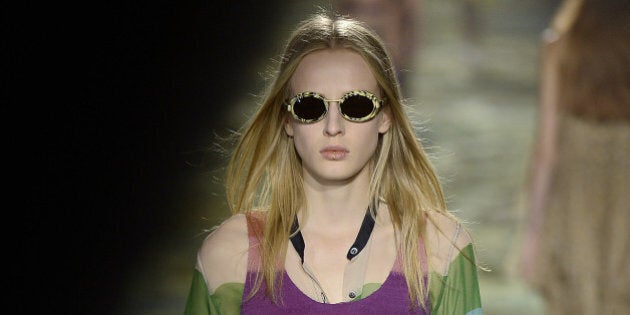 We know that spring seems so far away (sob!) but trust us, the time will go by quickly. (And in the meantime, ease the pain of the cold months with these chic winter accessories!)
However, stores are already trying to get rid of their winter stock to make room for the spring 2015 fashion trends that everybody and their cousin will be wearing.
So, without further ado, here are the 10 spring fashion trends that you're gonna want to get your hands on in 2015:
Story continues below slideshow: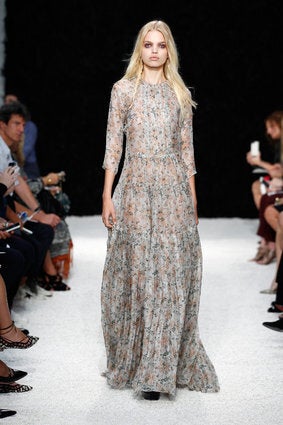 Spring 2015 Fashion Trends
Ditch your mini-skirts and tank tops for something a bit more romantic (and comfortable). The new boho look for spring 2015 comes courtesy of designers such as Vera Wang, who sent soft floor-sweeping dresses down the runway; Dries Van Noten, who got creative with funky prints; and Tommy Hilfiger, who dressed his models in hippie looks with a twist.
For all you brides-to-be who are getting hitched in 2015, this is your lucky year. The spring/summer 2015 runways were filled with a variety of gorgeous white hues on everything from mini-dresses to Victorian-era looks with a modern edge. Designers such as Louis Vuitton, Erdem and Givenchy gave the spring hue new life in their collections.
"Florals? For spring? Groundbreaking." Yes, we'll never get tired of listening to Miranda Priestly chastise a Runway minion, but she does have a point. Fortunately, designers such as Chanel, Marni and Miu Miu offered thoroughly modern florals for the thoroughly modern woman. Think big, bold and unabashedly feminine. Florals: they're here for good.
And we can't stop...and we won't stop (wearing crop tops, that is). Sure, Miley Cyrus made crop tops the uniform of 2013 and 2014, but the revealing outerwear of 2015 turns it on its head. Think ladylike and elegant (as seen at Oscar de la Renta), as well as boxy (at Marc Jacobs) and even brunch-worthy (as seen at Michael Kors). Crop tops are for everyone in 2015.
Sheer, Sheer And More Sheer
Let's face it: sheer fabrics are never going away and thank goodness—not only do they jazz up tops and dresses but they make us feel like we're wearing nothing, which is pleasing. But of course, designers wouldn't be designers if they didn't mix things up, which is why labels such as Ports 1961 and Roberto Cavalli led the charge with daring and outrageously feminine sheer looks on the spring 2015 runways.
There's no doubt about it: gingham is a bold look, but it wouldn't be spring if we weren't ditching our cold winter colours for a bright print. Luckily, there's a gingham for everyone come spring 2015, in the form of Swinging Sixties mini-dresses, crop tops (see above), power suits and adorable shorts.
Long live flats! Long live sneakers! The spring/summer 2015 collections basically said that heels are dead (RIP) and resurrected flats and sneakers as the go-to shoe of the season. Labels such as Chanel and Peter Som paved the way with their chic and comfortable footwear. (It's about time.)
Listen up, Canucks: denim is not just used for a Canadian tuxedo, ok? Ok. So, designers got to work at creating denim looks that were thoroughly cool and modern, including bedazzled pants (at Dolce & Gabbana), asymmetrical dresses (at Bottega Veneta) and comfy jumpsuits (at Chloé). You guys, denim is hip again!
Remember those Ralph Lauren polo shirts everyone wore in the '90s? Well, they're back and better than ever (and honestly, we'd never thought we'd say that). So yes, Polo Ralph Lauren sent his iconic shirt down the spring/summer 2015 runway but this variation was bright and paired with a maxi skirt, ensuring that you'll literally be the most comfortable person on Earth. Other designers got in on the classic look too, including Alexander Wang and Tory Burch.
Like florals (and apparently polo shirts), leather is here to stay. Designers such as Saint Laurent and Isabel Marant made us realize that none of us have enough leather in our wardrobes (as we look at at least 10 leather pieces in our closets) with fun pieces such as shorts, wide belts and the cutest jackets. We love you, leather.