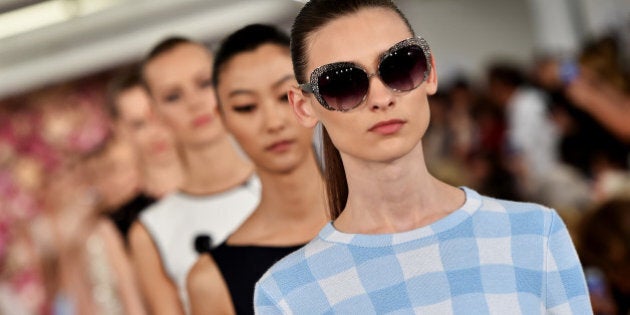 While we're not about to frolick about in shorts and mini skirts, there's nothing wrong with getting a head start on wearing spring's hottest trends right now as long as it doesn't result in frostbite.
Here are the top spring fashion trends you'll be seeing a lot of soon:
Gingham is back for another season (hooray!). This year, the popular crosshatch pattern has transformed into something a little sexier with designers like Oscar de la Renta, Diane Von Furstenberg and Altuzarra using it to create sexy sheer dresses, structured pencil skirts and matchy matchy twin sets. Who says you can't wear gingham in the winter? No one!
What could be warmer than a nice feathered plume? Spring 2015 is all about the bird and winter should follow suit in our humble opinion. We highly recommend a dramatic feathered skirt or a cardigan adorned with a couple feathery embellishments even in the cold months.
Charlotte Ronson and Rebecca Minkoff debuted a spring 2015 collection with sexy shirtdresses, featuring double high slits and styled to show off a lot of skin. This trend can be easily translated for winter by adding a pair of tights, sleek tall boots and a sweater layered over top for added warmth.
The apron skirt trend, seen on the runways of Peter Som and DKNY, might be more suitable for winter than spring, which is good news for those of us desperate to wear something other than pants. This cool new layering trick sees a skirt layered over a longer dress or skirt. With temperatures dipping, we'd never say no to an extra bit of fabric.
A fair bit of khaki made its way down the runway and we couldn't help but notice the safari chic influence in several of the spring looks at Acne and particularly at Ralph Lauren. Why wait for spring to get yourself a great pair of fitted cargo pants or safari-inspired jacket? Go get 'em, tiger.
Just because culottes are cropped doesn't make them unsuitable for the winter. A pair of thigh-high boots will make this trend—seen on the runways J.Crew and Tibi—a perfectly viable option even in the dead of winter. Top it off with a crisp white oxford with a thin turtleneck layered underneath to make the most of this look.
This isn't the first or the last time you'll hear about the sporty luxe trend. Designers have really taken a shine to the idea of infusing ready-to-wear with athletic-inspired minimalist touches. The relaxed fit of this trend allows for layering, making it a great spring trend that can easily be reinterpreted to suit colder weather.
If you only ever thought of denim as a pair of jeans, spring 2015 proved you wrong. The classic American textile was clearly a focus for designers who used it to create updated jumpsuits, coats and dresses. We've never quite seen denim like this and lucky for us, the versatile fabric is appropriate all year round.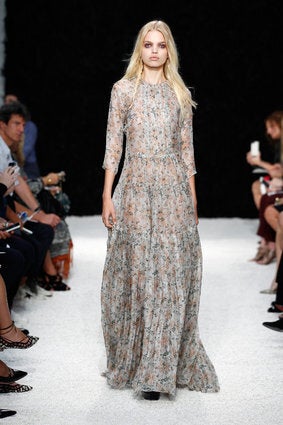 Spring 2015 Fashion Trends