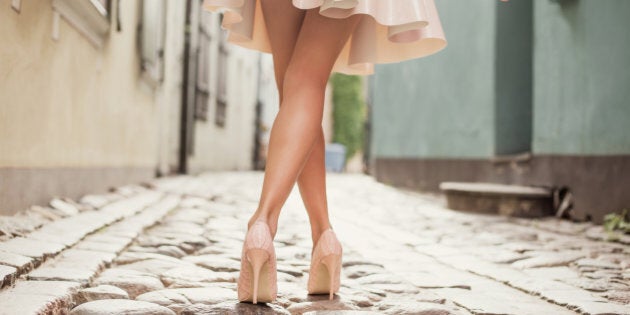 Every year around this time, as the thermometer slowly creeps up and magazines covers advertise the latest spring trends, I take a long look in the mirror.
The months of cold, dry weather, skipping workouts and eating hearty meals have taken a toll on my skin and on my waistline.
So instead of embarking on another healthy eating kick or heading to the gym for more regular sessions, or rather, in addition to these life improvements, I decided to see if there was something more out there to help get me get spring ready.
In Canada, there are aesthetic procedures available that it's sometimes difficult to keep up. Whether it's dry skin, a saggy neck or jiggly mid-section, Canadian women have a variety of options to help them with cosmetic "improvements." I reached out to local dermatologists and aestheticians to find out about some of the newer and more popular technologies on the market.

The first thing I notice when I shed the scarf and turtle necks is a double chin that seems to have appeared and developed nicely over the last few years.
Dr. Julia Carroll at Compass Dermatology assures me that I'm not alone in wanting to eliminate the saggy skin below my chin. She notes she has achieved impressive results with Belkyra (Kybella in the U.S.). The procedure promises to dissolve excess neck fat through a series of injections. Dr. Carrol explains that she injects your neck with deoxycholic acid. You'll feel an instant and lingering pain in your neck, although using a cooling fan during the procedure can help ease the aching.
Almost immediately after the treatment, your neck will swell until you resemble a bullfrog. The swelling lasts for several weeks and you'll need to repeat the procedure at least once for visible results. That means that end results won't be visible for at least two to three months. Still, I would do just about anything to eliminate of my wattle. And, as the saying goes, "no pain, no gain."

Even when I work out regularly, I find it almost impossible to get rid of a pouch of fat in my lower abs. There is a wide variety of procedures that promise to reduce abdominal fat, but Dr. Stephen Mulholland of SpaMedica says he has achieved great results with CoolSculpting Zeltiq, which promises to reduce fat by about 20 per cent per treatment.
CoolSculpting works by freezing fat cells. The frozen cells shrivel up and die and are naturally eliminated from your body over time. The treatment involves a vacuum-like mechanism sucking in your skin. The first 15 minutes are uncomfortable, although after that, your skin goes numb. You will likely need more than one appointment to attain noticeable results and you're required to wait at least one month between treatments so it can take up to four months for final results. Still, if have the time to wait, this may be a viable option for eliminating stubbourn fat deposits.

Starvac massage results. Photo courtesy of MedVSPa.com.
Lack of exercise and perhaps a few too many salty snacks have left me completely swollen. Marina Vashkevich at the MedVSpa explains that poor circulation can lead to water retention so if you can stimulate better circulation, you can reduce inches from your body. She suggests using the Starvac massage, a relatively new procedure in Canada that promises to activate microcirculation and lymph drainage. It can produce dramatic results, however the treatment is not for everyone. You'll need a series of sessions, with some spas suggesting a series of more than 10 treatments. During the massage, the aesthetician uses a combination of vacuuming suction cups and rollers to activate your circulation. The one-hour procedure is intense and you can expect tenderness and even bruising. For anyone with circulatory issues, however, this may be the aid they have been searching for.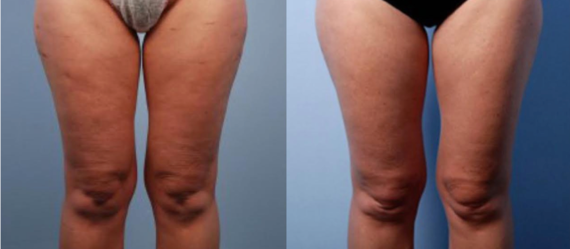 Whether your thighs are riddled with cellulite or simply hold on to excess fat like mine, SpaMedica's Dr. Mulholland recommends SculpSure. This technology is the opposite of CoolSculpting, heating your fat cells until they die. The dead cells are then naturally eliminated from your body over time. As with CoolSculpting, you can expect about a 20% reduction in fat, however the final results won't be evident for at least three months. This method is preferred for thighs because the machine allows you to treat two large areas simultaneously, so you can treat both your thighs at once.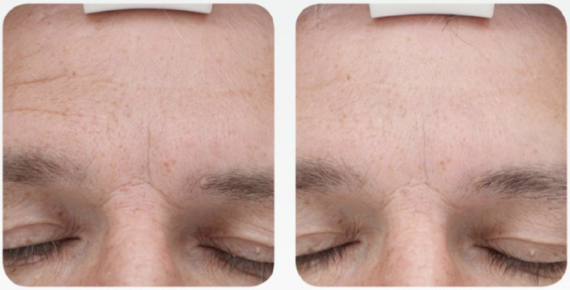 While the Toronto winter wasn't as harsh this year as it has been in past years, my skin still looks dull and parched. Dr. Carroll tells me that skin creams today are technological wonders and can be formulated to reduce wrinkles, improve of blotchiness and brighten skin. Blend & Boost is a new, advanced skincare regime that offers customized solutions. Dr. Carroll explains that a health professional assesses your skin as well as your needs. The consultation results are then sent to a lab and a cream will be formulated specifically for you. The best part: no need to fiddle with five different topical creams for results. The one cream can be used day and night and you can expect to notice improvements in as little as one month.
Follow HuffPost Canada Blogs on Facebook