St. Patrick's Day revellers in Ontario took their fun a bit too far on Friday, according to police.
The Niagara Regional Police Service responded to a call about a big street party in St. Catharines.
When officers arrived, the partiers pelted them with snowballs and beer containers.
They estimate that more than 3,500 young adults were part of the street and front lawn festivities. Cops received a number of complaints about drunkenness, littering and noise.
The area is home to a number of Brock University residences.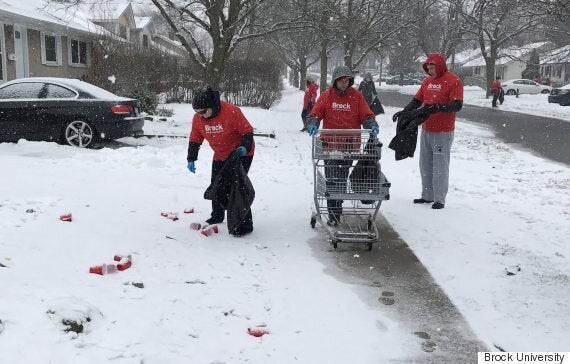 Local police had to call in officers from other parts of the region to clear the area, which they did by early evening. No injuries were reported and it's unclear whether any arrests were made.
Jen Loney told the St. Catharines Standard she was driving home that afternoon from the mall when she encountered the partiers, who started to pound on her car, throw snowballs and spit on it.
"It was disgusting," said Loney. "I had my baby in the back, so I had to keep my cool."
"We were completely surrounded. They were banging on the car, shouting 'F--k you, you stupid, b---h,'" she said.
They wouldn't let her pass. Only when a few people noticed her baby was she allowed to drive on, but she could only travel slowly and people still banged on her car.
The mom, who called police, said her husband is a Brock University alumnus and the incident made her angry.
The university isn't pleased either. It released a statement Saturday criticizing the behaviour of students who were involved. It said it is cooperating with a police investigation.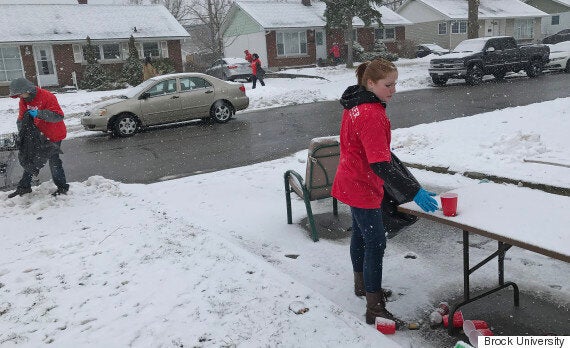 "These deplorable actions do not reflect Brock University's culture or values," Interim University President Tom Traves said in the statement.
The student union's director of student life and communications also apologized, calling the incident "embarrassing."
Brock staff visited areas with high student populations earlier in the week to remind students to be responsible, and hand out items like garbage bags and responsible drinking guides.
But they and some students still ended up cleaning up the aftermath of the big bash on Saturday.