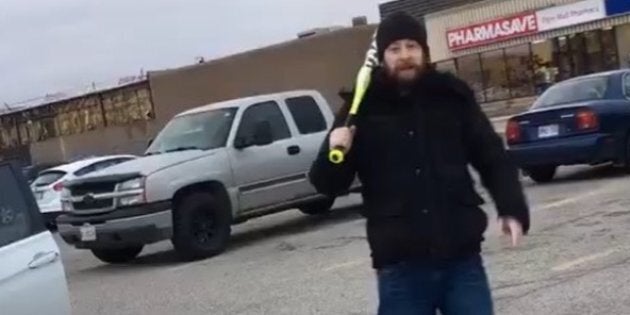 A man wielding a bat attacked a family in southwestern Ontario on Thursday, yelling that they were terrorists and that they were a part of ISIS.
A woman, her husband, their 13-year-old son, and another man, all Colombian, were walking through in the parking lot of the Elgin Mall in St. Thomas, Ont. speaking Spanish when a man carrying a bright green baseball bat approached them, according to CityNews.
"You're under arrest," the man says. "Because you're a terrorist."
When the person recording refuses to give the man his cell phone and one of the adults refuses to empty his pockets, the man begins yelling for help, and shouts, "we got terrorists here," and "ISIS!"
The man with the bat swung at the group several times. Emergency crews were called to the parking lot at 4:30 p.m. and one man was taken to hospital with broken ribs, according to CityNews.