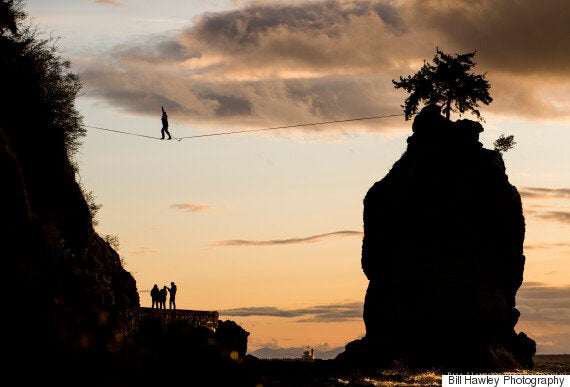 Most people run or ride a bike down Vancouver's seawall, but a group of thrill-seekers decided to walk a slackline 18 metres (60 feet) above the world-famous path.
An experienced team secured the line — more like a rubber band than a tightrope — between a cliff and the iconic Siwash Rock on Tuesday, said Spencer Seabrooke, one of the highliners.
As the sun set, several people made their way over the seawall on the line as a crowd gathered below to watch the eye-popping stunt. Seabrooke said that each pass was celebrated with a round of applause.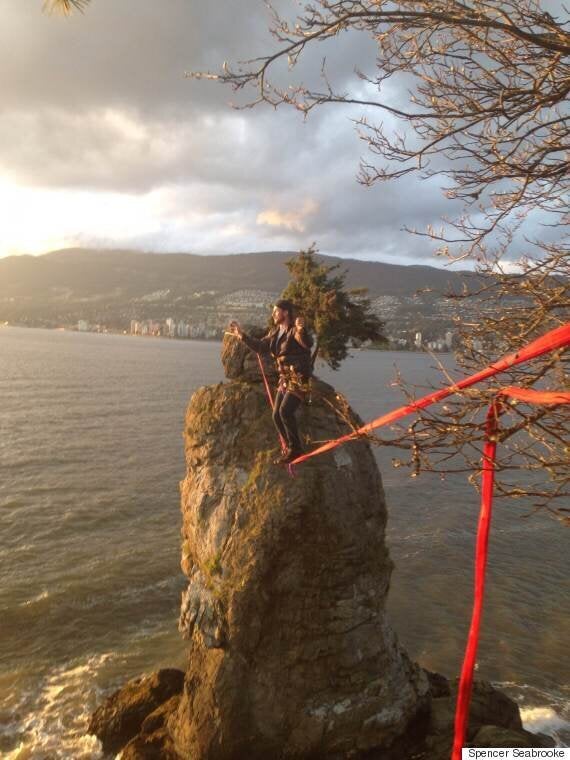 Seabrooke, who has been slacklining for about three years, said that he'd been eyeing the landmark for a while.
"When I walk past something like that, that's the kind of vision I have for it," he told The Huffington Post B.C. in a phone interview.
"It's just such a beautiful spot. It's just the perfect outcropping of rock and it just kind of sits dormant all the time... We brought it to life for half an hour."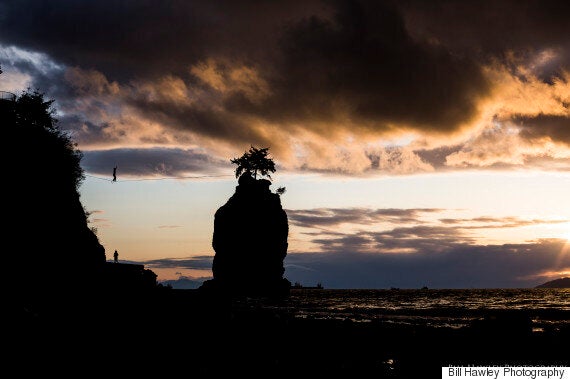 However, the Vancouver Park Board isn't all too impressed with the performance. Siwash Rock is millions of years old and holds great cultural significance to the Squamish First Nations.
Malcolm Bromley, general manager of Vancouver parks and recreation, said the slackliners could face consequences for trespassing. Parks officials are discussing the case with police, he said.
"We want people to understand that this isn't just a harmless stunt," said Bromley in an interview. "We're concerned about their safety, the safety of the public, and also about the protection of cultural areas."
Seabrooke countered that the slackline was secured with a sling wrapped around a boulder at the top of Siwash Rock, which ensured no damage to the landmark.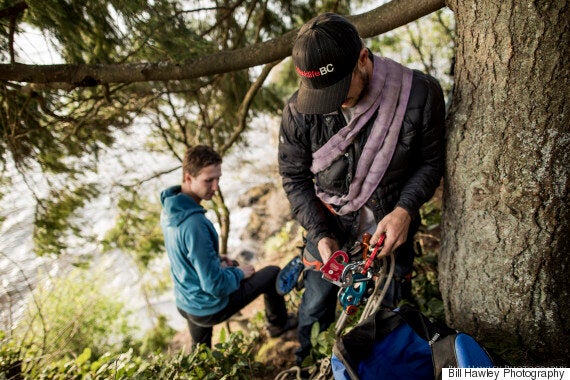 "Anything we did had zero impact on the rock," he said. "I feel like we were respectful in what we did. We weren't changing anything."
The group made plans with public safety in mind, said Seabrooke, pointing out that he wore safety gear and had backup lines that would have caught him if he fell.
Seabrooke helped start SlackLifeBC, which is trying to build a slacklining community across the province. The group volunteers to teach kids how to slackline in gyms and at public events, and also hosts the annual Highline Festival in Squamish.
"I hope that this would inspire others to get out and do something ... to take advantage of your surroundings." he said. "Maybe (Siwash Rock) isn't the best place to do it, but we really do love to make use of our province's parks and landscapes."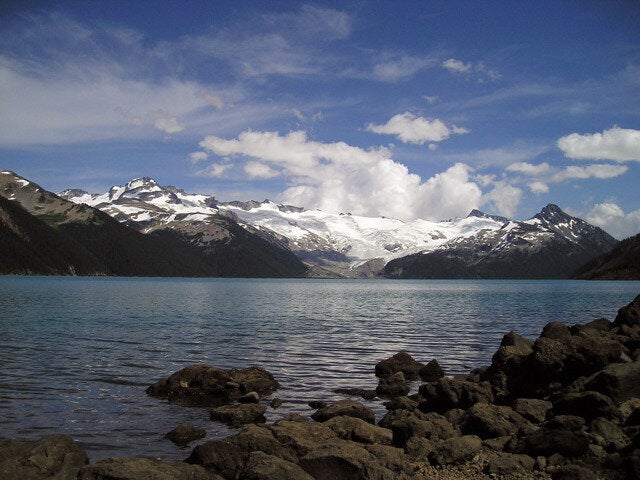 Best B.C. Hikes Near Vancouver
Popular in the Community