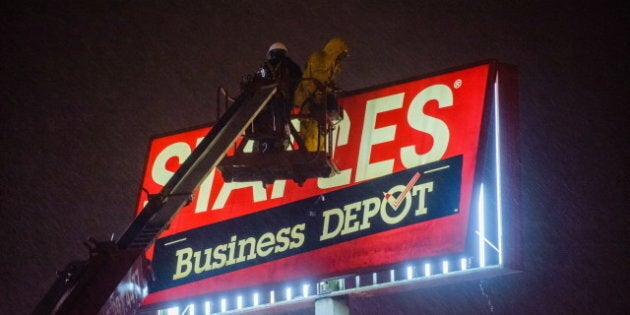 A woman was killed by flying debris as high winds from the remnants of Sandy roared into Toronto, knocking out power to several thousand buildings at the beginning of what turned out to be a long, stormy night.
Meanwhile, at least 3,500 Toronto Hydro customers were without power early Monday night — among 15,000 Ontario customers without electricity — as winds picked up and further outages were expected in the overnight hours.
Storm photos: Story continues below gallery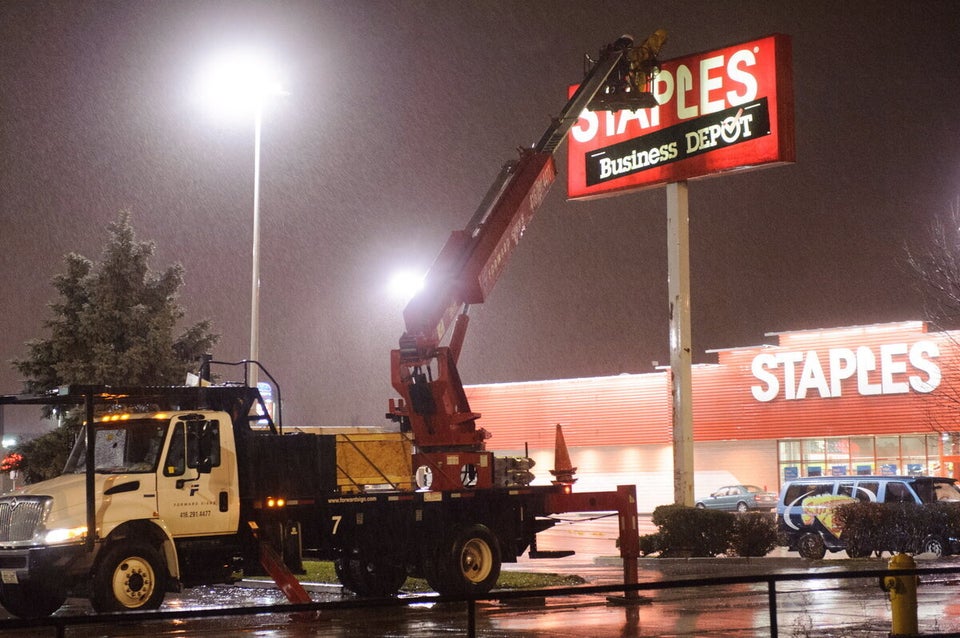 Sandy hits North America
Environment Canada issued wind warmings for large parts of Ontario and Quebec, with winds gusts of up to 90km/h forecast and more in some parts. Winds were expected to be strongest in the St. Lawrence Valley, along western Lake Ontario, the Niagara Escarpment and areas adjacent to Lake Huron and Georgian Bay.
Northwest winds will also cause some havoc in Southern Quebec.
More from Maria Babbage, The Canadian Press:
At least one death and power outages were reported Monday night as superstorm Sandy began hitting southern Ontario.

Toronto police say a woman was killed when she was hit by flying debris on a street in the west end of the city, and hydro companies across the province said more than 15,000 customers were without power.

Ontario officials are urging residents to prepare themselves for roaring winds and heavy rainfall expected from Sandy, saying it could result in flooding, road closures and power failures.

Energy Minister Chris Bentley says Ontario's energy agencies are working to respond to power outages or infrastructure damage that are likely over the next few days.

Southern and eastern Ontario are bracing for potentially damaging winds of up to 100 kilometres per hour and between 30 to 50 millimetres of rain over the next 24 hours.

Some areas could see higher amounts as the super storm passes through, according to the Canadian Hurricane Centre.

The province's Ornge air ambulance service grounded its helicopters and airplanes in southern Ontario as of 2 p.m. over concerns about high winds, said Community Safety Minister Madeleine Meilleur.

But land ambulances will be available to transport patients if needed, she added.

Emergency Management Ontario is monitoring the situation closely and will be able to jump in to help residents if necessary, she said.

"We're ready for the red alert,'' Meilleur said. "We're not there, but we get ready for the worst.''

The agency said people should put away any objects that can be blown away by wind _ such as garbage lids, furniture and Halloween decorations _ to prevent damage or injury.

"The area of greatest concern is certainly around the impact of the winds, these significant winds, and the mischief that the winds can create in terms of downed trees, downed power lines and other kinds of damage,'' said Allison Stuart, chief of Emergency Management Ontario.

"But an even more fundamental concern is that people will put themselves at increased risk by either wanting to go see what Lake Ontario looks like in a storm or checking out the river in the back 40 or whatever.''

People should try to "restrain themselves'' and stay safe, Stuart said.

Toronto Mayor Rob Ford said it's business as usual in Canada's most populous city, but there will be extra staff brought in to handle calls from residents reporting fallen trees or branches or other city-related problems.

"Toronto is a great city and we are well prepared for hurricane Sandy,'' Ford said.

One-quarter of all flights scheduled to depart from Toronto Pearson International Airport were cancelled. Porter Airlines also nixed all operations to and from its Billy Bishop Airport on the Toronto Islands until noon Tuesday.

Via Rail cancelled its trains on the Montreal to New York route and cut short its 8:20 a.m. train from Toronto to New York, which only went as far as Albany. It said it will operate as scheduled, but service may be disrupted by "unforeseen circumstances'' caused by the hurricane.

Toronto Hydro said it's preparing for the onslaught by having crews ready to respond to any calls about damage caused by the super storm.

If residents spot a downed power line or are stuck in a dangerous situation, they should call their local utility or 911, said spokeswoman Tanya Bruckmueller.

City residents should make sure they have water, any medication they need and money in case the power goes out, she added.

Emergency Management Ontario is encouraging people to put together a survival kit containing all the necessities they need for three days, including flashlights and extra batteries.

Horizon Utilities _ which serves Hamilton and St. Catharines _ said it's adjusting work schedules to make sure there are enough workers to take calls and restore power.

There are worries about flooding in that city, which received about 20 millimetres of rain over the weekend.

Toronto officials said they expect storm sewers to be able to handle the rainfall, but are urging residents to keep catchbasins clear from leaves and other debris to avoid flooding.

Northern Ontario was hit by heavy rains last week, causing creeks and rivers to overflow, washing out roads around Wawa, including a section of the Trans-Canada Highway.

The town declared a state of emergency last Thursday, after damaged roads left surrounding communities completely cut off.

The flooding forced the evacuation of the Michipicoten First Nation when the only road into the community was destroyed by the storm. It is now under repair, police said.
Popular in the Community