 Star Power: A six-pack of questions for celebs making a difference. Craig and Marc Kielburger, co-founders of Free The Children and Me to We, check in with some of their favourite actors, singers and activists to find out how they are changing the world.
Backstage at We Day is a celeb-spotter's dream come true. From actors and performers to heads of state and astronauts, there's no shortage of incredible people getting ready to inspire a generation to change the world. Then there are some who inspire the inspirers, a select few that every neck cranes to see, who elevate everyone with their very presence.
But there's only one who does all this and brightens the green room (or any room, for that matter) with a beaming smile, an infectious laugh or his patented shuffle dance. And that's Archbishop Desmond Tutu.
When we ask our celebrity friends about their heroes, the Archbishop's name invariably comes up. Martin Sheen, for one, tells a great story about meeting the Archbishop as he was touring the United States to raise funds for education in South Africa. At an event in Los Angeles that had to be organized very quickly by a women's group that also featured an all-women's orchestra, the Archbishop stood up to speak. "I'm so impressed with you all," he said, his arms spread wide. "I can't believe you did all this." Then he added, with a smile: "You know, women who want equality with men have no ambition."
The Archbishop is a South African social rights activist. He rose to worldwide prominence in the 1980s as a staunch opponent of his country's policy of apartheid. He was also the first black South African Archbishop of Cape Town.
Craig first met the Archbishop in Stockholm 1998 when they were co-recipients of the Roosevelt Freedom Medal, along with the President of Ireland, Mary Robinson, and CNN.
Craig had the great joy of traveling with the group for a short while, and readily recalls the Archbishop's joie de vivre. Just as Craig was entering the event, the group was momentarily delayed. They turned to see Archbishop Tutu, the last passenger to emerge from the motorcade, shaking all of the hands of the police officers in the motorcade who accompanied them. Later, upon receiving his medal, the Archbishop danced alongside the African choir on stage.
His irrepressible spirit is particularly awe-inspiring when you consider the South Africa from which he emerged, and his experiences as chairman of the Truth and Reconciliation Commission, where he was witness to the record of injustices that took place under apartheid.
Yet, while most of us are discouraged by the world's seemingly endless supply of bad-news headlines, he considers the newspaper "God's to-do list." The Archbishop has always started his day by reading the newspaper with his family. Staying informed and remaining aware, he says, shifted how he viewed the world in a very fundamental way. And that's how he, in turn, helped shift how we view it too.
The Archbishop became the conscience of the world, taking real action in the defense of human rights and using his high profile to campaign against poverty, disease and oppression of all kinds.
When Nelson Mandela was released from a South African prison in 1990 after 27 years he spent his first night of freedom at the home of a friend who arguably played a pivotal role in his release. But the future president may well have gravitated to this friend because, quite simply, no one offers better company than Archbishop Desmond Tutu, who so passionately embraces life's rich pageant.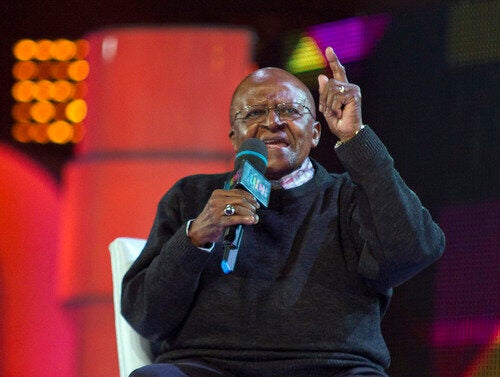 On any given day, we know that education for girls, world hunger and global warming are major issues pressing in our world. What would you consider the most pressing issue in our world today?
They are all toughies, aren't they? But I would say poverty because from that problem springs so many others. Why girls are not educated usually, and why they get married early. It is poverty, often, where families think that we have one less mouth to feed. And if you don't have to send her to school, and so on, it just goes on that way.
I reckon that you don't have clean water because you're poor, you don't have enough food because you are not strong enough to plow, irrigate and do all the things because you don't have enough to eat. If you're poor you're often not able to afford even very, very inexpensive inoculations, so many diseases that are curable are killers for people who are poor. You don't have clean water, many diseases are a result of drinking contaminated water. And where you don't have available clean water sources people, generally women, have to spend a lot of time fetching water.
So it's all, I think, related to poverty: education, health, good nutrition.
You have many supporters and admirers the world over. Who did you look up to in your younger days?
My mother. I look like her (she had a large nose!) and I often say I wish I would be like her in her compassion and caring of others.
If you could have a socially conscious superpower, what would be the one thing you could change about the world?
You have so much to share with young people today; what advice would you give to yourself if you went back to the past?
What message would you give to youth?
I think young people are actually fantastic. Their idealism is amazing. It just shakes you, to think of the things that they're prepared to do. I actually want to say to them they are special. Some of them come maybe from situations where they are not always treated well and that they should know they are special because God thinks about them.
You know, one of the things that I hope I might be able to remind them of is the use God makes of young people -- Joseph, David fighting Goliath, Mary to become the mother of Jesus, St. Francis was a very young man. How God uses young people and that they should know that they are special.
If you were to meet someone from the future, what kind of legacy would you like to hear from them about you?
That he laughed, he loved, and he cried.
Craig and Marc Kielburger are founders of international charity and educational partner, Free The Children. Its youth empowerment event, We Day, is in eight cities across Canada this year, inspiring more than 100,000 attendees. For more information, visit www.weday.com