UPDATE: (Jan. 6, 12:30 p.m.): Hasbro announced Tuesday it would be adding Rey to the game.
**Spoiler alert: This story contains a plot spoiler for those who haven't seen "Star Wars: The Force Awakens"**
You can play the new version of Star Wars Monopoly, but don't expect to see the film's main character.
Hasbro released the game in September, which included characters from "Star Wars: The Force Awakens" such as Finn and Kylo Ren.
But Rey, the scavenger from Jakku played by British actress Daisy Ridley, was missing in action.
Many took to Twitter to ask #WhereIsRey (or #WheresRey).
Some also criticized Hasbro's decision to include Darth Vader, who isn't even in the movie.
Others pointed out that Rey is excluded from other merchandise, including a box set of characters sold at Target:
This isn't the first time a toy company has faced criticism for excluding a central female character from merchandise. Rey's omission from Monopoly drew comparisons to leaving out Black Widow — Scarlett Johansson's character in Marvel's Avengers— from movie tie-in action figure sets.
One Twitter user summed it up perfectly:
In a statement to several news outlets, Hasbro said they didn't include Rey in the this version of Star Wars Monopoly because of spoilers.
"The Star Wars: Monopoly game was released in September, months before the movie's release, and Rey was not included to avoid revealing a key plot line that she takes on Kylo Ren and joins the Rebel Alliance," the statement read.
A product description on Hasbro's website says the game includes four character tokens— two Rebel and two Empire.
The company says it plans to release more Rey-centric merchandise in January.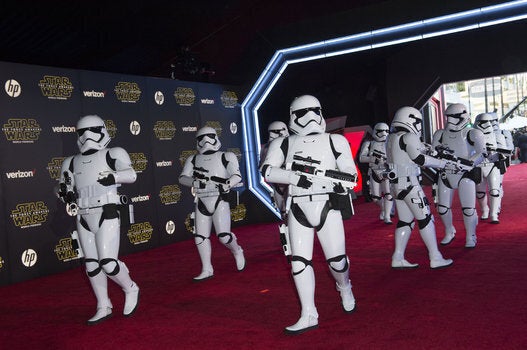 'Star Wars: The Force Awakens' Premiere