Hollywood has a problem with white-washing Asian characters.
White-washing refers to the casting of white actors in roles that are based on, or presented as, Asian characters. But representation in even generic roles is pretty abysmal overall.
The new social media campaign has taken one of Hollywood's most prominent Asian-American stars, John Cho, and transplanted him into a variety of blockbusters as the leading man.
Cho is easily one of the biggest male Asian-American stars, but you likely wouldn't know who he is off the cuff without a "Harold and Kumar" reference. (Oh! That guy.)
The film series co-starring the Korean-American actor brought in more than $90 million at U.S. box offices alone, according to IMDB.
Since then, the 43-year-old has racked up credits in the "Star Trek" film franchise, the TV show "Flashforward" and NBC's "Selfie."
William Yu, the 25-year-old digital strategist behind the online movement, photoshopped Cho into movie posters for everything from "The Avengers" to "Mother's Day," and has also tagged New York City subway ads with Cho's serious mug.
Since Hollywood bigwigs still don't cast Asian actors, Yu is using this project to make it a bit easier to imagine Asian actors as protagonists on the big screen.
The campaign has already spawned praise and fan art.
Although the actor himself has nothing to do with the making of this hashtag, he seems to support the movement as well.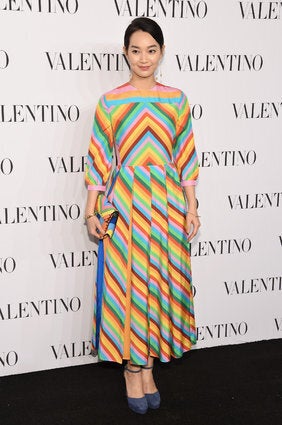 Asian Actresses With Incredible Style