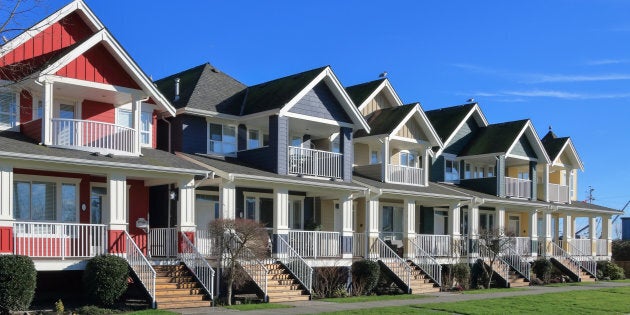 An anti-corruption watchdog group says Statistics Canada "got it wrong" in a report last month that left the impression foreign buyers aren't a major part of Canada's housing market.
Transparency International Canada, which has been raising the alarm for years about money-laundering in the country's real estate markets, says StatsCan could not have possibly gotten the numbers right on foreign ownership — because it lacks the tools needed to know just how much property is foreign-owned.
StatsCan reported last month that non-residents own just 3.4 per cent of all residential properties in Toronto and 4.8 per cent of residential properties in Vancouver. Real estate industry insiders pointed to this as a sign that foreign home-buying is not driving up house prices in Canada, as many had argued.
But "there's no way to actually know what the total amount of foreign ownership in Canada is," TI Canada president James Cohen told HuffPost Canada this week.
Watch: The government doesn't know who owns many of Vancouver's priciest homes
One major part of the problem is that Canada is among a shrinking number of developed countries that don't require that the "beneficial owners" of corporations be revealed. In other words, it is possible to establish a shell company in Canada without disclosing who exactly owns it.
"Only in Kenya and a select few U.S. states is it easier to set up an untraceable company than it is in Canada," TI said at the time.
"In Canada, more rigorous identity checks are done for individuals getting library cards than for those setting up companies."
Statistics Canada itself seems to be aware of this problem, and of other challenges to figuring out exactly what's going on in the housing market.
Last month's release of data was "just the tip of the iceberg," Haig McCarrell, the head of StatsCan's new housing data program, told the Vancouver Sun.
McCarrell outlined weaknesses in the data released so far. He noted, for example, that a home owned by a shell company incorporated in Canada would count as Canadian-owned in StatsCan's data, even if the owners were foreigners.
Anik Lacroix, an assistant director in StatsCan's investment, science and technology division, says much more detailed data is on the way.
What's Going On In Housing?

Our weekly newsletter delivers the news and analysis you need on Canada's housing market. Sign up below and don't miss an issue.
"It is early stages" for the agency's efforts in building a comprehensive picture of foreign ownership of housing, she told HuffPost Canada this week.
"I know everybody wants us to produce everything all at once, but we are just taking it step by step," she said.
The agency is going through a process of collecting the necessary data from governments and the private sector, and has to assess quality as well, Lacroix said.
In a release slated for this spring, StatsCan hopes to expand the picture of foreign ownership to include homeowner incomes and potentially mortgage data as well.
It also plans to expand its data from Toronto and Vancouver to various other municipalities in Ontario and British Columbia. The agency aims eventually to collect foreign ownership data for 5,000 municipalities, Lacroix said.
The agency also hopes to link home ownership data to census information, to create more detailed profiles of households. That would allow it, for example, to determine just how many foreign students are living in homes purchased by their parents — a phenomenon that seems to exist, to some extent, in Vancouver.
But Transparency International's Cohen is not optimistic about the outcome of StatsCan's efforts.
He says that while he's "happy to see" that the agency recognizes the challenges it faces, StatsCan will not be able to find the information it needs to paint an accurate picture of foreign ownership; the data simply isn't out there.
Legislative reforms needed
Cohen is urging policymakers to follow in the footsteps of other G20 countries, and pass legislation requiring the creation of registries where the beneficial owners of shell companies are made public. He noted that the European Union recently updated its money-laundering laws to require the registration of beneficial owners.
"As our partners move ahead, Canada is falling increasingly behind," he said. And that poses a risk, Cohen said, because as other countries make it more difficult to hide wealth in real estate, it will make Canada a more attractive place for illicit cash.
"This was a wake up call for yet another Canadian agency that we don't have full info on who owns what in Canada."
Without legislative changes that increase transparency in ownership of companies, StatsCan "will be on a path to frustration," Cohen said.
Popular in the Community