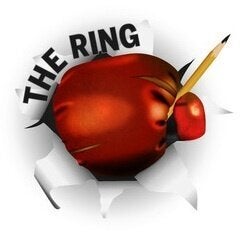 As many writers can attest to, getting a script idea out of your head and onto the page isn't always so easy.
That's why Vancouver-based screenwriter, actor, and former advertising creative director, Michael St. John Smith had created The Ring, an interactive, intensive program that's designed to take writers through all the 'rounds' from brainstorming, to creating a log-line, synopsis, developing characters, and finally, writing a pivotal scene that is ultimately performed by professional actors, live and on-camera.
It's an interesting and unique process that involves some serious sparring, not only within yourself, but also with fellow participants -- who truly challenge you to flash out your story.
I decided to step into The Ring by asking Michael a few questions about the process and philosophy around it:
Tell me a little bit about The Ring -- what led you to come up with this unique workshop concept? What's the philosophy or inspiration behind it?
I had taken several of the popular screenwriting seminars -- Syd Field, Robert McKee, a couple webinars -- when I realized that none of them offered the opportunity to engage in the process of developing a script idea. Talking and thinking about writing is fine, but it's the writing process where things really happen. In developing the Ring, I wanted to create an interactive forum where people could develop their ideas into a workable form.
Walk us through it. When a participant steps into The Ring, what can they expect?
The Ring is a three-day Intensive, and as the name implies, it's pretty intense. Over the weekend, participants start with a rough idea, develop a log line and short synopsis, create their major characters and write a pivotal scene that's performed and filmed with a director and professional actors on the final day.
During that time, they're acquainted with the essential elements of the screenwriter's craft --story structure, character development, what makes a scene work and so forth. We use a successful contemporary screenplay to illustrate these components and also analyze scenes to help clarify important aspects of the Ring process.
Most of the work centers around the writers themselves. In groups of two, writers do specific exercises enabling them to develop and expand their log lines, outlines, characters and scenes into basis for their first draft screenplay.
Why is this such a valuable tool for a screenwriter?
It's an interactive, step-by-step process that the writer can use at any point to solve a specific problem or challenge that may arise during the screenwriting process.
What's your own approach to the screenwriting process?
Now, I use The Ring technique exclusively. It keeps my script ideas manageable. I work from a log line or synopsis based on the three act structure, and I can tweak that as the idea continues to grow and develop. Far from being formulaic, this discipline allows me to develop an idea organically. Even if there's some back and forth during the writing process, I always have the basic premise to keep me honest and on track. To me, there's nothing more discouraging than having to ask basic questions about your story or characters when you're 75 pages into a first draft.
What are some of the cons/pros of traditional screenwriting approaches?
The biggest pro, especially for new writers, is that much of the traditional wisdom actually works. It's the same reason artists are encouraged to learn the basics of drawing before going on to create their abstract masterpieces. Understanding what makes a screenplay work is one of the most valuable lessons a screenwriter can learn.
Cons: Some people get too caught up in techniques and formulas--"the 46 actions a protagonist must take", and all that crazy-making stuff. There are certain proven principles of story structure, dialogue, scenes and character that can be helpful to the writer. These are guidelines, not hard and fast rules. My feeling is that originality and creativity should trump formula and technique, so it's always important to allow room for the creativity to happen.
The writers in your workshops end up seeing their pages brought to life by actors -- what has that experience been like for the writers? What does it show them?
It's amazing. First of all, the writers are usually quite inspired to see their scenes taken to the performance level. More importantly, it shows them what works and what doesn't work on camera. It's quite different from what's happening on the page. Also, they get to see how actors work; how actors use many of the same tools that writers should be thinking about in developing their characters--goals, intentions, wants, flaws, and so on.
What is the best screenwriting advice you've ever received?
"The screenplay is a story told in pictures, so whenever possible let the pictures tell the story."
And along the same lines:
"Most of what a character is really saying occurs in subtext."
What have you learned the hard way?
Pretty much everything. I think I've made every mistake in the book. I had to let go of my ego, and a lot of old ideas.
What are some common mistakes that you find screenwriters make or traps they fall into?
Thinking they'll be able to develop an idea as they write their first draft.
Underestimating the intelligence of their audience.
Thinking that a character's feelings or intentions have to be spoken out loud.
Not taking enough time to fully explore and develop their idea.
Not trusting their inner voice.
What was your own "break" into screenwriting?
John Kaye, a successful LA screenwriter at the time, read an adaptation I wrote for "Another Roadside Attraction", the novel by Tom Robbins. John thought I had some good ideas and became a mentor of sorts. We eventually wrote two scripts together. John also introduced me to the movie business, LA agents and that whole side of things.
What would you say is the very first step for someone who wants to write a script?
Take the Ring 3-Day Intensive. Then follow it up with the Ring 6 Week Workshop. Seriously.
What have YOU learned from the process of putting together this workshop?
I've learned that like writing itself, you have to be in love with the process. Putting together the Ring, creating the Training Manual and watching people get inspired keeps me on the right track and reminds me how much more I enjoy being a writer.