OTTAWA — Seven years ago, Stéphane Dion was a defeated man.
The Liberal leader, who had captured the imagination of Grit delegates with his environmental platform, had failed badly to capture the hearts of Canadians and had sunk the party to one of its lowest levels of support – losing 26 seats and dropping the party to only 26 per cent of support.
The Conservatives had crafted their first wave of personal negative attack ads, painting Dion as "not a leader."
Despite his receiving praise for chairing the UN Climate Change summit in Montreal as environment minister, and giving Canada the Clarity Act — the law that could prevent Quebec's unilateral secession as intergovernmental affairs minister, the Tory ads painted Dion as a shrugging, weak, and incapable leader.
During the coalition crisis after the 2008 election, Dion tried to make the case for defeating the newly elected Conservatives in an amateurish video. Broadcast nationally, it somewhat cemented the image that had been crafted for him. He resigned several days later.
"I was pleased and honoured by the confidence the prime minister put in me," Dion told The Huffington Post Canada on Wednesday. "I didn't expect something special and asked for nothing. It was not part of my dream to become minister of foreign affairs, but now that I have the responsibility, I am ecstatic with it."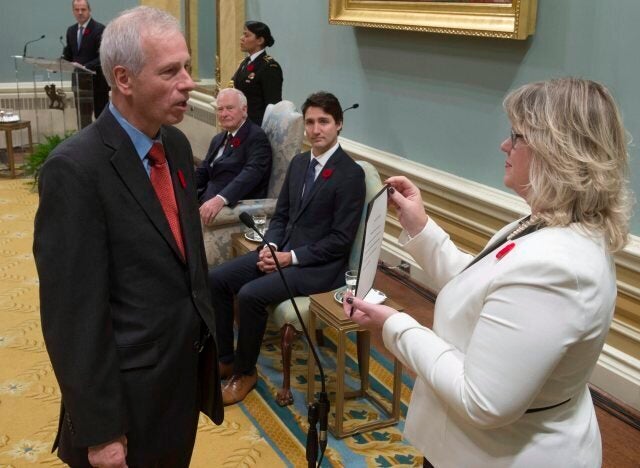 Governor General David Johnston and Prime Minister Justin Trudeau look on as Stéphane Dion is sworn in as Minister of Foreign Affairs during ceremonies at Rideau Hall Wednesday Nov.4, 2015 in Ottawa. (Adrian Wyld/Canadian Press)
Dion said he wants to return Canada to a Pearsonian foreign policy — a reference to former Liberal prime minister Lester B. Pearson. As secretary of state for external affairs, he won the Nobel Peace Prize in 1957 for proposing a UN peacekeeping force to diffuse the Suez crisis. Pearson led Canada during era in which the country was seen as a middle power, ready and eager to broker peace in dangerous parts of the world.
His message to the international community, Dion said, is "that the Canada that helped to build its multilateral institutions is back."
Canada has an excellent reputation internationally despite the past 10 years, Dion said. "We are going to build on this, because the world is waiting for us."
Foreign policy on the Middle East
Canada should be an honest broker, he suggested. "It's part of our role.
"I remember in the past, the minister of foreign affairs of Canada receiving a phone call from his counterpart in Israel asking him to be in touch with a group in Lebanon that was legitimate but not willing to believe what the government of Israel was telling them. And he said to the minister of foreign affairs, it was Mr. Manley. 'I think if it is coming from you, because you have strong links with them, it may help us. It may help us.' And I'm not sure today Canada is in a situation to do that anymore. And I think we should. In order to help all our partners, including Israel."
Dion signalled that Canada's foreign policy on the Middle East would change — if not in action, at least in tone.
"The main difference is that we will stop to make it a partisan issue," he said. "Mr. Harper wanted to embarrass the party of the opposition, but in doing so he damaged the strength of the relationship between Canada and Israel. Israel is a friend. It is an ally. But for us to be an effective ally, we need also to strengthen our relationship with [other] legitimate partners in the region. We need to, for example, strengthen our relationship with Lebanon."
"Israel understands that, for Canada to be helpful, we need to strengthen our links with countries that are around Israel and should be part of the solution and not becoming completely dysfunctionalized. Unfortunately, [like] Syria became."
Dion said he is convinced the Liberals will be able to have a foreign policy that reaches out to the "immense majority" of Canadians and one that reflects what Canada is as a country.
"Canada is a country fortunate enough to be able to promote its national interests while at the same time, in doing so, addressing the universal hopes of all humankind," he said.
"Because we never had an empire, a colonial empire, we never sent our courageous men and women in uniform [abroad] for other reasons than to help for peace and justice around the world. And because of that, we are welcome everywhere.
"We speak English and French, … two international languages. We have a lot of expertise, in the department that I will be minister, but also elsewhere, that is needed in the world. And we have a role to play to make the world to be able to change the self-destructive development into a sustainable development, and I want to play this role as minister of foreign affairs."
Dion plans to attend the UN climate change conference in Paris. He believes Canada can help France accomplish its goal of getting countries to work together to reduce the effects of greenhouse gases and to help more vulnerable countries adapt to a climate that is already starting to change.
This is a new era, Dion said. The world is already heading towards a three-degree increase in global temperatures if we do not change our collective actions, he said. He refused, however, to discuss Canada's climate change targets. That discussion, he said, is for another time.
He planned to get a full briefing from his deputy minister Thursday morning.
Asked if he was happy, Dion was all smiles: "Who wouldn't be?"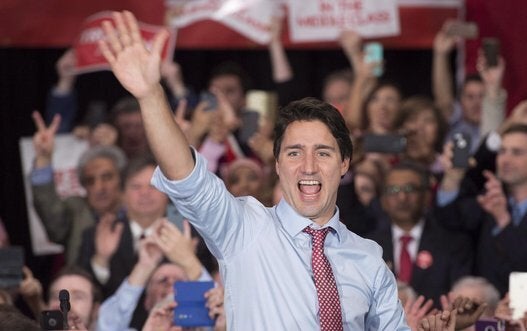 Trudeau's Cabinet