Opposition MPs have called out Foreign Affairs Minister Stephane Dion for keeping quiet as his Chinese counterpart publicly admonished a Canadian journalist after she asked about the country's human rights record.
At a joint press conference with Dion at the Global Affairs headquarters in Ottawa on Wednesday, Chinese foreign minister Wang Yi called iPolitics journalist Amanda Connolly "irresponsible" for asking about the imprisonment of Canadian citizen Kevin Garratt on espionage charges.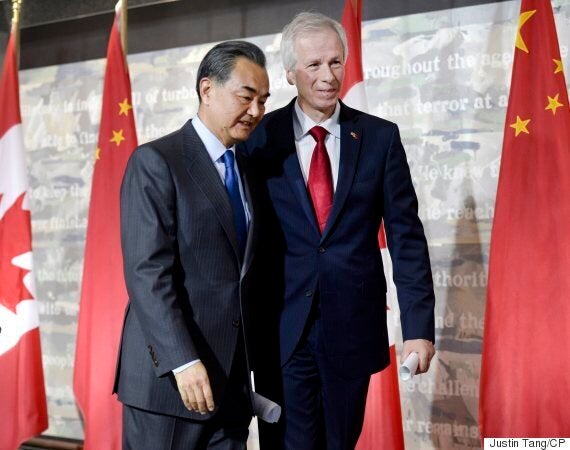 China's foreign affairs minister Wang Yi and Foreign Affairs Minister Stephane Dion leave a joint press conference on June 1, 2016. (Photo: Justin Tang/The Canadian Press)
Wang said the journalist's inquiry was "full of prejudice" and arrogance against China, according to a translator. He angrily dismissed Connolly's question — asked on behalf of several news outlets — as "totally unacceptable."
Dion had told reporters earlier that he and Prime Minister Justin Trudeau raised Garratt's case with Wang and had a "frank" discussion about human rights.
In question period Thursday, NDP foreign affairs critic Hélène Laverdière said Dion just "stood by" as a Canadian reporter was "berated."
NDP critic: 'Our minister stayed silent'
"Freedom of the press is an important value for Canadians and yet our minister stayed silent," she said.
Laverdière asked if the Liberal government would stand up for human rights and press freedom by joining with "so many Canadians" to criticize Wang's conduct.
Pamela Goldsmith-Jones, a parliamentary secretary to the foreign affairs minister, did no such thing. Instead, she noted the meeting between Dion and Wang was about opening up a dialogue to advance mutual interests, and, "of course," human rights.
"This is an excellent beginning for discussing how to expand our strategic partnership for the benefit of all Canadians," Goldsmith-Jones said.
Conservative critic also blasts Dion's response
Moments earlier, Conservative deputy foreign affairs critic Peter Kent asked what millions of Chinese citizens might make of Trudeau's "fresh start" with their government.
"We recall, of course, the prime minister's professed admiration for China's basic dictatorship," Kent said, harkening back to a years-old gaffe.
But in light of the foreign minister "angrily" refusing to answer human rights questions, Kent wondered if it was time to "rethink and re-calibrate" priorities on the China file.
"Even when we don't see eye-to-eye with each other, we believe that dialogue is the most effective way forward," Goldsmith-Jones said.
"Freedom of the press is an important value for Canadians and yet our minister stayed silent."
Kent also noted that Wang "furiously dressed down a journalist" for daring to ask about Garratt, who he says has been imprisoned on unsubstantiated charges.
"The minister of foreign affairs stood by quietly and said he raised these issues behind closed doors," said the Tory critic. "Mr. Speaker, can the minister tell us then if the Chinese foreign minister was as angry, condescending, and disingenuous in his denials there and how the minister responded?"
Omar Alghabra, a parliamentary secretary in charge of consular affairs, suggested Tories wanted things both ways. On one hand they don't want the government talking with China — while on the other they say Liberals aren't talking enough, he said.
Alghabra added that "unlike the previous government," Liberals won't abandon Canadian citizens abroad. He said Dion won't stop until Garratt is back home safe.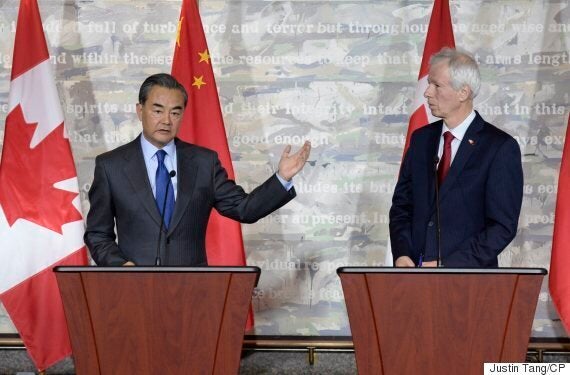 Wang Yi and Dion participate in a press conference on June 1, 2016. (Photo: Justin Tang/The Canadian Press)
On Friday, Dion took to Twitter to laud Connolly for the questions.
But it isn't just opposition MPs who are critical of Dion's response during that heated moment in front of the cameras.
'Foundational freedom' attacked, columnist says
"His outburst may seem like a small thing, and compared to the treatment the Chinese government inflicts on dissident journalists in China, it is," Petrous writes of Wang. "And yet by telling a journalist what is or isn't an 'acceptable' question, he was attacking a foundational freedom of Canadian democracy: that of journalists to hold politicians accountable."
"Hey! We have respect for journalists in this country," Trudeau said at the time. "They ask tough questions and they're supposed to. OK?"
CBC News has video of the exchange between Wang and the journalist:
With a file from The Canadian Press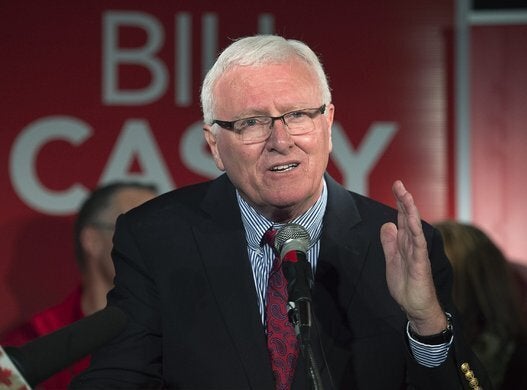 Longest-Serving Current MPs