Canadians convinced Stephen Harper is on his way out may need to think again, two new polls suggest.
In fact, with a federal election now less than a year away, the numbers are pointing to a Conservative party on the move, even if Justin Trudeau's Liberals remain the party to beat.
The first survey, released from Nanos Research on Wednesday, showed Harper has hit a 12-month high on the question of who Canadians most prefer as prime minister. Harper was chosen by 33 per cent of respondents, followed by Trudeau at 29 per cent and NDP Leader Thomas Mulcair at 20 per cent.
Just three months ago, Trudeau led Harper on this question by six points.
The Nanos poll was conducted among 1,000 Canadians by random phone interview and is considered accurate within 3.1 percentage points, 19 times out of 20.
The second poll, conducted by Ipsos Reid for Global News and released Wednesday, showed Liberals and Tories are virtually tied when it comes to federal support.
According to the survey, if an election were held tomorrow the Liberals would receive 34 per cent of the vote (a dip of four points since September), while the Tories would receive 33 per cent (an increase of two points). New Democrats would receive 24 per cent support, while four per cent would go to Elizabeth May's Green Party. Fifteen per cent told the firm they are undecided.
The Ipsos Reid poll also pointed to some enormously tight races in key battleground provinces.
In vote-rich Ontario, Liberals and Tories are in a dead heat at 37 per cent, with the NDP at 22 per cent. Though Liberals boast an impressive lead (46 per cent) in the 416 region of the Greater Toronto Area, Tories are slightly ahead (41 per cent) in the surrounding 905 region where it is said federal elections are now won or lost.
In Quebec, Grits and New Democrats continue to battle it out. Trudeau's team is slightly ahead at 32 per cent, followed by the NDP at 29 per cent and Bloc Quebecois at 21 per cent. Tories are well back at 15 per cent.
And in British Columbia, the numbers point to a three-way race. Tories are ahead with 33 per cent support, followed by the NDP at 30 per cent and Liberals at 28 per cent.
Unsurprisingly, Tories have a huge lead in Alberta and Manitoba while Liberals continue to receive strong support in Atlantic provinces.
The poll was conducted online between Nov. 1 and Dec. 1 among 8,268 Canadians. It is considered accurate within 1.2 percentage points, 19 times out of 20.
These numbers have no doubt been impacted by events in recent weeks that likely have Canadians thinking a bit more about who they want in charge.
In October, Conservatives decided Canada would join the U.S.-led airstrikes against ISIL. Though Liberals and New Democrats voted against the mission, a Forum Research poll from late November suggested roughly two-thirds of Canadians agree with that effort.
The fatal attacks of two soldiers on Canadian soil and the shooting rampage on Parliament Hill this fall has also spurred a heightened focus on national security.
The big, controversial tax breaks announced by Tories in late October were seen as the clearest signal yet that the campaign is already on.
And the harassment allegations on the Hill have led to sniping between the NDP and Liberals.
Tories have hammered Trudeau as too inexperienced to become prime minister since he took over as Grit leader almost two years ago. An attack website has been launched to catalogue his every perceived blunder and, on social media, Tories have been trying to paint a sharp contrast between the Grit leader and Harper.
And the National Post's John Ivison declared this week that Harper has his "mojo" back, even in the face of controversies at Veterans Affairs and the looming Mike Duffy trial.
"The Conservatives still trail the Liberals by around four points, when all public opinion polls are averaged out, but the shift in momentum has been dramatic," Ivison wrote.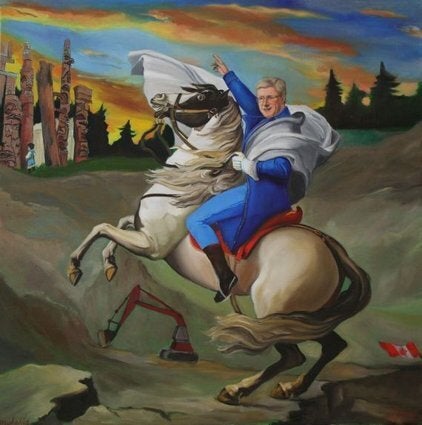 Not-So-Flattering Portraits Of Harper