If there's one thing a long election campaign has proven it can do, it's generating comedic ammo for the Internet.
Even when the topic is federal budgets.
"Justin Trudeau says he doesn't have to explain how he would pay for his promises," said the very animated Harper, who was in Hamilton, Ont.
"Once again tens of billions of dollars of new spending, because as he famously announced, 'The budget will balance itself.' Do budgets balance themselves in Hamilton region here?"
"Well actually friends let's be fair, Justin is now changing his tune. He now says today he will run a deficit, a modest deficit. I guess it turns out, the budget doesn't balance itself."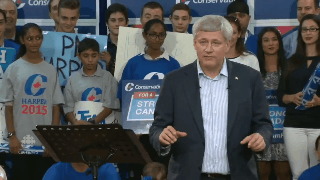 Harper was mocking the idea of a "modest" deficit and wanted to emphasize that it was so "tiny" that you couldn't see it.
But his gesture was all the Internet needed. Things kicked off when Monique Muise, an editorial writer with the Montreal Gazette, uploaded a screengrab of Harper.
One user even uploaded the image of Harper to a meme generating website, to make it even easier for the web's denizens to participate.
We're on the lookout for more of these as they pop up, and we'll add the best ones that meet our humour-seeking gaze.
In case you were wondering, Canadians head to the polls on Oct. 19.