Conservative Leader Stephen Harper is denying he told his former chief of staff Nigel Wright he was "good to go" with a $90,000 payment to embattled senator Mike Duffy.
Harper, who was campaigning in Ottawa Sunday, was asked about Duffy's fraud, breach of trust and bribery trial resuming this week.
Wright, who has been called as a witness for the prosecution, is scheduled to take the stand Wednesday. The former chief of staff had tried to negotiate the repayment of Duffy's inappropropriate housing and living expense claims with the senator and his lawyer. Court documents suggest Wright initially tried to get the Conservative party to repay Duffy's expenses. But when the claims proved too expensive, Wright dug into his own pockets to write Duffy a cheque to repay the Senate for his claims.
In an email on Feb. 22, 2013, Wright writes to Benjamin Perrin, the prime minister's lawyer, that he now has the "go-ahead" to keep Duffy "whole on the situation." But Wright doesn't say who gave him the final go-ahead.
He later writes: "I do want to speak to the PM before everything is considered final." An hour later, Wright sends another email stating: "We are good to go from the PM once Ben has his confirmation from Payne (Duffy's lawyer)."
But on Sunday Harper told reporters he didn't say that to Wright.
"The words you are quoting are not my words. They are somebody else's. I have said repeatedly, and I think the facts are clear, I did not know about — that Mr. Wright had payment to Mr. Duffy. As soon as I learned that I made that public. Mr. Wright has been clear about that and the very document you are quoting also makes that clear. The RCMP investigated and said that is the case," Harper said.
The emails, however -- which were included in a production order filed in court -- suggest Harper knew Duffy's expenses would be repaid by the party and his senator. In return, the senator would be spared a potentially embarrassing audit.
The emails suggest that Wright felt he was under pressure from Harper to resolve the situation in the Senate, which he describes as "our public agony."
We "...have to do this in a way that does not lead to the Chinese water torture of new facts in the public domain, that the PM does not want…" Wright wrote.
Harper said Sunday that the job of a leader — leadership being a key theme of the election campaign — is to handle a situation when things go badly.
"As soon as I learned about this particular matter, we brought in the authorities. We have been working with the authorities and people are being held accountable," he said.
"No leader should ever believe that everything is going to go well. But when bad things happen, what a leader does is he takes immediate action to make sure people are held accountable. That is exactly what I did in this case, and that is exactly what is happening."
Speaking to reporters on the campaign trail in Ottawa, Liberal Leader Justin Trudeau said Wright's testimony at the Duffy trial was likely to remind Canadians "yet again of Mr. Harper's lack of respect for democracy and his extremely poor judgment."
Thursday, during the Maclean's leaders' debate, Harper said he did not need to apologize to Canadians for appointing Duffy and other senators such as Pamela Wallin and Patrick Brazeau who were later suspended from the Senate over their controversial spending habits.
"Well, first of all, I certainly did not name all of the senators in trouble," Harper said.
"My role is not to apologize for the bad actions of others."
Former Liberal senator Mac Harb has also been charged with fraud and breach of trust over his housing spending. An audit by the Auditor General in June found nearly one-third of all senators had questionable spending claims.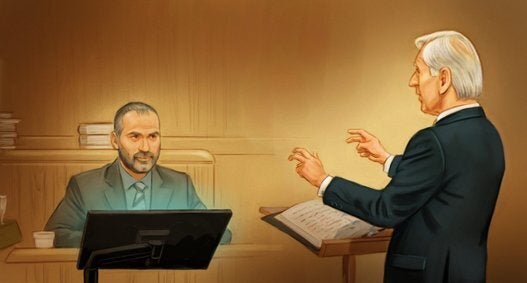 Mike Duffy Trial: Artist's Sketches