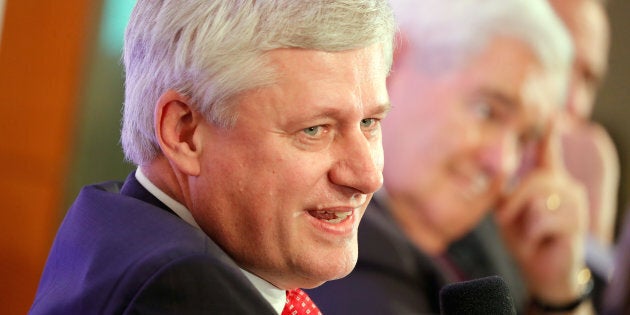 OTTAWA — Former prime minister Stephen Harper's name appeared on a full-page ad in the New York Times Wednesday, supporting President Donald Trump's decision to pull the United States out of the Iran nuclear deal.
The ad, titled "Mr. President, you are right about Iran," appeared in the A section of the newspaper, one day after Trump's announcement.
"Iran is a danger to us, to our allies, to freedom," it reads. "It oppresses its own citizens with whom neither we nor you have any quarrel; it exports an extremist Islamist ideology which makes it a particular threat to the Middle East region."
The ad goes on criticize the Joint Comprehensive Plan of Action (JCPOA) for having a "totally insufficient inspection" and verification process that allowed Iran to continue nuclear research and development.
Former Australian prime minister John Howard also signed on to the ad, as did Lord David William Trimble, the former first minister of Northern Ireland.
Ex-foreign minister John Baird's name also appears among the list of signatories.
It's something he understands very, very well.Erin O'Toole on Stephen Harper's credibility in Middle East issues
Conservative foreign affairs critic Erin O'Toole told HuffPost Canada that Harper isn't off-base to add his name to the full-page ad, paid for by Rafael L. Bardají, executive director of the Madrid-based think tank, Friends of Israel. Bardají is also a signatory in the letter.
Though the former prime minister doesn't speak for the Conservative party, it's "fair" for Harper to comment on the issue, O'Toole said.
"When it comes to the Middle East, he knows the risks very closely with Syria and the funding of terror organizations there. It's something he understands very, very well."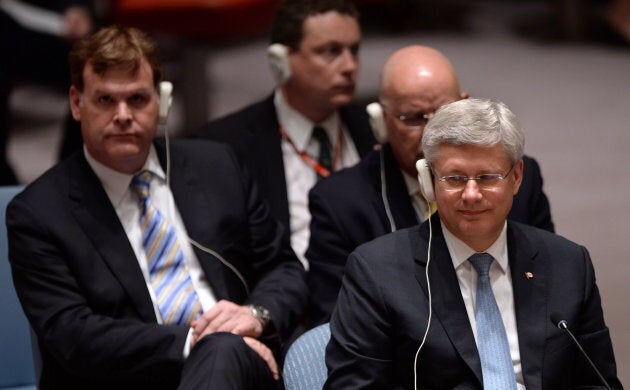 The Durham MP explained there have been some "very big holes" in JCPOA that even former U.S. president Barack Obama acknowledged. O'Toole said after sanctions were lifted in Iran, funding flowed to terror organizations including Hezbollah and Hamas.
"So is the West, in pursuit of certainty of security on the nuclear front, indirectly abetting destabilization of the whole Middle East?" O'Toole asked. "That was the big concern."
The Tory MP then made a reference to Trump's 1987 bestseller, ghostwritten by author Tony Schwartz.
"So I think if this is an opportunity where he's going to apply 'The Art of the Deal' to get a new deal, I think that could be helpful."
Conservative Leader Andrew Scheer's office did not respond to HuffPost Canada's request for comment.
Trudeau calls

JCPOA imperfect, but important
On Tuesday, the U.S. announced plans to withdraw from JCPOA, a landmark international nuclear accord it achieved with Iran in 2015. The deal, which resulted after two years of negotiations, got Tehran to agree to strict limits on advancement and monitoring of its nuclear program in exchange for the lifting of related economic sanctions.
Trump called deal "horrible" and one-sided, and threatened to impose the "highest level of economic sanction" on the country.
"If I allowed this deal to stand, there would soon be a nuclear arms race in the Middle East. Everyone would want their weapons ready by the time Iran had theirs," the U.S. president said.
Watch: PM says Iran to be G7 topic after U.S. withdraws from nuclear deal
The United Nation's five permanent Security Council members (China, France, Russia, the U.K. and the U.S.) and Germany helped broker the deal.
French President Emmanuel Macron did not mince words shortly after Trump's announcement, calling it a disappointing turn of events. Obama also weighed in, calling Trump's decision "misguided."
Canada is currently bidding for a seat on the UN Security Council.
Prime Minister Justin Trudeau told reporters on Wednesday that Canada stands "firmly" with its NATO allies in support of the JCPOA.
He said he expects the Iran deal to be a conversation topic at June's G7 meeting in Charlevoix, Que.
With files from Althia Raj and The Canadian Press
Popular in the Community