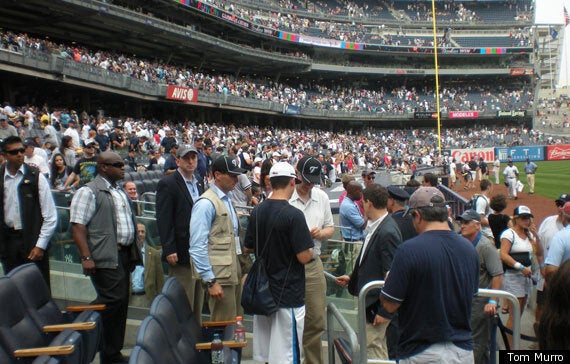 Prime Minister Stephen Harper spent the long weekend in New York City, taking in a Broadway show and a Yankee game.
This photo by journalist Tom Murro shows a relaxed Harper taking time to sign autographs for curious onlookers.
Murro, who attended Sunday's game between the New York Yankees and the Toronto Blue Jays, said Harper watched the excitement from the Legends box suite.
"The Legends Suite is an all inclusive seat package that provided you with everything you could ever want at a game, to include fine dining with lobster, steak, ice cream, various treats and everything can even be served to you at your seat. We were all seated behind the Blue Jays dugout, no one knew who he was until he left," Murro said, in an email to Huff Post.
"I shook the Prime Minister's hand on his way out and snapped this nice pic of him signing a fans ball, seemed like really nice guy," he added.
Noting the large amount of security surrounding Harper, Murro mentioned that some of Harper's security detail wore Yankees caps apparently to blend in. "(It) wasn't working all that well since it was like 90 degrees out and they were all wearing blazers with special Canadian leaf pins on the lapel," the journalist added.
Harper, who wore Blue Jays cap, took time to visit the Toronto team. A tweet by The Star-Ledger journalist Marc Carig noted a message on the whiteboard in the Jays' clubhouse.
From whiteboard in Jays clubhouse: "Everyone in clubhouse by 12:15 pm. Visit by prime minister of Canada Stephen Harper." #nyyless than a minute ago via TweetDeck
Ledger_Yankees
The encouragement didn't help though, the Yankees won the game 9 to 3.
Harper and his family also took in a showing of the broadway musical "Spider-Man: Turn off the Dark" on Friday night.
A tweet from @SpideyOnBway alerted the media to the Prime Minister's attendance since Harper's spokesman refused to dish any details.
"It was a private weekend with family. No comment," Andrew MacDougall said.
Photo: Stephen Harper signs a baseball at a recent New York Yankees game. (Tom Murro)