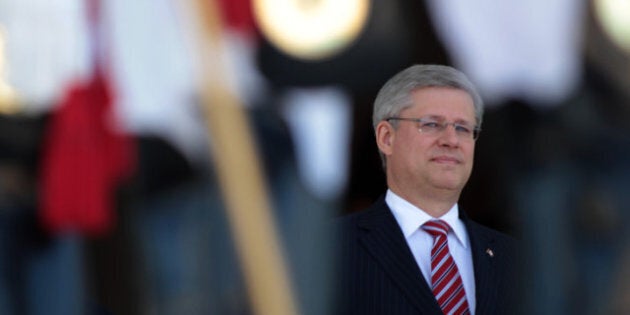 If a federal election were held today, Stephen Harper's Tories would be reduced to a minority government and the Liberals would have 48 more seats than they do now, sharing the balance of power with the NDP, seat projections based on a new poll show.
The poll also indicates a boost in support for the Liberal Party and a large drop in NDP support in Quebec following Jack Layton's announcement that he was temporarily stepping down as party leader to fight a new form of cancer. (Note: The poll does not capture what impact, if any, the controversy over interim NDP Leader Nycole Turmell's past association with the Bloc Quebecois has had on NDP support).
At 36.2 per cent support, the Conservatives are still well ahead of their rivals. Nationally, the Liberals stand second with 27 per cent, up 4.7 points since June, and are statistically tied with the New Democrats, who have the support of 26.8 per cent of Canadians.
The NDP's national numbers have dropped 1.2 per cent since Nanos' last poll, which is statistically insignificant, but the regional numbers tell a different story, especially in Quebec, where the party has seen a large decrease in support.
Quebec, which voted en masse for Jack Layton on May 2, is now split three ways, with 34.2 per cent opting for the NDP, a drop of almost six points since June. The Conservatives stand at 24.2 per cent, a big increase on the 16.5 per cent support the Tories garnered on election night. The Liberals are also up, pegged at 22.2 per cent support. The Bloc Québécois trails in fourth with 17.3 per cent, though that is up 3.5 points since Nanos's last poll.
The recent flap over Turmel's past links with sovereigntist parties in Quebec cannot be blamed for the NDP's changing fortunes. This poll was taken between July 25 and Aug. 2, after Jack Layton's announcement of his health problems and temporary departure, but before the revelations about Turmel were widely known.
It remains to be seen whether the NDP will suffer as a result of the Turmel controversy. What is clear is that the Conservatives have lost some of their lustre since the election.
The results of this poll would deliver a very different House of Commons. Using ThreeHundredEight.com's seat projection model, these levels of support would give the Conservatives only 135 seats, well short of a majority government. The New Democrats would take 90 seats, down 13 from their current standing, while the Liberals would win 82, up 48 seats, with most of them coming from Quebec and Ontario. Elizabeth May would be re-elected in B.C. and the Bloc Québécois would be shut out of its home province.
A result like this, giving the New Democrats and Liberals a combined 172 seats and a clear majority, would likely spell the end of Stephen Harper's career.
Luckily for him, though, the next election is more than four years away. If the Prime Minister has peaked, he peaked at the right time.
The poll conducted by Nanos Research for The Globe and Mail and CTV was taken between July 25 and August 2 and surveyed 1,203 Canadians. The margin of error on a random sample of that size is +/- 2.8%, 19 times out of 20.
Éric Grenier taps The Pulse of federal and regional politics for Huffington Post Canada readers on Tuesdays and Fridays. Grenier is the author of ThreeHundredEight.com, covering Canadian politics, polls and electoral projections.