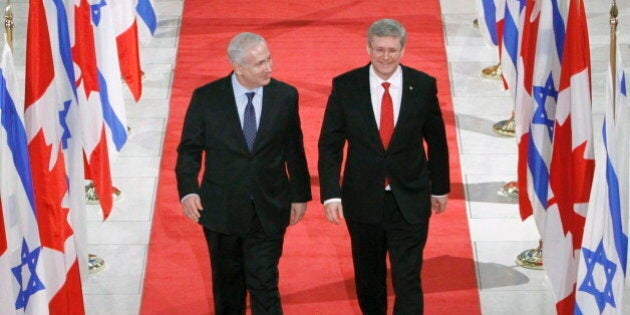 OTTAWA — Prime Minister Stephen Harper heads to Israel later this week for a long-awaited trip to the Middle East. A staunch supporter of Israel, Harper hasn't yet visited the Jewish state during his eight years as prime minister. But his upcoming visit comes as several factors have changed domestically — where it matters most.
Harper and his fellow ministers have been mostly alone in their frequent, vocal and unbending support for Israel, but now the Conservative leader faces two opposition leaders whose personal statements regarding Israel closely resemble his own.
Liberal Leader Justin Trudeau visited B'nai Brith and Toronto's Beth Tikvah Synagogue in December and called the Liberal party a "strong friend of Israel."
"Yes, the Liberal Party will have Israel's back — but not because it's in our political interests to do so at home, but because it is the right thing to do on the world stage," he told the crowd of 500, according to the Jewish Tribune.
Trudeau and Mulcair have both visited Israel, and Harper's absence has not gone unnoticed. Stephen Bronfman, Trudeau's chief fundraiser and a high-profile member of the Montreal Jewish community, noted publicly in August that the Tory leader had never visited Israel.
Conservative Senator Linda Frum told The Huffington Post Canada that people have been asking her for years why Harper doesn't go to Israel. Her response has been: Look at his record.
"He's stood up for Israel many times. He's taken a very principled stand about Israel in forums where that often hasn't happened on the part of Canadians. And the Jewish community has been very, very appreciative," she said.
"He did not need to do this to prove something to Stephen Bronfman or to the Jewish community."
Story continues after slideshow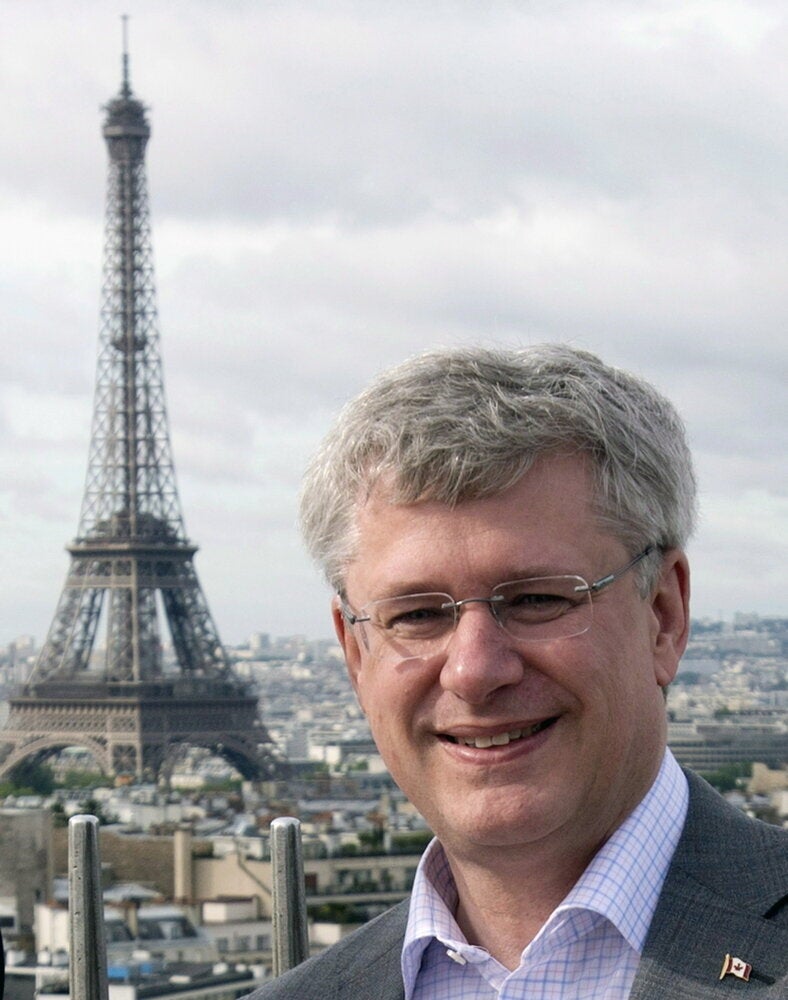 Where In The World Is Stephen Harper?
The Israeli embassy has repeatedly invited Harper to visit Israel. Eitan Weiss, the embassy's head of public affairs, said a trip to the country will provide Harper with the "living proof" that what he is doing is right.
Weiss is not sure why Harper waited so long before making an official visit.
"I have no answer for that. He is coming at the most suitable time for him, and I guess he thinks that is now," he told HuffPost.
Joseph Ben-Ami, a former aide to Stockwell Day and the president of the the Meighen Institute, a conservative think tank, said he suspects Harper did not visit Israel earlier because he didn't want to reinforce the public perception that he was "somehow just a lap-dog of the government of Israel." Several other sources suggested Harper had little to win by visiting the region.
Ben-Ami told HuffPost he expects Harper will be treated like a rock star in Israel and well-received in Jordan, but he is unsure "how well he'll be received with the Palestinian Authority."
On the timing of the visit, Harper spokesman Jason MacDonald would say only that Canada and Israel have an important relationship and, "given that strong relationship, and our growing business, person-to-person and community ties, now is an opportune time for the Prime Minister to make the trip to Israel."
Shimon Fogel, CEO of The Centre for Israel and Jewish Affairs, told HuffPost that while all of the parties believe in a two-state solution, the Harper government established a new benchmark regarding Canada's support for Israel.
"It put out front in a very stark relief those things that it supported and those things that it rejected," he said.
Harper's attention to the relationship between Israel and Canada is based on deep-rooted support for the Jewish state, says Mira Sucharov, a political science professor at Carleton University
"The Harper government's focus on the Jewish vote and on Israel is really more due to conviction than electoral consideration," Sucharov said.
The Jewish community in Canada is only one per cent of the population — 329,500 people — according to the 2011 National Household Survey.
"It isn't the Jewish vote that is going to get anybody elected," said Morton Weinfeld, chair of the ethnic studies program at McGill University.
Israeli diplomat Weiss is more blunt.
"If they [political parties] are trying to get the Jewish vote, I think it's kind of futile because not a lot of Jews live in Canada compared to Muslims basically. So I think they would lose more by trying to attract the Jewish vote than Muslims," he said.
The Jewish community in Canada is, however, concentrated in certain pockets across the country: Toronto, Montreal and, to a lesser extent, Winnipeg. The Centre for Israel and Jewish Affairs estimates that there are 23 ridings with a significant Jewish population, but only 12 in which there are enough to swing a riding.
Liberals used to enjoy large support in the Jewish community, but much of that vote has shifted to the Conservatives in recent years.
An Ipsos Reid exit survey conducted online with 39,261 people on election day in 2011 found that of the 557 people who identified themselves as Jewish, 52.7 per cent had voted for the Conservative party, 28 per cent for the Liberals and 13 per cent for the NDP.
A study by The Globe and Mail suggested that, in four of five key ridings that are predominantly Jewish, the Liberal vote had declined in favour of the Conservatives between the 2006 and the 2008 elections. The drop was at more than double the rate than in the rest of the country. The Liberals' share of the national popular vote dropped by four per cent and the Conservatives gained 1.3 per cent, according to the Globe.
Frum said Jewish Canadians saw the Conservative party of the 1950s and 1960s as an intolerant party, "and that wasn't entirely wrong." It wasn't until Harper's election and the arrival of ministers such as Jason Kenney and John Baird that the Conservative party as a whole changed, Frum said.
"Jews then discovered they didn't have to vote Liberal. We didn't have to put up with the kind of neglect or indifference of the Liberal party. It was just that it was the best thing on offer at the time," she said.
Liberal MP Irwin Cotler dismissed criticism that the Liberal party ignored the Jewish community or took them for granted. The Liberals' position on Israel is nearly indistinguishable from the Conservatives, he said.
The difference, Cotler said, is that while the Middle East was one part of the Grits' overall foreign policy, Israel is Harper's central, if not only, foreign policy interest.
The Jewish community is not the only ethnic community being courted by political parties. All three major parties are focusing their attention on minority groups. Outreach by multiculturalism minister Kenney in places such as the vote-rich Greater Toronto Area helped the Tories win their coveted majority in 2011. And despite its relatively small size, the Jewish community remains influential.
Brent Sasley, a political scientist at the University of Texas at Arlington, said the Jewish community is more politically active than other communities and sophisticated in its lobbying.
Trudeau's senior staff, for example, is currently on a tour of Israel sponsored by The Centre for Israel and Jewish Affairs. Journalists and staffers from other political parties have also visited Israel courtesy of groups within the Canadian Jewish community. In 2012, 16 MPs — six Conservatives and 10 New Democrats — travelled to Israel free of charge through sponsored trips. In 2010, this reporter also participated in a trip organized by the Canada Israel Committee.
"Jews tend to be big donors," he added. "It's not the amount, it's the number of people who participate in that type of activity."
The Jewish community in Canada, as in the U.S., is traditionally centre-left and Harper's domestic policies don't always align, said Bernie Farber, a former provincial Liberal candidate and past CEO of the Canadian Jewish Congress.
"We are proud that he is focused on Israel [but] there are other issues in Canada which many members of our community differ with him on, be it refugee determination, the manner in which he deals with First Nations, the whole issue of poverty.
"These are issues that have been very dear to our social justice heart, and those issues are not in consonance necessarily with the way many Canadian Jews think."
The head of the conservative-leaning B'nai Brith wrote a blog last year asking whether the community will turn its back on the Tories. Frank Dimant warned of an upcoming movement to "neutralize Jewish support for the Conservative Party" that will advocate a bigger focus on aboriginal issues, child poverty, health care and social housing.
"Jewish publications will be fed stories that it would be best not to concentrate on Israel, Iran and terrorism but rather on domestic issues," he added.
Caring for the poor, the elderly and the sick is an important concern among many Jewish voters, Ben-Ami acknowledged.
And those socially progressive values lead some on the left to believe that many Jewish voters are only temporarily in the Conservative camp.
NDP press secretary Kiavash Najafi stressed that his party and the Jewish community share the desire to fight poverty, provide settlement services to immigrants and refugees, fight anti-Semitism and racism, and stand up for human rights at home and abroad.
But despite the social justice concerns, some experts believe the make-up of Canada's Jewish community leads it to tilt conservative.
Unlike many Jewish Americans, who have mostly been in the country for three or four generations, Jewish Canadians are more likely to be newer immigrants who, experts suggest, feel a more direct attachment to Israel and its security. It is one reason some observers believe the Jewish community in Canada is more likely to vote for a right-wing party with a pro-Israeli position than their American counterparts are to vote for the Republican party.
Cotler said he believes Jewish support will swing away from the Tories in future elections if issues such as the environment, child care and health care come to the fore.
"If those issues become pre-eminent than you may find a shift back to the Liberal party," Cotler said.
On the other hand, he said, if the election is about the safety, security and survival of Israel, Harper may maintain his support.
Sasley also believes that as long as Israel's existence is not under direct threat, Jewish Canadians will vote on other issues.
"Jews rarely vote on Israel," he said