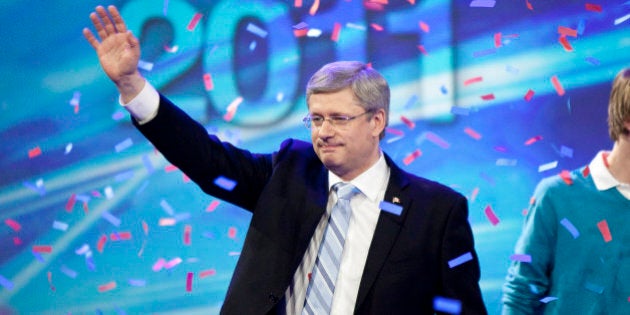 Stephen Harper is now the sixth longest-serving prime minister in Canadian history.
On Thursday, which marked his 3,203rd day on the job, Harper officially leapfrogged fellow Tory Brian Mulroney in terms of length of service among Canada's 22 past leaders.
Last week, Harper eclipsed Robert Borden, who led Canada through World War I. Conservatives celebrated at the time with a tweet linking to a page soliciting donations.
"The Liberals ahead of us on this list have been in power for a total of 62 years!" the site reads. "It's going to take the Prime Minister's leadership and lots of hard work to get our country back on track after years of Liberal neglect."
There's now just one Conservative ahead of Harper — John A. Macdonald — who spent 6,934 days in office and is the second longest-serving PM. Harper would need to be in office until at least the winter of 2025 to top him.
If the Tories win the next federal election, scheduled for October 19, 2015, Harper just might surpass Jean Chretien as well. Harper would need to serve until at least March of 2016 to best the Grit legend's 3,689 days in charge.
Harper was officially sworn in on Feb. 6, 2006, after toppling Paul Martin's minority Liberal government. Of course, he captured a majority in 2011 and has made it clear he has no plans to quit anytime soon despite rumours to the contrary.
In his acclaimed 2013 book, 'The Longer I'm Prime Minister: Stephen Harper and Canada, 2006 –,' Paul Wells equated Harper's endurance, in part, to his discipline. Wells wrote that Harper has avoided chasing after bold projects that can blow up in a leader's face and has not allowed a rival from within his ranks rise to the point of challenging him.
"Harper brings a temper and a vengeful streak to office, but he is also awesomely clear-eyed," Wells wrote. "Because he is temperamentally the most conservative Canadian prime minister of his lifetime, he will not ever run out of ideas for conservative things to do. So on any day he has a choice: he can do the big conservative thing that would be the end of his career, or he can do some of the small conservative things that won't. He is amazed that earlier leaders had a hard time choosing."
When Harper was on the cusp of surpassing former Liberal PM Louis St. Laurent in September, political historian Jack Granatstein told Postmedia that length of time in office is a "serious measure" of a PM's success.
"You have to keep winning elections. You have to keep your party quiet, happy and satisfied. And you have to manage the affairs of the country and its dealing abroad. Anyone who can do that for almost nine years is somebody who is very effective," Granatstein said.
"It doesn't mean you're popular – God knows the dislike of Harper is extreme and widespread – but he is effective."
Tories are hoping Harper can win at least one more time when Canadians head to the ballot box next year. The party's main slogan, which has appeared in messages to supporters and in a campaign-style ad released in September, is "We're Better Off With Harper."
While Harper is nipping at Chretien's heels, he still has a way to go before he can hope to catch Canada's longest-serving prime minister, William Lyon Mackenzie King. The former Liberal PM was in office for 7,837 days – 21 years.
The 55-year-old Harper would need to stay prime minister until the summer of 2027 to take the top spot.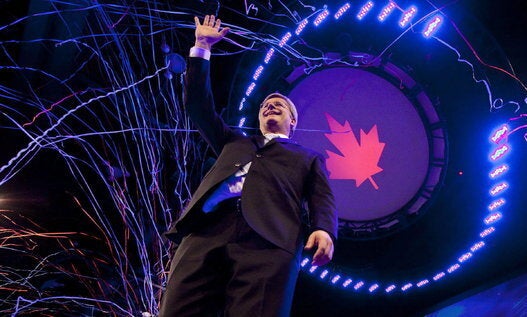 5 PMs Who've Served Longer Than Harper