Former prime minister Stephen Harper had the ears of some top Republican donors at a private dinner hosted by a Las Vegas billionaire.
According to popular American website Politico, Harper dined at the "palatial mansion" of Sheldon Adelson, chairman of the Las Vegas Sands Corporation and a hugely influential GOP mega-donor, last Thursday.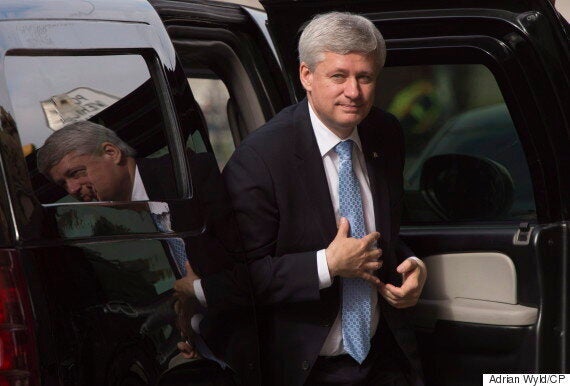 Former prime minister Stephen Harper arrives at his office in Ottawa on Oct. 21, 2015. (Photo: Adrian Wyld/Canadian Press)
Politico reports Harper spoke to some top officials about "how fractured parties can unite." The Republican presidential race between top candidates Donald Trump and Ted Cruz has become increasingly bitter and nasty, leading many GOP insiders to fret about the party's future.
On Monday, Harper took to Twitter to say, simply, "Thanks all for a great weekend in support of Israel."
Harper spokeswoman Anna Tomala told The Huffington Post Quebec that Harper's participation in the event should be viewed "exclusively" as an expression of his continuing support for Israel.
"He accepted the invitation after receiving approval from the Ethics Commissioner that it was appropriate to do so," Tomala said via email. "He was not paid to attend the event and was not paid to speak."
Politico reported last week that Harper was going to break bread with Adelson and his circle of friends.
On Thursday, influential American Orthodox Jewish Rabbi Shmuel "Shmuley" Boteach shared a few photos of Harper with his 240,000 Twitter followers. Boteach referred to him as the current prime minister of Canada, and called Harper a "great friend of Israel."
Harper has deliberately kept a low profile since his Tories lost the election last fall. He remains a member of Parliament for the riding of Calgary Heritage and, though he has shown up to vote several times, has not spoken in the House of Commons since Justin Trudeau's Liberals formed government.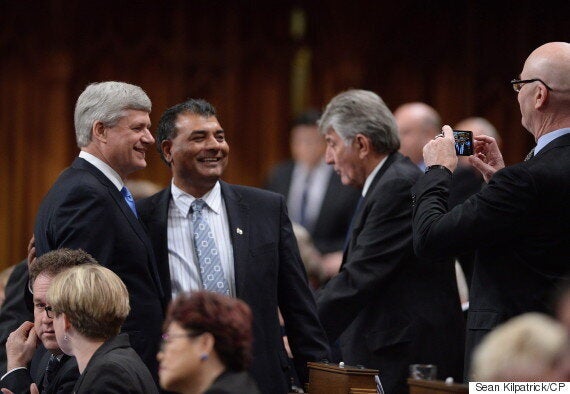 Former prime minister and Conservative MP Stephen Harper, left, poses for a photo with a fellow MP in Ottawa on Dec. 3, 2015. (Photo: Sean Kilpatrick/Canadian Press)
But Harper has still been spotted out and about.
In November 2015, Edmonton man Adam Kjenner ran into his former prime minister at a Shake Shack in Las Vegas — Adelson's neck of the woods.
"Very, very nice man and a bit of an Oiler fan too!" Kjenner tweeted.
Late last month, The Globe and Mail ran a feature on how Harper has been mostly silent for the last five months, save for his occasional tweets.
But it appears all that is set to change.
The Conservative Party of Canada has announced that Harper will be feted with a farewell tribute at the party's policy convention in Vancouver this May.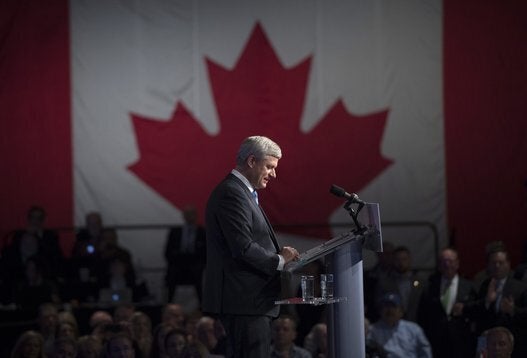 Harper's Legacy: Top Achievements, Failures, According To Poll