OTTAWA — Conservative Leader Stephen Harper is set to receive his four-millionth dollar from taxpayers during this election campaign — on Oct. 6.
Harper, who was a member of Parliament from 1993 to 1997 and again from 2002 until now, will have earned $4,000,044.95 in accumulated salary by mid-day Oct. 6, an analysis by The Huffington Post Canada has found. Harper earned $64,400 his first full year in Parliament in 1994, but now collects a $334,800 paycheque.
An average MP earns $167,400 a year.
Harper's $4-million-dollar figure takes into account leap years, his salary bump during his time as Opposition leader and as prime minister, but does not include his expenses, meals, car or housing allowance. Harper has been living at official residences — at taxpayers' expense — since 2002.
If Harper retired after the election, he would be immediately eligible for an estimated $119,495 annual pension on top of a one-time severance payment of $167,400.
Taking that into account and his total pension, which tops off at an estimated $168,208 annually from age 67 onwards, Canadian taxpayers will have given Harper nearly $9.8 million throughout his lifespan in direct income: $9,798.243.86. For estimation purposes, HuffPost has used Statistics Canada's average age for life expectancy for a man from Alberta or Ontario of 84.3 years. Harper, born April 30, 1959, is 56 now.
Although he is eligible to collect a six-figure pension at age 55, Harper's government announced that it would raise the age of eligibility from 65 to 67 years of age for Old Age Security and Guaranteed Income Supplements — money given to low-income seniors — beginning in 2023.
In this federal election, which has seen all three party leaders jockey for position of who can best speak for or represent the middle class, Harper's $4-millionth-dollar clashes somewhat with the public image the prime minister has tried to create.
On the campaign trail, the Conservatives have pointed to Justin Trudeau's privileged upbringing, his dad's expensive 1960 Mercedes-Benz convertible and the $277,000 he received as a paid public speaker while an MP as proof that the Liberal leader is out of touch.
Harper has hit on these themes before, referring in the Commons earlier this year to the Liberal leader's $1.2 million inheritance.
"Let's be clear, the vast majority of Canadian families cannot rely on a personal trust fund," Harper said in the House.
The Conservatives have also attacked NDP Leader Thomas Mulcair for being a "career politician."
In a Tory ad released just before the election call, actors playing panellists at a mock job interview discussion note that Mulcair was first elected to Quebec's National Assembly in 1994.
"Hmm, he's no fresh face," one person comments.
Another says Mulcair joined the NDP "after he cashed out his $135,000 severance."
"Looks out for himself," a woman concludes.
Mulcair was a Liberal provincial member of the Quebec National Assembly from 1994 until 2007. In 2007, he left provincial politics and ran successfully for the NDP in a federal by-election. He has been a politician for 21 years, so far.
Harper has been one for 17.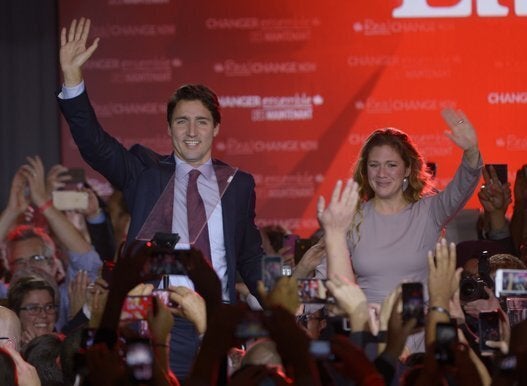 In Photos: Canada Election 2015

Popular in the Community