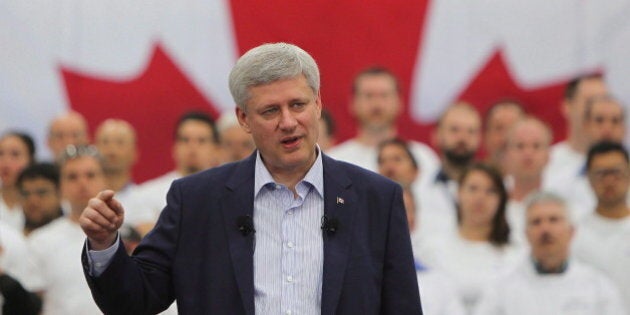 Dozens of contract workers were asked to stay home earlier this month to accommodate a press conference by the prime minister at an auto parts manufacturer in Windsor, Ont.
A worker brought the request to light in a letter published by the Windsor Star. Matt St. Amand wrote that contract workers with Valiant Machine & Tool Inc. were told to stay home until noon on May 14.
"Stephen Harper is a 'pro-business,' and 'industry-friendly' politician," he wrote. "Yet the photo op will cost dozens of people five and six hours' worth of pay, totalling thousands of dollars in lost wages."
Harper used the May 14 event at Valiant to discuss tax changes aimed at helping manufacturers invest in new machinery and equipment.
Stephen Lecce, a spokesperson from the prime minister's office said they're aware of the situation, adding as far as the PMO knows, the company followed procedure.
"We understand that the company followed their normal process, and offered these workers the opportunity to make up these hours," Leece told The Huffington Post Canada.
He did not say if the request for contract workers to stay home came from the prime minister's office or from company management.
A representative for Valiant told HuffPost Canada that the contractors were offered a chance to make up the hours. The company says contractors were asked to stay home because Valiant did not have enough information to run background checks on them prior to Harper's visit.
Valiant would not elaborate whether the request for the background checks came from the PMO.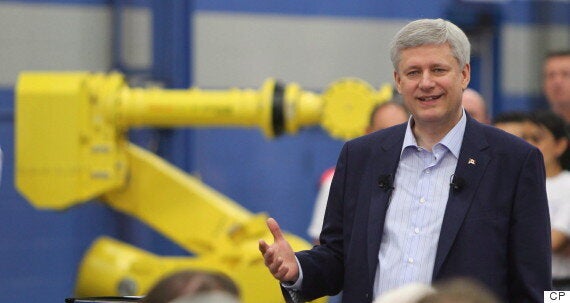 Prime Minister Stephen Harper speaks to the crowd gathered at Valiant Machine & Tool Inc. in Windsor, Ont. on May 14.
Valiant was asked by the federal government if it would be willing to host an event with a few days notice, and the company obliged. But to screen contract workers, the company said it would have had to ask up to 15 contracting houses for the birth dates of each worker — a request that would have set off alarm bells.
The company said they've previously asked contractors to make up hours for events including factory closures.
During the 2011 election, background checks at Harper campaign events made news after a student at Western University was asked to leave a rally. Awish Aslam said she was asked to leave by an RCMP officer because she had posted a picture of her and Liberal Leader Michael Ignatieff on her Facebook page, suggesting event organizers vetted pre-registration lists. Harper subsequently apologized.
Matt St. Amand, the worker who wrote the letter in the Windsor Star, could not be reached for comment. He still works at Valiant and has been asked by management not to speak to the media, The Huffington Post Canada learned.
At the May 14 event, Valiant employees stood behind the prime minister while he praised the manufacturing industry with a large Canadian flag hanging in the background.
"It supports communities from coast to coast, and it provides good, well-paying jobs for hardworking Canadian families all across the country," he said.
Harper was accompanied by Public Works Minister Diane Finley, Transport Minister Lisa Riatt, and Essex MP Jeff Watson. Valiant Corp. founder Michael Solcz was also there.
With files from Althia Raj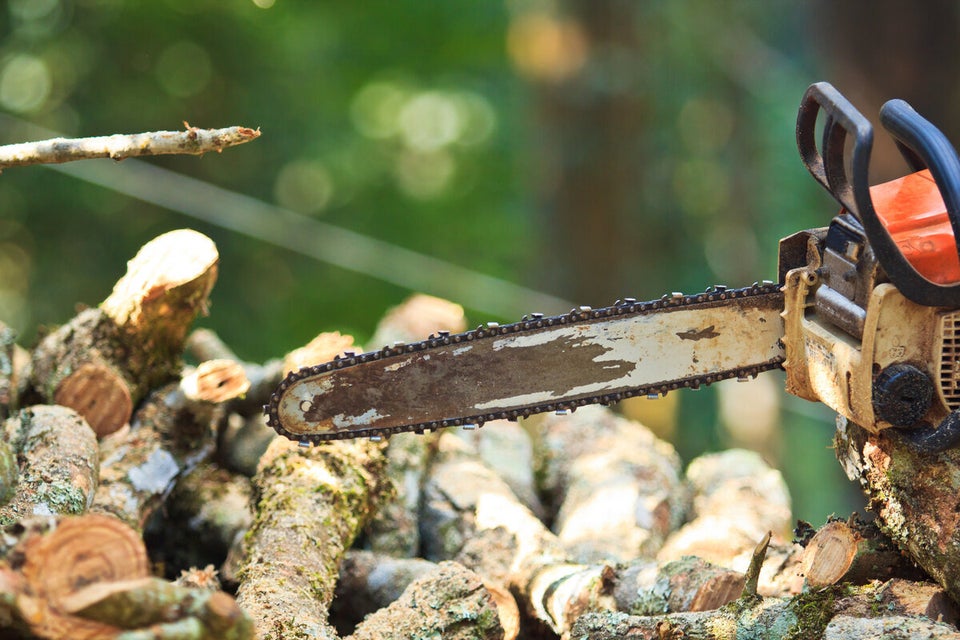 Best, Worst Industries For Jobs In Canada
Popular in the Community