OTTAWA — Prime Minister Stephen Harper is set to recommend to his caucus Wednesday that Canada take part in airstrikes in Iraq, but not all Conservative MPs are onside with the plan.
Speaking in the House of Commons Tuesday, Harper described the war against the Islamic State of Iraq and the Levant (ISIL) as "necessary" and the international response as "noble actions."
"When we think something is necessary and noble, we do not sit back and say only other people should do it," Harper said. "The Canadian way is we do our part."
The Prime Minister did not announce what assistance Canada would provide – he only pledged to bring a combat mission to the Commons for a vote. Several sources reported, however, that the government's contribution, at this stage, would involve a contingent of CF-18 fighters and a tanker aircraft for in-air refuelling. A final decision is expected to be made by week's end with a vote as late as next week.
Cabinet discussed the matter Tuesday and Harper met with U.S. Homeland Security Secretary Jeh Johnson who was in Ottawa, in part, to build the international coalition against ISIL. Belgium, Denmark, the Netherlands, Britain and France are, or soon will be, dropping bombs on the terrorist group in Iraq.
Edmonton Conservative MP Laurie Hawn told reporters he believes there is "absolutely" unanimity in the Tory caucus for a combat role, such as airstrikes.
"The air force is the obvious player, and I think that's the lowest risk option with the highest impact," Hawn, a former air force commander, told reporters.
"Somebody needs to put boots on the ground. Personally I don't think that should be us," he added.
"This is not our operation. Whatever we do is going to be in support of what's going on in the region."
Iraqi forces, the Syrian opposition, Saudi Arabia, Qatar, Turkey and countries in the region that are more directly affected should be more involved than Canada, he said.
Some Conservative MPs, however, are questioning whether Canada needs to be involved in combat at all.
"I don't know whether we need to at this stage," Brad Butt, the Tory MP for Mississauga–Streetsville, told HuffPost in an interview.
"I think there is universal agreement that Canada should play its role on the humanitarian side," he said. "The humanitarian side is equally as important."
A month ago, Butt travelled to northern Iraq with the aid group One Free World International to visit camps for internally displaced persons in Erbil and Duhok.
He suggested Canada could provide the Peshmurga – Kurdish fighters – with better weapons to fight ISIL, but he hoped that the Conservative government would endorse a "balanced approach" with financial aid directed towards NGOs able to help desperate people with no place to go.
"Seeing the situation, children, and other displaced people talking about friends' being beheaded in front of their faces, it was just so surreal," Butt said.
"You just can't believe that you are sitting on the ground, behind a tent, on a Sunday night in Iraq talking to people whose lives have been completely changed by this. One o'clock in the morning, ISIL just walks into their village and starts opening fire," Butt recounted.
"What do you say? What do you say to these people? Canada will try to help you, it's all you can say."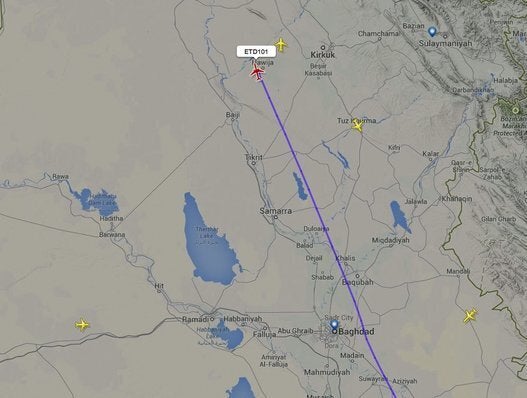 7 Images Of Planes Over Conflict Zones
Conservative MP Ben Lobb told HuffPost that his constituents in the Ontario riding of Huron–Bruce have a lot of questions about extending the mission in Iraq. So far, Canada has 69 special forces troops playing a non-combat role as advisors. Their 30-day mission is due to expire Sunday but could be renewed.
"To be honest with you, I'd like to see more details on it," Lobb said. "Canadians have a lot of questions about the mission, and I think it's fair that they do."
People are concerned about human rights issues and the "terrible slaughter" that is taking place there, Lobb said.
"So, they want to see that wrong righted, but I think, this time, they want to see more details before they decide what would be the next step."
NDP Foreign Affairs critic Paul Dewar thinks Canada should join the coalition but focus solely on humanitarian assistance.
"You don't just have to be flying air jets and dropping bombs to be doing your part," he said. "The most serious part, and probably the most expensive, maybe, is to actually being there helping sustain refugees."
Dewar was in Iraq with Foreign Affairs Minister John Baird and Liberal critic Marc Garneau in early September. The group met with Iraq's president, its foreign minister, the speaker of the council of representatives, the president of the regional government of Kurdistan, the UN Refugee Agency, and Canada's ambassador to Iraq. Dewar said they all recommended that Canada help build refugee camps and protect the minorities who are fleeing.
"John knows – Minister Baird knows – that we were asked to do these things," Dewar said. "No one asked us for boots on the ground; they all asked us for humanitarian support."
Liberal Leader Justin Trudeau told reporters Tuesday that he wants to see what the government proposes before making a decision. Harper would need to provide clarity and transparency, Trudeau said, for the Liberals to consider a combat mission.
Although the prime minister had urged bipartisan support for a mission, James Bezan, the parliamentary secretary to the defence minister, said the opposition was showing "really weak leadership."
"There's the contrast that you have the opposition that is refusing to be responsible and take positions that will actually protect Canadians as well as stop the genocide and the slaughter that's taking place in Iraq right now," he said.
Harper had told the Commons earlier Tuesday that the mission against ISIL had support from Conservatives, Liberals and social democrats in other countries. "We should put partisanship aside in this chamber as well," he said.
Liberal MP Scott Andrews said he was surprised that his constituents are divided on the issue.
"There are some people out there that realize this is a very serious threat and we need to do something, and then there are others out there who oppose Canada's military involvement altogether, they think we should be more of a peacekeeping nation – but you can't have it on both hands on this one," he told HuffPost.
Right now, the Newfoundland MP said, the Conservative government hasn't provided enough information about what Canada's expertise is, what other nations are proposing and what some other options could be.
"You don't want to commit to something when you don't know what the inside discussions have already been," he said.
Guelph Liberal MP Frank Valeriote told HuffPost his constituents want to know whether the Canadian Forces are capable of entering another war, whether there is an exit strategy and what to expect from Canada's involvement.
"A lot of them wanted to know the status of our forces: Was there still emotional, physical, structural fatigue from our engagement in Afghanistan, and have we adequately recovered from that," Valeriote said. "Most of them understand that at some point, given the threat, we will have to be engaged at some level, but the level is the question."
Canada, he also stressed, could provide "security and funds" for refugees or internally displaced people, offering shelter from the war, food, and medical aide.
"They want us to do something," but they don't want people to risk their lives, Valeriote said. "They are concerned about boots on the ground, and, in fact, about planes in the air."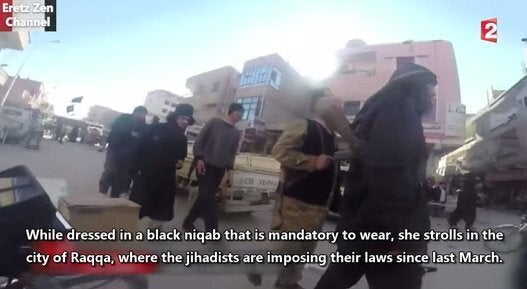 Syrian Woman Wears Hidden Camera to Reveal Life Under ISIS Rule