Conservative leadership contender Steven Blaney says that by dismantling First Nations reserves, indigenous people can move forward to become "fully Canadian."
Blaney, a former public safety minister under the previous Conservative government, made the comments Tuesday during an appearance on CBC News' Power and Politics.
Host Rosemary Barton pressed Blaney on who he would support in the Conservative leadership race if he dropped out.
The Quebec MP wouldn't answer, instead saying he respected all of the 13 candidates running alongside him. Blaney then switched to bashing the Liberal government's deficits and declaring he wants to dismantle reserves.
"Reserves are not helping First Nations to grow. I say we need to dismantle reserves, because we know it is the core, the source of violence on reserves," Blaney said, adding that domestic violence was the cause behind missing and murdered aboriginal women.
"We can study it as long as we want, we need to attack the core issues."
Blaney said he wants First Nations members to be able to own a house "like every other Canadian." At first, he did not elaborate when Barton reminded him that there are homes on reserves.
Toward the end of the segment, when Barton reminded Blaney of that fact again, he replied: "They do. But do they own it?"
"I think it depends on the situation," she said, as she ended the segment.
Earlier in the interview, Blaney repeated his commitment to banning the niqab during citizenship ceremonies and prohibiting civil servants from wearing the face-covering veil. The niqab ban, an issue that engulfed the 2015 election campaign, was struck down by a federal court as unlawful.
The Conservative government had appealed that ruling to the Supreme Court. It was dropped, however, after the Liberals took power. The legal fight cost the government more than $400,000, according to CBC News.
"The court, they have a point of view," Blaney told Barton, "but I believe it's up to the Parliament, it's up to the people elected by this country to make the final decision."
Watch the testy segment below:
Conservatives choose their new leader in May.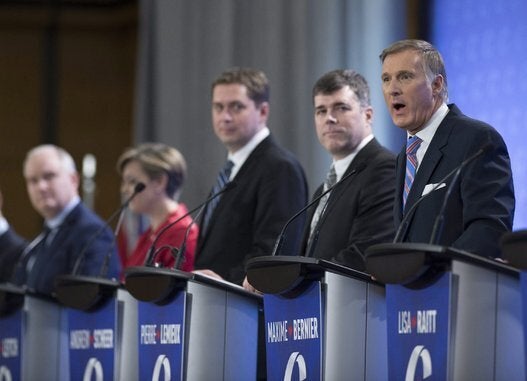 Conservative Leadership Candidates