It's 8 a.m. and Steven Blaney is bursting with energy.
The 52-year-old MP for Bellechasse — Les Etchemins — Lévis, a riding south of Quebec City that includes bedroom communities and rural areas, and backs on the Canada-U.S. border, is determined to show he's not a single-issue candidate.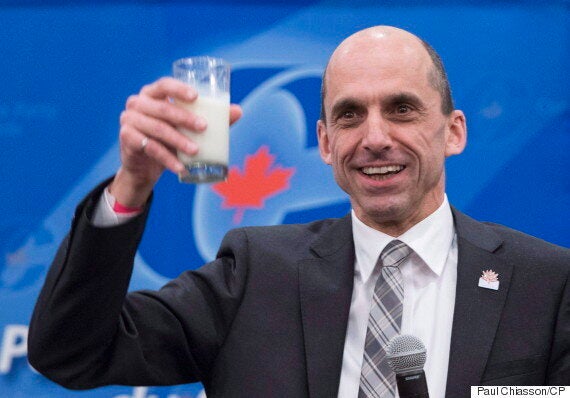 He suggests we skip the Fairmont Chateau Laurier's morning buffet and order from the à-la-carte menu so we have more time to talk. He considers the classic eggs Benedict with Canadian back bacon. "Two eggs poached on an English muffin, but is there just that?" he asks.
He settles on the Ottawa Valley Benedict: two eggs soft-poached on a toasted Balderson cheddar scone, homemade elk sausage, and smoked paprika Hollandaise sauce.
He orders a glass of water. And starts talking.
"For me politics is about trust, and authenticity. And that's why I'm running because I want to earn the trust of Canadians," he says.
"It's kind of stupid as an answer, huh?" he adds, in French.
The interview with The Huffington Post Canada is conducted in English and French. Despite his Irish name, Blaney is a francophone and much more comfortable in the language of Molière.
Like the other 13 candidates in the race, Blaney, an MP since 2006, describes himself as a Conservative. He believes in lower taxes, balancing the budget and getting rid of the carbon tax. Instead of focusing his leadership bid on the economy, however, Blaney wants to talk about things that differentiate him from his challengers.
"For me, it's important to talk about economy but also about security, stability and prosperity," he says. He wants to safeguard the "Canadian fabric," which he defines as "our capacity to live together in respect, and to assume and respect the fundamental rights of Canadians, for example, the equality of men and women."
His campaign's slogan is "Canada First," echoing U.S. president Donald Trump's winning motto.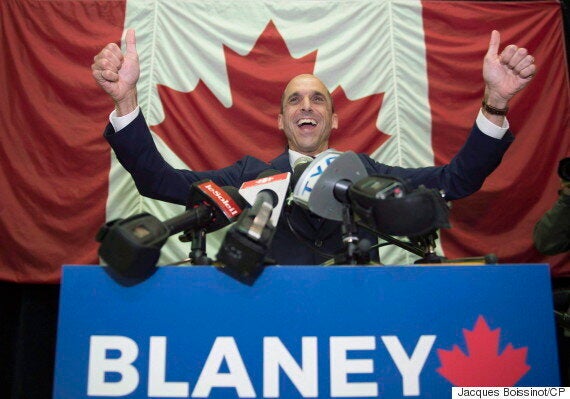 Blaney's words have been described as Kellie Leitch-light, the other Tory challenger who is hoping to win with her call to screen refugees and immigrants for so-called "Canadian values."
Blaney proposes a ban on all face coverings for federal civil servants who provide public services. He says he doesn't care if someone walks around with niqab, a burka, or a garbage bag, but he draws the line at citizen-facing public services.
"Canada has nothing to hide, why would you? It is a matter of mutual respect."
The former minister of veterans affairs and public safety in prime minister Stephen Harper's cabinet says he believes that Canadians' way of life is currently at risk "from extremists."
"Just recently, we had a chaplain from the Canadian Armed Forces saying it was OK to beat your wife behind doors. I don't feel this is aligned with our Canadian charter of rights."
He's referring to reports that Iqbal Al-Nadvi, the chairperson of the Canadian Council of Imams who works closely with the Canadian Forces, delivered a speech in 2015 explaining the Quranic verse dealing with wife-beating. The verse says men are in charge of women, and if a husband fears his wife will be arrogant he should first speak to her, then not sleep with her, and finally strike her.
The Canadian military told HuffPost that the imam is not a military chaplain but an advisor to the chaplain general. Spokeswoman Jessica Lamirande said Al-Nadvi was "quoted out of context" but added that since he occupies a volunteer position, "no disciplinary measures will be taken."
Blaney wants a royal commission on Canadian identity. "There are people who want to act like ostriches with their heads in the sand and say: 'No, everything is fine,' and I say, 'no.'"
His proposal would be modelled on Quebec's Bouchard-Taylor Commission on reasonable accommodation, a controversial public discussion that revealed a lot of anxieties towards immigrants, and resulted in a call for the province to do more to move towards a secular and pluralistic society.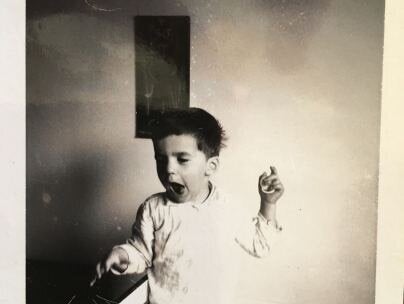 If a pan-Canadian commission results the airing of more uncomfortable truths, so be it, Blaney says. Canadians are better served by funnelling people behind a microphone to have their say than encouraging them to take to the streets in protest, he says, pointing to the manifestations over the anti-Islamophobia motion M-103.
Defining Canadian identity is what allows us to live together, Blaney says. It is why people are fleeing troubled regions to come here, he says.
He mentions a Muslim cleric in Montreal calling for all infidels to be killed, and the 2009 Shafia murders in Kingston, Ont., where a father, mother and son were convicted of arranging the honour killings of four family members.
People need to know that "if they don't respect our laws, they will face our justice system," he says. But don't they already?
"Yes, but they are starting to… Well, precisely, we need to reaffirm them," he says, quickly changing the topic.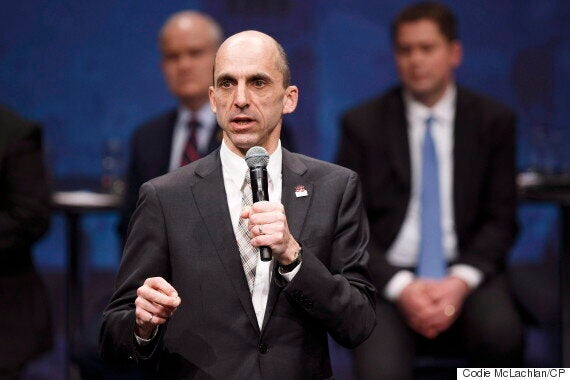 "I'm a Conservative," he says, moving on to an unrelated tangent. "I don't like deficits. You see I've found a solution for the last federal budget: 'Cash for life'!" he says, a big smile spreading across his face as he pulls out a shiny lottery ticket from his jacket's breast pocket.
This is the only solution to the government's $125 billion deficit, he says, pointing to the ticket. "Not only should you buy one for yourself, you should buy one for your kids and your grandkids because this is how deep these commitments are digging a financial hole.
"You like it?" he asks, laughing. "I like to provoke."
Blaney likes props. In December, he brandished an empty nuclear rod on stage during a debate espousing the benefits of clean technology and nuclear technology. He wants the federal government to replace the 40-year-old CANDU reactors and invest in fast neutron reactors, which can help recycle nuclear waste.
Describing the technology in layman's terms, Blaney says regular nuclear reactors work like putting a log into the fire, burning the bark, and taking the log out.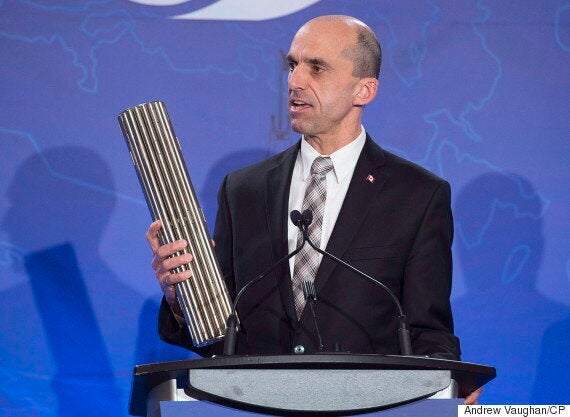 The reactors Blaney wants to build put that log back in the fire and inject more energy to burn the rest of the wood. The material that's left would only be radioactive for about 200 years, he says.
"Isn't this captivating?" the former engineer says. "I love technological solutions that respond to the challenges we are facing."
What animates Blaney most — and what he really wants to talk about — is supply management. Specifically, he wants to demonstrate how his fellow Quebec challenger, MP Maxime Bernier, is misguided to want to dismantle a system that doesn't cost taxpayers and provides an economic lifeline for many in both of their ridings.
"Maxime is wrong in his policy proposals," Blaney states, as the server arrives with the eggs.
"Is that venison under the egg? he asks. "Oh well, that's OK." He cuts into the first egg.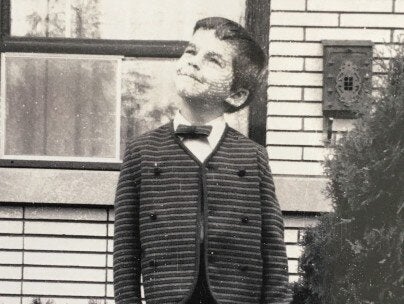 "Sincerely, I have no animosity against Maxime. I think that shows. People tell me, 'Oh Steven.' I say, I am debating ideas," he says, taking a bite. "But seriously, the 17 per cent tax on milk? Can we not agree that is a big hit?
"In Australia, the cost of buying back the quotas was evaluated at $2 billion and they placed a tax on milk of 11 cents a litre. This is documented. They did this for eight years. And in passing, when the tax ended, the processors absorbed the money and consumers saw no price decrease. In Australia, also, the consumption of milk dropped after they deregulated the industry," Blaney continues with a self-satisfied smile on his face.
"It was really a total fiasco. There is nothing good in what Maxime is proposing. Nothing," he says, slowing pronouncing the last word for emphasis.
Blaney's research is based on a paper by the Boston Consulting Group, which was funded by the dairy industry. "I'm not repeating idiocies; I do have an engineering degree."
His argument is pretty simple. Bernier's plan to buy back the Canadian milk quotas are valued at about $30 billion. Canada produces about 10 billion litres, so the tax that could be imposed on consumers to buy back the quotas are 30 cents a litre or about a 17 per cent increase on current prices.
"That's not just on the milk that we drink, that's also on yogurt, on cheese, on butter, and then we haven't talked about the buy-back of the quotas for eggs."
Blaney estimates the value of the quotas for a dozen eggs will translate into a price increase of 37 per cent.
And then, of course, he notes, there are also quotas on chickens. "Hello Earth? This is a complete mess. A complete mess. Maxime should not have touched this. He wanted to show he was a libertarian," Blaney says, shaking his head.
"Maxime, the champion of the libertarians, is now the person presenting himself for the leadership with a new tax on milk, butter, cheese, yogurt, and everything that has cheese, like pizza. A new tax on eggs, and a new tax on chicken. He wants to increase the cost of the grocery basket. That is the truth."
In a fundraising note in March, Bernier told supporters he is holding firm on phasing out supply management and will follow the Australian model by collecting taxes to pay out farmers' quota.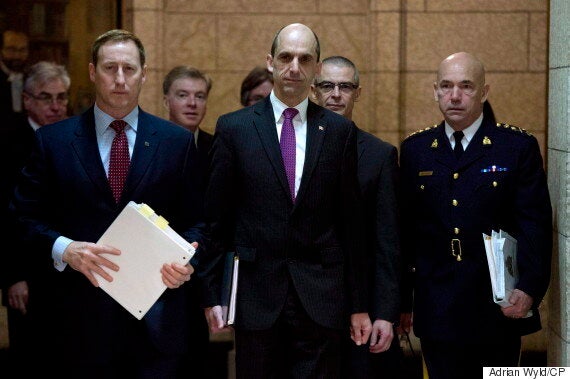 Bernier says he is standing up for Canadian families, who pay "billions" more than needed on dairy and poultry products, and for Canadian farmers, who are penalized from exporting their products abroad because of high tariffs that actually protect only 10 per cent of them.
Bernier accuses the other candidates of standing for protectionism and trying to curry votes with supply management unions. He suggested Blaney and Andrew Scheer, another Tory leadership candidate from Saskatchewan, were using concerned dairy producers (what he called "supply management lobbyists") to sell Conservative memberships to their non-Tory friends with the goal of preventing Bernier from winning the contest.
"Should this leadership race be decided by real conservatives or fake rent-a-Tories who only care about protecting their Soviet-style cartel system?" Bernier asked in an email.
That got Blaney all worked up.
"I'm the guy that people don't see coming. When I was elected in 2006, people were staying: 'Steven, a Conservative in Lévis? It's been decades since we last saw that. You're wasting your time. But now it's been four elections. And I won by 50 per cent in the last election... I won almost all the urban polls in Lévis. Maybe a few streets or two [he didn't win]... it's very, very urban. I still have a bit of work to do," he says, realizing he is stretching the truth a bit.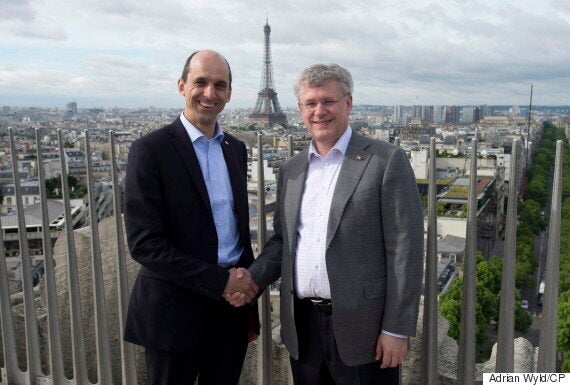 "I may not have won all the polls but I resisted the orange wave in Québec [in 2011]. And, then, look, now I'm on a roll … but when I see colleagues who say that producers are fake conservatives, Maxime. My friend Maxime Bernier …" Blaney's voice trails off as he shakes his head.
The Boston Consulting Group's research notes that while exports increased following the first phase of deregulation, they have decreased since 2000.
(Blaney later shows up at the HuffPost office brandishing a colour printout of the report, complete with Post-It notes, highlights, and sidebar comments to try to ensure its findings are presented as he wishes.)
From 2000 to 2014, production dropped by 15 per cent. There are fewer farms, though those that remain are more profitable
'You're nailed Maxime. You're nailed'
There are now more dairy processors in the hands of foreign companies. And more volatility in prices. The price of milk decreased with the arrival of private-label milk. Though, milk and butter prices rose above inflation. The results, concludes the Boston Consulting Group, were "mixed."
"I"m a politician, 'mixed' sounds like a disaster to me," Blaney says.
The Australia example shows dairy exports continuously decreased over the 12 years that followed deregulations, while Bernier suggests exports will increase — "Errrr," Blaney says, making the sound of a buzzer, like a contestant in a TV game show speaking directly to his challenger. "You're nailed Maxime. You're nailed."
Around the Chateau Laurier dining room, no one seems to notice that Blaney is on his feet, gesturing. It is as if his tall lanky body can't sit still with all the information he wants to share.
"You know I'm not just campaigning for this, but yes, I am campaigning for this. This is an economic disaster. I told Maxime, at the Quebec debate [in January], Maxime, your plan is silly nonsense. People were starting to believe that milk in the U.S. is cheap, but of course the milk near the border is cheaper, but they are giving it away and the milk in the U.S. is subsidized. Oh, that's the other thing, the subsidies. I know I'm not eating but I'll eat another time. I have you in front of me, and I'm not hungry this morning, even though I went to the gym. Maybe I'm a bit on a — I'm not sure what but —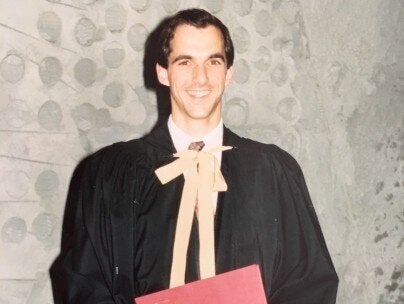 "Well, listen, I'm passionate. I think you need to recognize that." He takes another bite.
Blaney acknowledges that Quebec's dairy farmers have played a large role in encouraging him to run. Last spring, Blaney met many of the farmers who travelled to Ottawa to protest the lack of federal government action to stop diafiltered milk from crossing the U.S. border into the province.
"They were desperate. They were very worried. There are producers that are psychologically depressed right now because this is not a secure system."
Blaney felt he needed to do something. Those farmers are his people, he says. He has represented many of them for 10 years, as the MP of a rural riding.
"This is so frustrating. If you only knew how frustrated I am. This is really not right."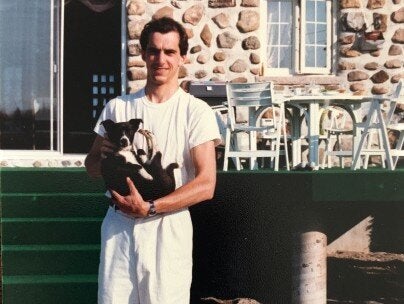 The farmers asked him what he thought of the leadership race. He told him he was reflecting. He needed his wife Marie's sign off. He pledged to run a responsible campaign with a balanced budget, based on constructive ideas and avoid personal attacks. "We had a deal."
Blaney announced he was joining the race in October.
"I can't let Maxime leave with the prosperity of the country! Agriculture is a pillar, we underestimate the importance of agriculture… This is not protectionism, we're talking about food security."
Blaney wishes he could debate Bernier face to face more often. But the 14-candidate contest hasn't allowed for many one-on-one interactions and Bernier, who is a perceived front-runner, hasn't made time to debate Blaney in local fora, such as the chamber of commerce in Chaudière-Appalaches. Blaney isn't impressed.
"So now in addition to treating our producers [as] economic illiterates, you [Bernier] are trying to say that the economic class has its two fingers up its nose. It's not OK."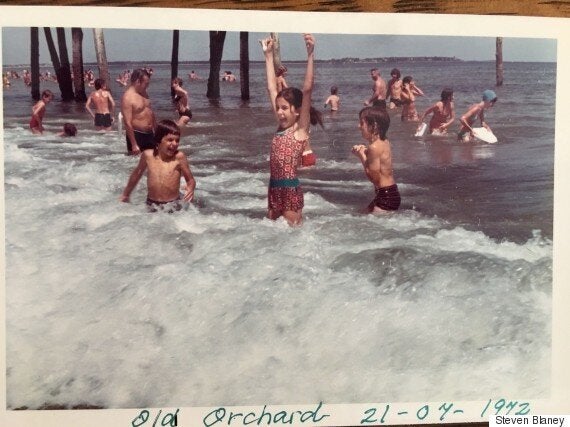 Bernier's camp says it told the chamber of commerce that it would be difficult to find time with only two months left in the contest, and the group abandoned its plans.
"My father volunteered for Mr. Bernier [Maxime Bernier's father Gilles, when he ran for the Progressive Conservatives and as an independent candidate in Beauce]. I have respect for Maxime. But I said I was going to debate ideas and that's what I'm doing… I'm attacking the ideas."
Blaney was born in Sherbrooke, in Quebec's Eastern Townships, on April 8, 1965 to Irving and Monique. He was the youngest in a close-knit family. His sister, Lindsay was four years older and an important role model.
"As soon as she saw that I had troubles with math, she told me to come sit down with her and she would explain it to me," he recalls. "She was a good coach. She did a BA, I did a BA. She did her MBA, I did my MBA. She got married, I got married. She took up skiing, I took up to skiing."
Blaney says he speaks to his family often. His mother zooms around in a motorized chair due to mobility issues, but has an exceptional force of character and an independent streak. She recently returned from spending a month alone in Cuba.
"I'm the guy that people don't see coming."
"My parents are two individuals who are extraordinary but also very different. My father loves firearms, my mother hates firearms. They are marvellous. They complete each other and respect each other."
The pair met at a celebratory political party in Quebec, he says. It was 1957 and John Diefenbaker had allied himself with Quebec's longtime Union Nationale premier Maurice Duplessis. Duplessis was infamous for using the Catholic church to spread his message that the sky was blue (Conservative blue) and hell was red (Liberal red).
Blaney's father worked on a tree farm and taught carpentry at Polyvalente Benoit-Vachon for a decade. He also served as the union representative for forestry producers, and ran his own tree growing and landscaping business. His mother was a school teacher.
When he was 10 years old, his parents moved the family to Beauce, where they were from.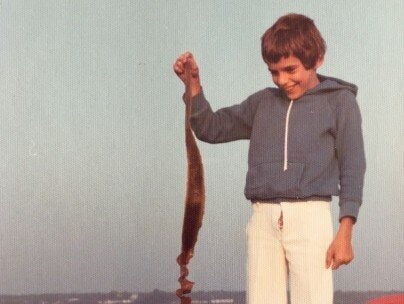 Despite spending most of his childhood in the town of Sainte-Marie and reminiscing fondly of visiting the local Vachon cake factory and eating caseloads of frozen Millefeuille cakes after a night of drinking with his buddies, Blaney doesn't consider himself a Beauceron. "I am a Sherbrookois in my soul."
He says he always felt like a fish out of water, a little boy from the city. Family was important and there were many visits to aunts and uncles and the family farm. His paternal grandfather, Howard, died in 1967 after his truck flipped over in a ditch and he drowned head first in water. His maternal grandfather, Joseph-Edmond Breton, had a leg amputated after an accident at the farm left him in terrible pain.
"They were working people who knew crisis."
Blaney, who was good in math, was encouraged to pursue a pursue a science degree after high school. He had always been fascinated with large infrastructure projects, especially Manic 5, now known as the Daniel-Johnson Dam. Blaney headed to Sherbrooke University to pursue a degree in civil engineering and to take advantage of the school's paid co-op program.
Blaney was involved in the executive of the engineering student association. The biggest battle he waged was setting up a vote of the engineering students to oppose a campus-wide student strike. Seventy per cent were on his side, but the other student associations were trying to set up a perimeter to prevent engineering students from attending class. Blaney issued a press release.
"It was quite a big thing," he recalls. "We were like the students who were on the right… so we came out publicly and said if the other associations want to strike go for it, but don't prevent our students from attending class."
After graduation, Blaney worked for Enviraqua in St-Hyacinthe, Que., as an engineer in municipal and environmental infrastructures, and later with Transport Quebec as well as several engineering offices. Throughout university, he'd been commuting back to Quebec City to be with his girlfriend, Marie Bouchard.
The two had actually met in Grade 5. "At the time, I didn't realize [she would be my wife], it's later when I saw her at the disco bar in Sainte-Marie that I got the 'click'," he says, smiling.
He remembers the "gino" bar called l'Annexe; it's now a funeral home.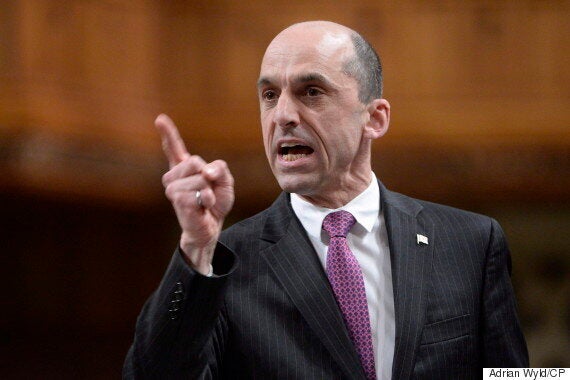 "We had people come in from the country, with their shirts unbuttoned, their chest hair and big medallions draped on their chests, with the no-parking pants — not me! Of course, we laughed at that, we thought we were so much better with our Le Chateau pants and their French pleats. Oh la la."
He would go back about every two weeks during school. In the summers he worked with his dad trimming cedar hedges. He remembers having wonderful summers and lots of fun. "We worked hard. It was very physical work."
He and Marie married in 1993. She works as an investigator in psychological harassment for the Quebec government. "She is very competent. She has a very large emotional intelligence. Probably three times, or four times, larger than mine," he laughs.
Together, they have two children: William-Antoine was born in 1996 and Alexandra in 2000.
The same year he and Marie married, Blaney launched STRATECH, his own environmental technology company. He worked on energy efficiency plans, sludge disposal, even the treatment of swine manure.
Story continues after slideshow: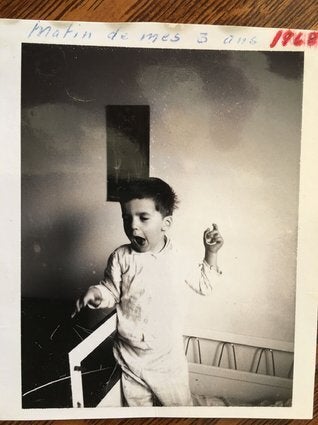 Steven Blaney: In Photos
Blaney was always interested in conservation. As a child, he was president of the local 4-H club that espoused the values of "honesty, abilities and humanity." Funded by the Quebec forestry association, the Scouts-like group focused on protecting the environment and fighting pollution. The kids recycled paper.
It was the 1970s, Blaney notes. People didn't talk about climate change but they were worried about people's consumption and the impact that had on the environment.
Perhaps it comes as no surprise then that Blaney might be Canada's first carbon-neutral MP. After his election in 2006, Blaney offset his emissions going back and forth to his riding by planting trees with Arbres Canada and later with La Forêt D'Arden, a local organization in his riding.
Blaney's first taste of politics actually came in 1993 when one of his friends ran for the Progressive Conservatives and he went to deliver the pamphlets in a predominantly Chinese neighbourhood. Five years later, Blaney unsuccessfully ran provincially as the candidate for the Action démocratique du Québec in Beauce-Nord. He liked the ADQ's position on the Constitution, its stance on fiscal responsibility, and the generational change it could bring, he said. He came in third.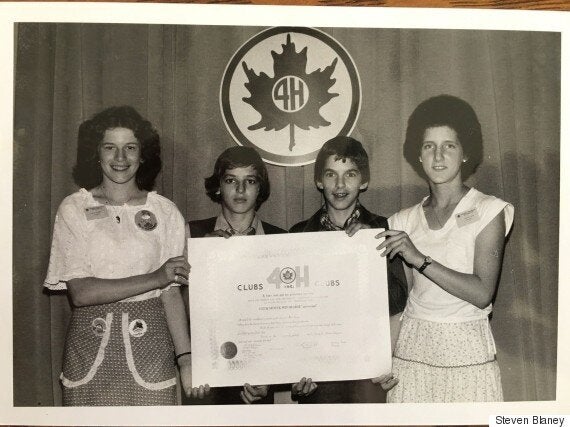 After that, Blaney shifted focus. It was obvious the ADQ was losing steam and he needed to concentrate on his family and his newly established business. "I wasn't born with a silver spoon in my mouth," he says. "I was fighting for my economic survival."
Times were tough. Things were tight. Blaney now speaks admiringly of entrepreneurs.
"You never know what's waiting for you ahead. Is there a contract? Is there no contract? And your fixed costs are there. You know I had opened an office, I had a few staff. You know I lived all that," he sighs.
"Ouf, I'm better in politics than I was in business. I'm not saying I wasn't good in business, but it's that whole side with insecurity, those people who have that entrepreneurial side, I think that really helps them overcome that, but I didn't have that. I came from a family that was entrepreneurial but who also pushed forward in an environment where there was a certain level of stability," he says.
In 2005, Blaney met Harper and things clicked. "I liked the man. I like his empathy." Harper spoke to him in French and asked about his Irish roots.
"I always felt he had a profound respect for Quebec society. That's something that made me very proud, extremely proud to serve him for 10 years. And proud of what we accomplished. I am the father of the anti-terrorism law in Canada," Blaney adds proudly. "We had to have a tough spine, even though mine is not very large, I don't have much excess weight, but you had to hold tough and now I'm very proud of that."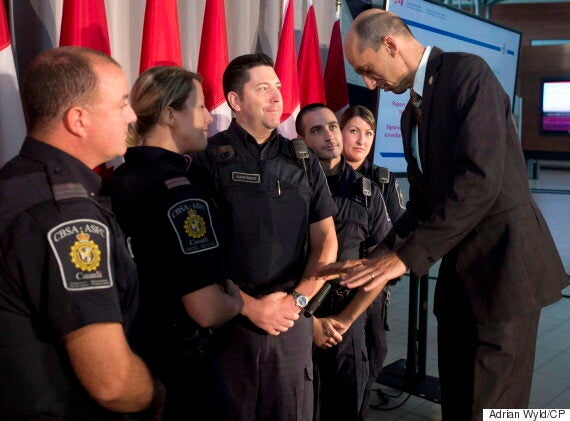 Blaney said he sleeps better at night knowing that he's helped give government authorities more tools to prevent terrorism.
Running for leadership of the Conservative party wasn't in his career plan, he admits.
"We all have ambitions but for 10 years I was dedicated at working for Canadians under the leadership of Stephen Harper. I wasn't focusing on what comes next." Still, he says, he feels ready to put himself out there and offer Canadians the opportunity to choose him.
"We cannot just run a country run on the economy. We need to be more encompassing and my deep feeling at this point in time is that Canadians, we are at a crossroad."
Blaney doesn't just want to be the guy defending supply management and speaking out for farmers, he wants to be seen as a defender of consumers from new taxes. He also has policies on other issues, on indigenous affairs, for example, the Quebec MP wants to dismantle reserves, which he believes contribute to domestic violence and prevent aboriginal Canadians from home ownership.
Blaney has slim chances of winning the contest, something he tacitly acknowledges — but he does cite former Quebec premier Robert Bourassa in pointing out that a month in politics is an eternity.
Blaney hopes his authenticity and confidence will attract supporters. "People are looking for that," he says. "I always think it's best to be honest with people that way you don't get caught up in your lies… When you start knitting with white lies, there is always one that sticks out and when you pull on it, the whole thing falls apart. In politics, all you have is your reputation."
"I have to say that I do need to convince people to vote for me. Do you have any advice?" he asks, laughing. I suggest he ask the server for her support. So Blaney does.
"Nicole, where do you live?" he asks her. "In Gatineau," she responds.
"Nicole, I'm running in the leadership of the Conservative Party," he says.
"Oh, my husband is going to love you," she answers. "He is a Conservative."
"Well, you see in Quebec there are two candidates who are running, myself and Maxime Bernier."
"Oh I didn't know Mr. Bernier was running," she responds, interest piqued.
"Well, that's good to know," Blaney says laughing, "but put him as your second choice."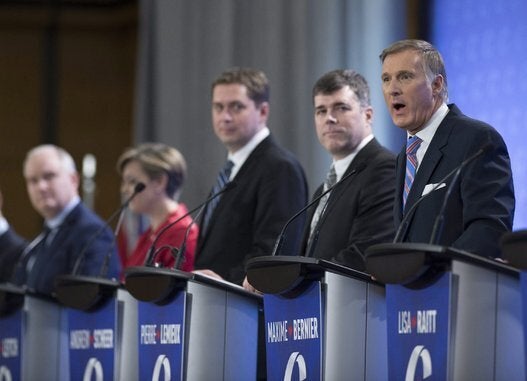 Conservative Leadership Candidates