The heat is on and off come the layers. The thermometer rises and down go the dress codes. Should it be that way?
Whether it is above 35 degrees Celsius, without the humidex, or below 35 degrees Celsius, with the windshield, foremost we dress for our client. He or she wants to look at us and see the three Cs; Confidence, Credibility and Coherence.
SLIDESHOW: WAYS TO BEAT THE HEAT
Here are 10 do's and don'ts to help you select work wear that displays professionalism, even on those sticky summer days.
Respect your company's summer dress code and stick to it. When in doubt, find out from HR. For example, are bermudas appropriate? It is better to ask than to have colleagues talking behind your back or being sent home to change.
Always consider your position and the company you represent before putting on a garment. When you hesitate, "Should I, shouldn't I?" remember that doubt generally means don't. This includes images or writings on tops. They should be in line with your employer's values. Avoid cute vacation sayings like "I'd rather be on the beach," even on casual Fridays. They may leave clients questioning your credibility and dedication to his account.
Ladies, validate hemlines and cleavage with the "Hand-high & Hand-low" rule. Place your thumb at the bottom of your neck. Let your hand gently drop. Where your pinkie ends is the deepest cleavage acceptable in the workplace. Place your pinkie at the top of your knee and let your hand drop. Where your thumb ends, is the shortest hem acceptable.
Cover your shoulders, even a bolero will do. The sleeveless Michelle Obama or Laureen Harper look is considered cocktail wear.
Keep a navy jacket at the office for all those last-minute meetings or activities with big boss or clients. It will professionalize any summer office look while taking the chill away from the air conditioning.
Beach wear: sundresses, shorts, cargos, bathing suits (I have seen visible bikini tops under blouses or dresses and board shorts), sunglasses (even if you are the next Lady Gaga) and flip flops. There are three sensory reasons not to wear flip flops in the workplace: 1) their noise is distracting, 2) the vision of toes could be considered too much information, especially the big one and 3) the smell of sweaty feet may pester the workplace after one comes back from a lunch walk in the sun.
Barbell wear: muscle shirts, lululemons, sweatpants or shirts, headbands, running shoes, ball caps and this one is for you gentlemen; white socks.
Bar wear: anything spandex, sparkly or transparent.
Boudoir wear: Victoria's Secret should remain a secret.
Go without Blush: According to the American Economic Review, women who wear subtle make-up earn 30 per cent more than women who go without.
To avoid being in a sticky summer attire situation, before you leave home do the "Mirror test." Stand in front of a full-length mirror and ask yourself: "If number one client calls me at 11:45 a.m. for an impromptu lunch, am I dressed appropriately?" If the answer is "Yes," turn around and off to work you go. If the answer is "No," turn around and back to your closet you go to pick clothing that will broadcast confidence, credibility and coherence for your client and colleagues.
Have a Sticky Situation yourself, write to julie@etiquettejulie.com and Julie will reply promptly. You can also ask your questions on her Facebook page.
For bottom:
FUNNIEST WAYS TO BEAT THE HEAT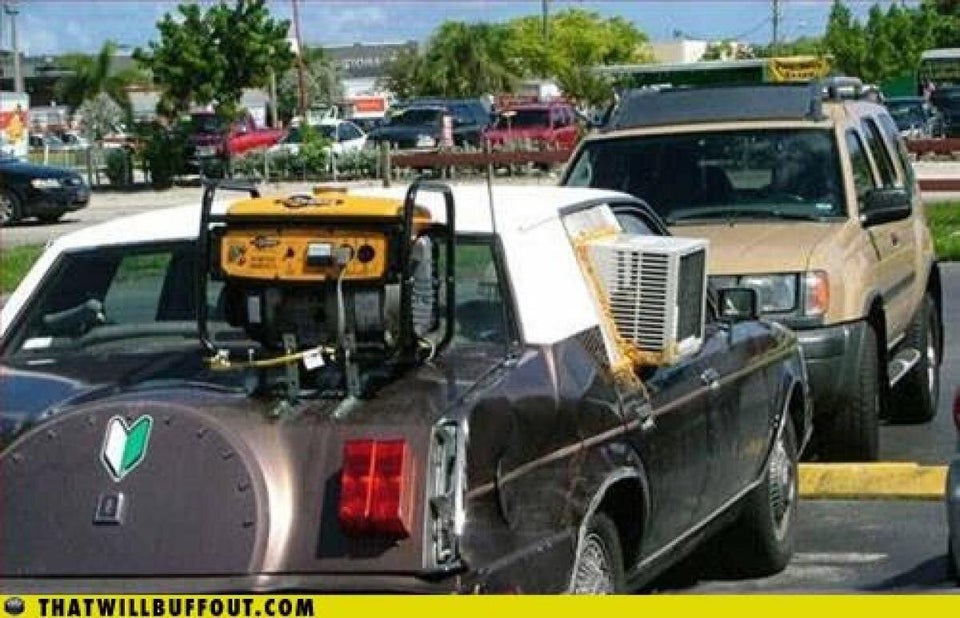 Funniest DIY Ways To Beat The Heat
Popular in the Community