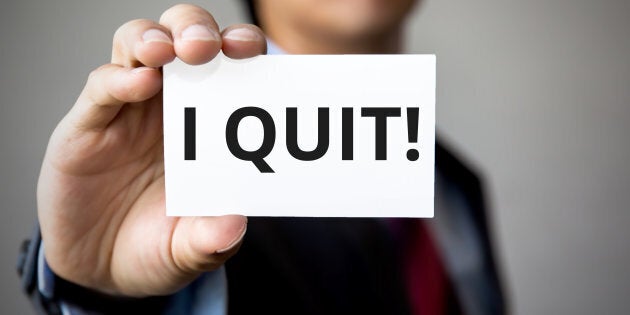 Canada's employers face a potential "workforce crisis" next year, as employees take advantage of a strong job market to leave their jobs in search of better pay and work conditions, a new report says.
And it's due to employers' own reluctance to improve wages and hire permanent workers, according to the report from recruitment agency Hays Canada.
Canada's job market is booming; the unemployment rate hit a decade low of 5.9 per cent in November, according to data released by Statistics Canada on Friday. Canada added 390,000 net new jobs over the past year, a 2.1-per-cent increase in employment.
But employers aren't reacting to this new reality, Hays says. They "appear to instead have an increasing appetite for hiring temporary and contract help while offering teams salary increases of less than 3 per cent," the company said in a statement.
Watch: The most in-demand jobs in Canada
Meanwhile, workers have more options, and they're beginning to realize it. Hays found that 90 per cent of employees are ready to leave their jobs for a better match.
"Anecdotally, I've not seen employees talk like that for a very very long time," Louisa Benedicto, a regional manager at Hays, told HuffPost Canada.
"It's an employee's market right now."
She noted that more than half of businesses surveyed by Hays — 52 per cent — were planning to raise wages by less than 3 per cent next year, a number Benedicto describes as "worrying for employers."
"When the economy and job markets are strong, employee tolerance for not getting what they expect drops considerably," Hays Canada president Rowan O'Grady said in a statement.
"All the warning signs are there and those who refuse to acknowledge this reality are taking their biggest risk in at least five years."
Benedicto suggests one reason that employers aren't stepping up with more full-time positions and better pay offers is Canada's "risk-averse, conservative" business environment; in other words, companies aren't willing to gamble on big hiring initiatives, in case things go sour.
A growing body of data shows a notable shift towards "precarious work" in Canada — temporary, part-time or contract work replacing permanent full-time jobs.
In the latest sign of this, census data released last week showed that fewer than half of Canadians aged 25 to 54 worked a full-time job through all of 2015, a significant decline from a decade earlier and the lowest rate in records going back to 1980.
A study from CIBC last year found "a slow but steady deterioration" in job quality in Canada. It found an increasing share of employees are finding work in jobs with below-average pay, while job with above-average pay are becoming increasingly rare.