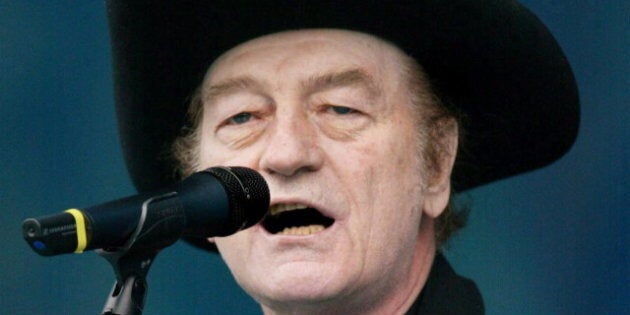 The girls are out to Bingo and the boys are gettin' stinko,
And we think no more of Inco on a Sudbury Saturday night.
The glasses they will tinkle when our eyes begin to twinkle,
And we'll think no more of Inco on a Sudbury Saturday night.
Sudbury, Ontario -- There are things every Canadian should have on his or her "to do" list.
Visiting Sudbury, Ontario on a Saturday night has to be on your list, too. It just has to be. And it has to be Sudbury. And yes, it has to be on a Saturday. Why? Because Canadian music legend Stompin' Tom Connors said so. And even though Stopmin' Tom is no longer with us, visiting Sudbury on a Saturday night is still one of those things you just have to cross off your list.
Born in Saint John, New Brunswick, Connors' youngest years were spent living hand-to-mouth with his mother, until he was taken from her and placed in the care of social services.
BLOG CONTINUES AFTER SLIDESHOW
According to his website, "money was a scarcity for Tom during this period in the 1950s and early 1960s; it may also have been his big break when he found himself a nickel short of a beer at the Maple Leaf Hotel in Timmins, Ontario. The bartender, Gaet Lepine, agreed to give Tom a beer if he would play a few songs. These few songs turned into a 13-month contract to play at the hotel, a weekly spot on the CKGB radio station in Timmins, eight 45-RPM recordings, and the end of the beginning for Tom Connors."
Originally released on Connors' 1967 debut album The Northlands' Own Tom Connors, "Sudbury Saturday Night" is just one of those songs many people know, whether they've been near Sudbury or not.
I begin my quest to take "Visit Sudbury on a Saturday night" off my "to do" list on a quiet Friday afternoon at Larch and Durham Street, just two blocks southeast of the market. It's a quiet street, with only a few cars driving past and a handful of people going about their business on the sidewalk.
Sudbury's only artisan bakery, La Boulangerie Du Village, lives at this corner. It's a great place to have a coffee with a bounini ($3.99) for breakfast, featuring an egg omelette with ham, bacon or salsa topped with cheese and served on freshly baked focaccia. Or if you've slept in and missed breakfast, a big tuna croissant ($7.25).
This establishment also has a bed and breakfast on the second floor with a great view of the corner, but almost seems out of place in this part of the city. Across the street from La Boulangerie is SRO Nightclub, short for "Standing Room Only." On the other corner is The Night Club, featuring a stage that hosts many different local and cover bands with live music every weekend.
As the sun goes down things are still pretty quiet, but by 9:30 p.m. it begins to pick up. Young women who are either visiting the city or students at Laurentian University are dressed to kill in tight pants and high skirts as they begin to hit the local restaurants. The boys aren't really "Stinko" yet but a few are well on their way.
Don't Party On an Empty Stomach
There are great places in Sudbury to get a meal before the action begins. Consider Respect Is Burning (82 Durham Street, 705-675-5777) if you love Italian food, just down the street from the main club area. The menu has many choices to help get your evening off to a good start. Try the Prosciutto and Pesto Flatbreads ($11.99) and the Penne with Mushrooms as a main course ($15.99). They also have a wide choice of pizzas.
Another choice is The Laughing Buddha (194 Elgin st, 705-673-2112). Not quite as formal as Respect but really welcoming and fun, especially with its energetic patio. Share a few drinks and some unique tasty dishes. Try the Brie LT ($8.99) or the Ernie Coombs ($8.59).
At 10:57 p.m., the evening begins. There's already a lineup at SRO, a common site on weekends. Our first stop is at Peddler's Pub (63 Cedar Street, 705-669-1075). The website proudly proclaims "Live Entertainment Every Thursday, Friday and Saturday at 10 p.m. All you can eat wings everyday after 5 pm ($15.95), and ribs and wings ($14.95) all day long."
Bill Cosby! Can I Have Your Autograph?
The place is more sports bar than pub, with at least 20 flat-screen TVs showing sporting events. On one of the screens, the LA Galaxy is leading the Vancouver Whitecaps 2-0 in an MLS soccer game but nobody in the bar really seems to be watching as they share laughs and drinks with their friends.
The band Elmer Jackson and The Zone will soon be coming on, so the stage is empty at the moment. But not the dance floor, where one poor uncoordinated soul keeps the establishment shocked and amused with a Pee Wee Herman/Bill Cosby/Steve Urkel dance combination that would surely make Stompin' Tom shake his head in disbelief. Inexplicably, not one woman in the bar wants to dance with him.
Go to Vacay.ca to read the rest of "Sudbury on a Saturday night."
Story by Rod Charles Vacay.ca Deputy Editor