When it comes to sexual violence, people with disabilities are often the most vulnerable. Research shows that women with disabilities are three times as likely to be forced into sexual activity (Vecova).
But where are the stories of sexual violence survivors with disabilities?
femifesto spoke with two gender-based violence activists, Jess Reuger and Marianne Park, to get to the root of the issue.
Jess Rueger is a community mobilizer dedicated to ending gender-based violence. Jess began her work with the Centre for Research and Education on Violence Against Women and Children, and then obtained a degree in Sociology at Brescia University College. As a queer person with a disability, Jess recognizes the need for an intersectional lens when confronting sexual violence and barriers to access. Jess is now locally organizing with London Ontario's own Women's Events Committee, creating safer and more accessible spaces for women and trans folks.
Marianne M. Park has the distinction of being a woman with a disability (low vision/albinism). She has worked in the violence against women field for 28 years as a court advocate, group facilitate and researcher. She is the founder of the UPI.
Interviewer: What are the challenges you have seen in mainstream media reporting on sexual violence enacted against people with disabilities?
Marianne: "I would like it to be acknowledged that it actually happens to us... People with disabilities in general, but particularly women with disabilities, are 'othered' so much. With the anonymity of the Internet, there's that 'otherness' that impacts us even more. On one hand, technology gives us a forum and a voice, but on the other hand, it marginalizes."
Jess: "What needs to change is for people with disabilities to be acknowledged as human in the first place."
Marianne: "There's also the legacy of residential schools and the legacy of institutionalization. For particularly women with developmental and intellectual disabilities, institutions cast a long shadow, and what was normalized and accepted in that format, we know now is abuse, and we know it was wrong."
Interviewer: How have seen people with disabilities creating consent culture?
Jess: "I watched a documentary on a woman with a physical disability who was an activist advocating for sexual rights of people with disabilities. She went around wearing a T-shirt with a slogan saying 'I am a sexual being.' It was radical because the media infantilizes people with disabilities... She challenged the stereotype of... being un-sexual by wearing that T-shirt. She got negative feedback in the form of disgust; that reaction was evidence of her statement's power, because it challenges the idea of people with disabilities not having agency. Her activist work illuminated her agency and put her in a position of being able to consent to sexual activity, which is something we don't normally acknowledge... People with disabilities have desires and are capable of having desire, and having healthy sexual lives."
Marianne: "People still don't want to acknowledge [disability]. People want to give you the compliment of saying 'I just think he was normal.' 'Normal' is nothing more than a dryer setting and also denying who we are. I know my albinism and my low vision, particularly my albinism, is just part of me. Is it inconvenient at times? Most definitely, but I would not change it. Yet, temporarily-abled people have the idea that we want to be like them, that we want to be 'normal'."
Interviewer: Often survivors are portrayed as white, straight, cisgender, able-bodied women. How can the media avoid minimizing stories about sexual violence against survivors that no not fit this description?
Marianne: "Often [when we are] depicted in media, it is centered around our disabilities, rather than our joys, frustrations, disappointments, grief, love, hate, which is the same as all people. On one hand, it's minimizing, particularly around sexual abuse not being acknowledged. On the other hand, [coverage of sexual violence] is sensationalized, like 'they must be a monster because why would they do that to a woman with a disability.'"
Jess: "I think our focus on disability still needs [to be to] give it visibility. I don't think that there is an excuse for keeping disability invisible. It's not just the characteristics you've described above: the person who's seen as a perfect victim is also virtuous, has a boyfriend and that's the only person she's ever had sex with, has good marks, and is a contributing member of society because she is not limited by disabilities or other debilitating factors. We can challenge this stereotype by [not] painting the perfect victim every time."
Marianne: "For anyone to disclose, there are so many barriers, but for those of us with disabilities, they are incredible... Even if you go through sexual assault centres. My sexual assault centre has not done the work on working with women with disabilities and women who are deaf. They take a cookie cutter approach... At every turn, road blocks are placed in our way to disclosing."
Interviewer: There's been a swell in media coverage of rape culture in recent months. What conversations are you glad to see happening, and what do we still need to address?
Jess: "I'm seeing more awareness about reducing barriers for people with disabilities. One of those barriers was a lack of training for police, but these days police are getting more training, and some of that training is coming from Marianne. On social media, people with disabilities [are] being included in the conversation about street harassment and having their voices heard."
Marianne: "I'm glad to see some things are changing. I can be a bit jaded and say they're not changed, but I want to be part of that change. And even if I don't see that change in my lifetime, then young women such as yourself and Jess, I'm hoping you'll be the beneficiaries of seeing that change and push it further down the road."
This blog is part of a series of interviews femifesto is publishing on media reporting and sexual violence in diverse communities across Canada.
Follow HuffPost Canada Blogs on Facebook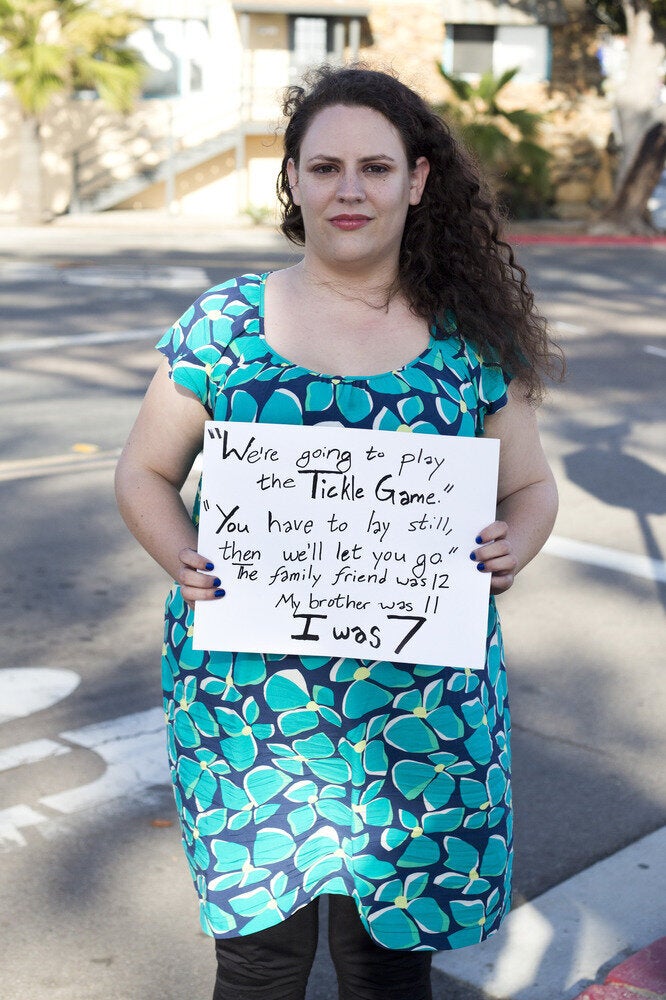 40 Powerful Images Of Surviving Sexual Assault