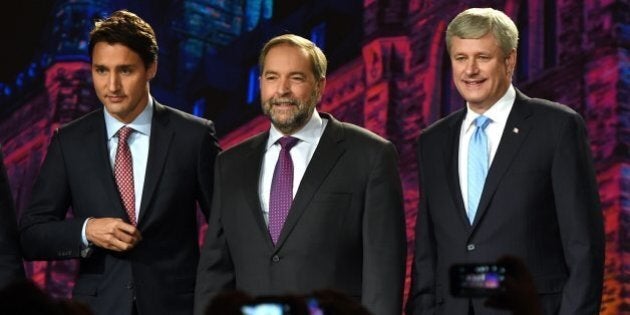 For many people, their vote will likely not make any difference on Oct. 19.
Because of how our system works, there are many electoral districts where some candidates have no realistic chance of winning. Even worse, in many instances, vote splitting could occur that would allow one candidate to win despite there being a large majority of voters who favoured other candidates.
Situations also occur in which some voters would rather vote against one candidate rather than for another one. For instance, a recent poll by Léger found that as much as 31 per cent of voters were voting against a candidate. Specifically for this election, there are many voters who simply want to vote against Stephen Harper and the Conservatives (the so-called ABC movement).
For all these reasons (and more), some people consider voting strategically. This means not voting for their top choice but for another candidate they consider more likely to win.
Voting strategically is, however, difficult and uncertain. You can never be completely sure that it will work. Not only do you need to know the current voting intentions in your riding (this is the part where we can help, with our projections), it also requires many other people to do the same thing as you. The latter part requires a level of coordination that makes the effectiveness of strategic voting doubtful. There are, however, resources dedicated to helping this cause, such as Strategic Voting 2015 or Vote Swap.
We should also mention that, beyond the low likelihood of success of voting strategically, we don't necessarily think people should do it. This article therefore shouldn't be seen as an endorsement of this practice. We understand the desire for doing it, as our electoral system is indeed frustrating at times, but remember that voting is about more than picking the winner.
Ridings where strategic voting might have potential
So, when could voting strategically work? We need to establish some parameters. We'll look at ridings where there is a race between two or more candidates — a riding where the winner is projected to take more than 50 per cent of the vote is obviously not a candidate for strategic voting.
A close race is defined, for the purpose of this guide, as a riding where the winner has less than an 80 per cent chance of winning, while the closer candidate is at least at 20-25 per cent. In term of voting intentions, this usually means races where the gap is five points or less. As stated before, the level of coordination required for strategic voting to be effective means that we should restrict our analysis to a small set of ridings. Strategic voting won't prevent a victory by a candidate leading by 20 points.
We also list a riding as being worth voting strategically only for voters whose favoured party has either no or a very small chance of winning. A riding with a tight three-way race doesn't qualify. In these situations, even if your favourite candidate is currently third, you should vote according to your top choice. We are talking here of having way less than a five per cent chance.
Additionally, we consider a riding only if there are enough potential voters who could vote strategically. For instance, a riding where the Liberal candidate is at 40 per cent, the Conservative at 35 per cent and the NDP at five doesn't qualify — you'd literally need every NDP voter to vote strategically. This is a fraction way too high to be realistic.
Finally, it's important to note that we aren't looking to change the composition of the House of Commons in any systematic way. Specifically, we aren't simply looking at situations where Liberals and NDP voters could coordinate to defeat a Conservative one.
Story continues after slideshow: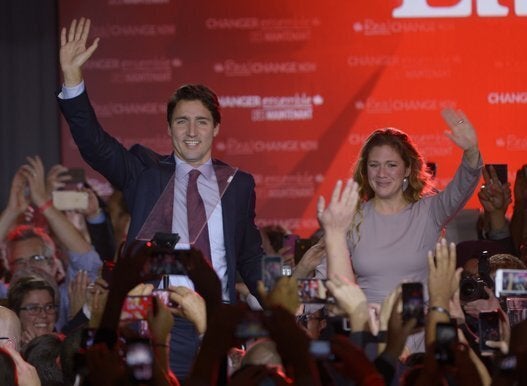 In Photos: Canada Election 2015
Our mission is simply to show ridings where voters of some parties might choose differently if they want their votes to make a difference. This means, for instance, that we list ridings where Tory voters might want to consider making a choice between the NDP and Liberals. Similarly, we could imagine NDP voters wanting to help the Conservative candidate in a close race with the Liberals. In other words, we allow for every possibility.
We won't talk specifically about Green supporters, since their party has a chance in only a couple of ridings. It's therefore implicit that they are among the voters who could have an incentive to vote strategically. Moreover, the projections usually don't place the Green candidate high enough to meet our requirement about having enough potential voters to be able to change the outcome.
Here is the complete list of ridings for each party's voters. For Quebec ridings, we indicated the parties in the race. In the rest of Canada, it's obviously between the other two main parties.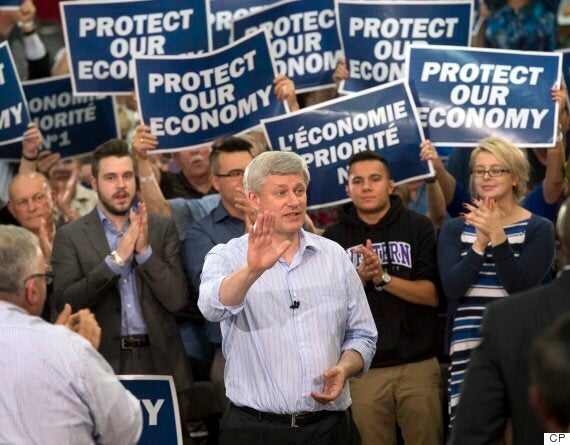 Stephen Harper waves to supporters at a campaign rally, Sunday, September 20, 2015 in Windsor, Ont. Ryan Remiorz/The Canadian Press
Newfoundland and Labrador
St. John's South–Mount Pearl
South Shore–St. Margarets
Ahuntsic-Cartierville, NDP vs. LPC
Dorval–Lachine–LaSalle, NDP vs. LPC
Gaspésie–Les Îles-de-la-Madeleine. One of the few four-way races. However, the Conservatives appear to be last.
Ville-Marie–Le Sud-Ouest–Île-des-Sœurs, NDP vs. LPC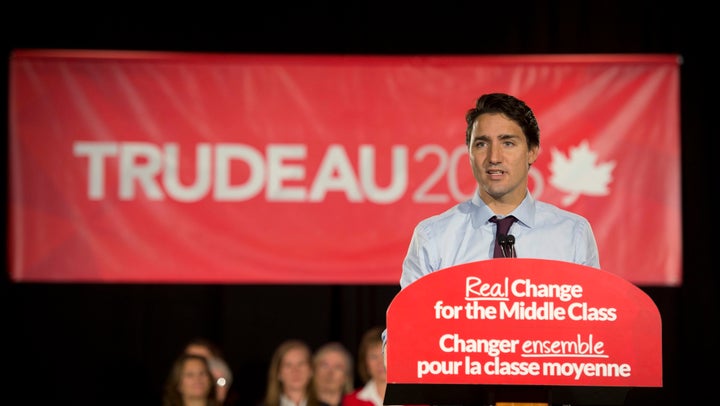 Justin Trudeau speaks to supporters during a campaign event in Toronto, Monday September 21, 2015. Adrian Wyld/The Canadian Press
Bécancour–Nicolet–Saurel, NDP vs. Bloc
Lévis–Lotbinière, CPC vs. NDP
Louis-Saint-Laurent. Riding of former CAQ (and ADQ) MLA Gérard Deltell against NDP candidate G. Daniel Caron
Montmagny–L'Islet–Kamouraska–Rivière-du-Loup, CPC vs. NDP
Kamloops–Thompson–Cariboo
Mission–Matsqui–Fraser Canyon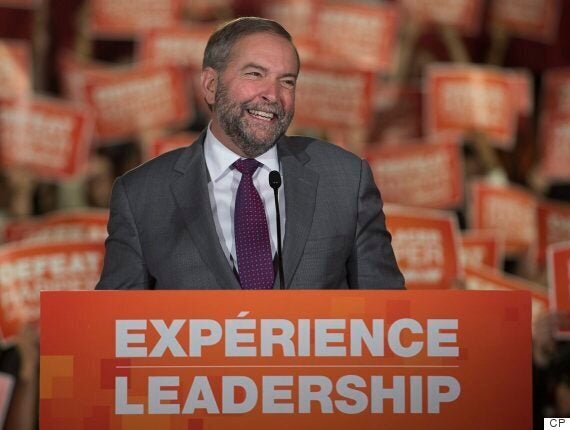 Tom Mulcair laughs on stage at a campaign rally in St. John's, N.L., on Sunday, Sept. 20, 2015. Andrew Vaughan/The Canadian Press
Aurora–Oak Ridges–Richmond Hill
Glengarry–Prescott–Russell
Oakville North–Burlington
Charleswood–St. James–Assiniboia–Headingley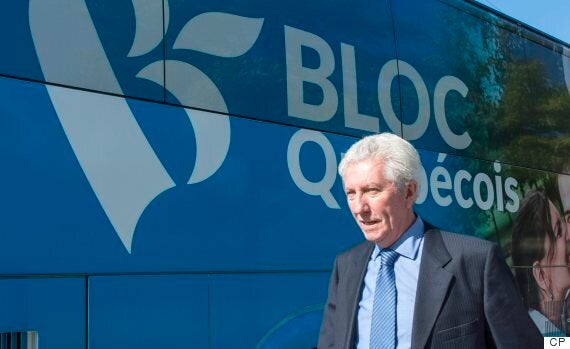 Bloc Quebecois leader Gilles Duceppe in Montreal on Wednesday, September 16, 2015. Paul Chiasson/The Canadian Press
Ahuntsic-Cartierville, NDP vs. LPC
Montmagny–L'Islet–Kamouraska–Rivière-du-Loup, CPC vs. NDP
Papineau, LPC vs. NDP. This one is controversial.
In Justin Trudeau's riding, two polls have recently shown the Liberal leader to actually be in danger. In one of the two polls, commissioned by the NDP, he was even trailing NDP candidate Anne Lagacé Dawson by 11 points.
While we don't believe this poll to be correct, the fact that a second poll from Mainstreet Research showed Trudeau barely ahead means that we at least have to mention this riding. Our projections have Trudeau easily ahead, but if it is indeed a race, then Bloc voters may want to switch away from Maxime Claveau and potentially defeat the Liberal leader.
Ville-Marie–Le Sud-Ouest–Île-des-Sœurs, NDP vs. LPC
As we can see, there are a limited number of ridings where voting strategically has some potential. Excluding the Bloc Québécois, we are talking of between 12 and 15 ridings per party. As mentioned above, even if you vote in one of them and your current choice is projected to have no chance, remember that you don't have to vote strategically.
It's our opinion that voters shouldn't have to compensate for the effects of an imperfect electoral system. Also, this calculation is based on projections and, despite our best efforts, they are never perfect. If, however, you do indeed want to vote strategically, we hope this guide will be useful to you.

Bryan Breguet has a B.Sc in economics of politics and a M.Sc in economics from the University of Montreal. He founded TooCloseToCall.ca in 2010 where he provides electoral analysis and projections. He has collaborated with the National Post, Journal de Montreal and l'Actualité.
He will provide analysis and updates for The Huffington Post Canada throughout the federal election campaign. For riding by riding projections, visit his interactive simulator.
Popular in the Community