Not yet of voting age, I watched the 2015 federal election from the sidelines. Canadians 18 to 24 — many of them new voters, not much older than I was — went to the polls to form a decisive voting block critical to winning Liberal Leader Justin Trudeau a majority government. Young as they were, their votes seemed to have meaning and weight. It made me excited to think that I, too, would be able to cast my vote for the first time when the next federal election came around.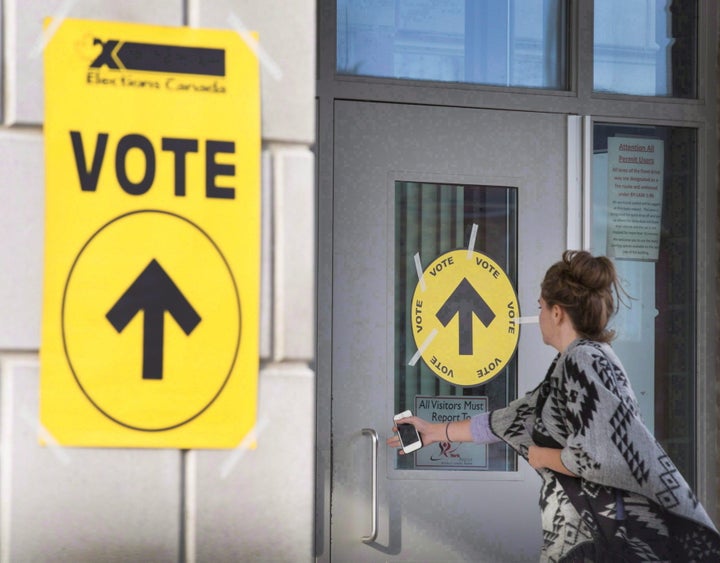 But things weren't as simple as they seemed back then, when the idea of democracy seemed to be "vote for who you want." What I didn't know was that strategic voting took over the 2015 election, leaving voters with a stark choice between the Liberal and Conservative Parties — whichever of the top-polling "lesser evils" could keep the other out of power. With a record number of young voters turning out, many millennial and Gen Z voters had their first voting experiences shaped by the lack of a meaningful choice.
Now, as the race tightens between the Liberals and Conservatives in the current federal election, and the discussion once more turns to strategic voting, it makes me wonder how I should cast my first-ever vote.
It's easy to feel like a vote for a party outside of the Liberal-Conservative dichotomy is wasted. The Liberals and Conservatives, with their significant, head-to-head lead in the polls, have the highest probability of forming a majority and drawing the most votes. For progressive voters, it seems each vote for a left-leaning party other than the Liberals puts the Conservatives one vote ahead; likewise, a vote spent on a right-leaning party other than the Conservatives could improve Liberal Leader Trudeau's chances.
Looking at the two parties' respective track records and promises, and thinking about voting for one or the other on election day, the question for me is: do I have to? I feel torn between voting for who I think can best lead Canada and voting simply to keep the most racist person out of power.
"Strategic voting is the absence of a real choice."
I am the daughter of immigrant parents in a racialized community. I feel an obligation to consider how my vote will affect those around me. A party's relationship with minority communities, its ability to help the working class, and its stance on immigration policies are important to me. It's more than my own personal connection to these groups and issues; it's also about acknowledging that parties need to work for more than just the elite.
I grew up with working-class families who couldn't afford dental care, like costly braces, and medication that can be unaffordable without insurance coverage. I want a party with policies that makes these challenges its priorities. Sure, if I am forced to vote for a party that will keep the wrong party out of power in order to safeguard these communities, well, that's still a win. But strategic voting is the absence of a real choice.
Unfortunately, I feel as though my priorities will fall second. I've spent a great deal of time thinking about how my vote should go to ensure the country doesn't go haywire — probably more time than on which party truly deserves my vote. This election season, I'm left wondering: why am I voting to prevent, rather than to gain?
Have a personal story you'd like to share on HuffPost Canada? You can find more information here on how to pitch and contact us.