If you haven't mastered the technique of contouring, don't fret! You can finally put down that complicated sculpting palette, because there's a new much simpler trend taking the spotlight -- strobing.
Contouring, made popular by the likes of Kim Kardashian, involves using light and dark shades to create the illusion of more defined facial features, such as chiseled cheekbones. Strobing, as the name suggests, is all about using light, and light alone, to highlight your natural features, create definition and establish a dewy glowing complexion.
"It's about using reflection on high planes and points of the face that catch the light to create spotlit areas," Alex Box, creative director of Illamasqua, explained to the London Evening Standard. "It's a much more forgiving way to bring focus and shape to the face."
The strobing technique is already popular among women in France, who prefer the more natural look to heavy contouring. And now strobing is taking off with individuals sharing their new luminous complexions over social media.
While strobing requires far less makeup than contouring (making it perfect for the steamy summer weather), it's still more complicated than simply adding a few highlights to your face. Here's what you'll need:
1. Start off by cleansing and moisturizing your skin. A clear, smooth and glowing complexion is key for pulling off this lightweight look.
2. Create a smooth base using a foundation primer, such as Luminous Foundation Primer by Sephora ($11).
3. Apply a lightweight illuminating foundation to establish an even canvas. Try Yves Saint Laurent Le Teint Touche Éclat Illuminating Foundation with SPF 19 ($62)
4. Use a highlighter on areas where the light falls on the face, such as the cheekbones, between the eyebrows and along the bridge of the nose. Try Benefit Cosmetics High Beam ($32) or MAC's Strobe Creme ($33), which you can find out how to apply here.
5. Complete the look with a translucent setting powder, such as Light Reflecting Loose Setting Powder by NARS ($42).
6. Keep the rest of your makeup to a minimum with a light swipe of mascara, a pale gloss and a full brow.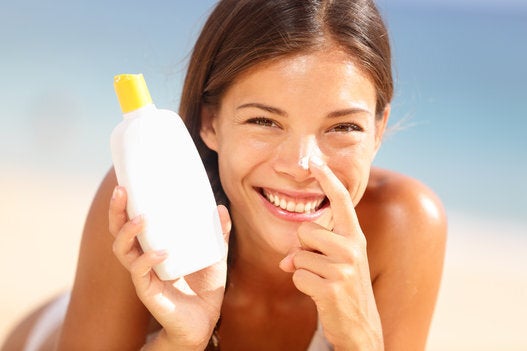 14 Tips For Glowing Skin
Popular in the Community