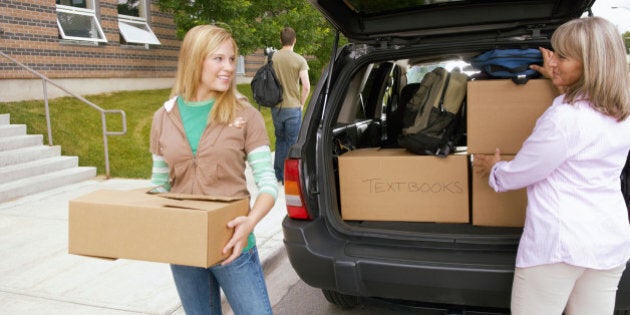 Attention class -- student housing may just be the next big investment opportunity.
University and college enrolment is booming across Canada, and post-secondary institutions are scrambling to keep up by expanding existing buildings and opening new satellite campuses.
The federal government is doing its part, too, having committed in Budget 2016 to provide up to $2 billion over three years. Beginning in 2016-17, the new Post-Secondary Institutions Strategic Investment Fund will modernize infrastructure at post-secondary institutions and affiliated research and commercialization organizations.
Budget 2016 also included other measures to aid students, including a 50-per-cent increase to the Canada Student Grant amounts, for students from low- and middle-income families; and an increase to loan repayment regulations, allowing students to delay repaying their Canada Student Loan until they are earning at least $25,000 per year.
Bottom line? Ottawa is making it easier for Canadians to get and pay for a post-secondary education. This is no small gesture, given that the average annual university undergrad tuition is about $6,000, and students typically graduate with an average debt approaching $30,000.
The challenge is that the scholastic expansion doesn't necessarily extend to student residences, which creates a need in the rental market -- and thus an opportunity for investors.
That last part is nothing new. Experienced investors have long known this demand, buying single-family and multi-unit properties and converting them to student housing. And over the last several years, places such as Kitchener-Waterloo (home to University of Waterloo, Wilfrid Laurier University and Conestoga College) are booming with student apartments built by private investors.
But now big-time developers are stepping into the category, offering well located and affordable condo options aimed at students, and those looking to buy units to rent out to students. It also opens the door to new investors with little or no experience.
The Greater Toronto Area, in particular, has seen a spate of condo projects marketed to investors for student housing, some even providing built-in property management.
"Condo projects located near university and college campuses were among the best-selling condos in the country over the last year, and many of my investor clients took advantage of these opportunities," says Andrew la Fleur, a condo specialist realtor in Toronto with ReMax.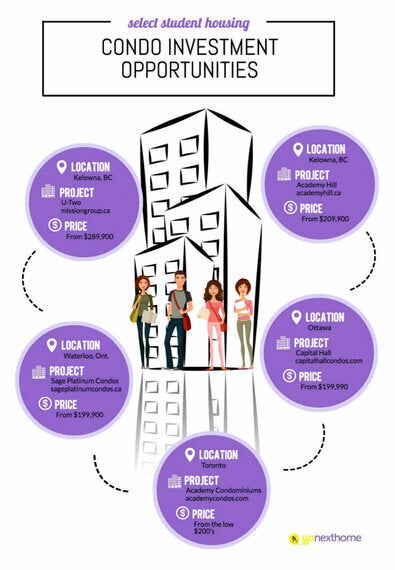 How To Spot A Student Housing Investment Condo Opportunity
Growth: Expanding post-secondary institutions with significant enrolment growth
Community: More post-secondary institutions in area leads to a bigger pool of renters
Residences: Schools that are new or expanding but not building new student residences
Economic fundamentals: Complementing economic fundamentals in the city or town are conducive to growing resale value
Location: Proximity to school, inter-city transit, food and entertainment and transportation to major cities
Amenities: Keep them basic -- students need decent, clean, affordable and close accommodations; bells and whistles not necessary
"It's a myth that students make for bad tenants," la Fleur says. "They make for high turnover tenant. But are they bad tenants? No. In fact, they often make for better tenants because mom and dad pay the bills every month and they generally take instruction very well compared to regular tenants."
And just because a condo is low in price and located near a university or college -- or is being marketed as student housing -- doesn't necessarily mean it's a good investment. Positive cash flow (renting out for more than your mortgage carrying costs and other expenses) and location in a growing area on the upswing are key to resale potential in future.
Better cash flow -- usually -- than typical condos
Hands-free management -- if you contract property management
Rental guarantees -- for two or three years while students complete their programs and the units often include furniture
Higher tenant turnover
Higher maintenance costs at tenant turnover
Smaller resale market for than regular condos
Insurance: Get several quotes and always be upfront and clear that your unit is being used for student housing. Failure to do so, in the event of an issue, could result in claim denial -- or worse, lawsuit. Students should also have their own contents insurance
Avoiding party central: Finding and screening tenants is key -- and once moved in, be "around" but not overbearing. Respect their space and treat them as business partners.
Top Five Things To Look For With Student Condos
1. Developer track record: What have the developer built before? Many entering this space have never built a multi-residential building before. Buyer beware when purchasing from a builder with no experience in this space.
2. Property management track record: As with the developer, just as important -- maybe even more -- is the property manager who will be managing the building and your unit after completion. You really want to invest with an expert in this space. Managing student rentals is a specialized skill.
3. Local market: The local market (size and population of nearby college and university campuses) has to be large enough to support a building with several hundred beds. and the enrolment has to have an upward trend in growth. thankfully this is the case in most university and college towns across Canada.
4. Location: The location of the building has to be a 10-minute commute or less to campus. any more and demand from students really starts to drop off. the shorter the commute, the better.
5. Return on investment: The whole point of investing in a student condo rather than a regular condo is the ongoing ROI and cash flow from the asset. if you are not getting a significantly higher return than you would on a regular condo, then you might as well stick to a regular condo because the management is much simpler. However, with the right professional property management and rental income, you can do very well with a student condo.
Follow HuffPost Canada Blogs on Facebook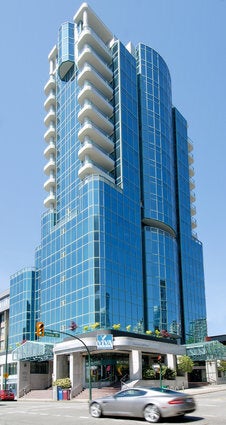 Vancouver Hotel Into Student Housing