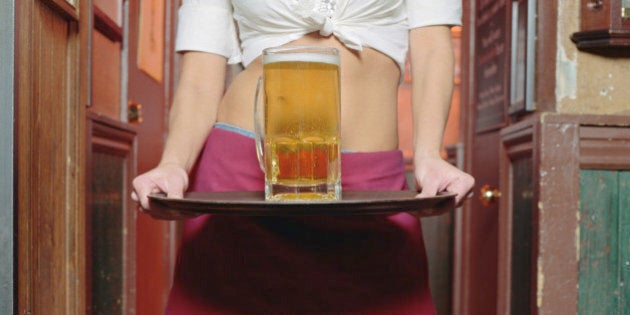 Fed up with sexism in Edmonton's restaurant scene, four University of Alberta students are taking it upon themselves to call out the most offensive establishments.
The Women's Studies students have created F.E.D. U.P. YEG — Feminist Eatery Database Undercover Project — a website where people can anonymously submit reviews of local eateries, ultimately creating a database to identify sexist behaviour in the industry.
"It's something we all tend to acknowledge like, 'Ya, the serving industry is sexist — whatever,'" Tempo Sabatier told CBC's Portia Clark.
Women in the class were sharing "horrible" stories about thing that had happened to them while working as servers.
"When I was training for a management position at [a popular kitchen + bar], these were the words of wisdom from the male GM doing my training, regarding hiring front of house staff: 'If you wouldn't f--- them, don't hire them,'" reads one of a dozen anonymous personal testimonies posted to the site.
Patrons are also invited to fill out an interactive survey that asks about an establishment's dress code, racial diversity, and any sexualized images on display, among other questions.
"This database will doubtlessly aid you in choosing where to take your business," reads the website's mission statement, adding that the project aims to highlight prominent issues regarding sex, gender, and race throughout the industry.
Listen to Sabatier explain the project in further detail to the CBC: