A pair of Dalhousie University students made the most of an encounter with Prime Minister Justin Trudeau this week by pressing him to implement the United Nations Declaration on the Rights of Indigenous Peoples (UNDRIP).
Trudeau is currently on a cross-country tour, chatting with Canadians in town hall meetings and at coffee shops. On Monday, Trudeau swung by Java Blend Coffee Roasters in Halifax where Alex Ayton and Kathleen Olds, both 19, asked him for a selfie.
The students belong to Divest Dal, an environmental group campaigning to have their school pull it investments in the world's top 200 fossil fuel companies.
"Are you planning on implementing UNDRIP?" Olds asked the prime minister.
"Absolutely, yes," Trudeau replied. "For sure."
"Does that mean requiring consent for natural resource projects?" Ayton asked, in a clip posted to the group's Facebook page.
"Absolutely. We need to engage with a broad range of voices and as we've seen, the indigenous communities have positions on both sides of just about every different project," Trudeau replied.
Ayton told The Huffington Post Canada on Tuesday that the pair wanted to challenge Trudeau on "one of the promises that he has broken."
George Smith, the NDP's director of media relations, also helped draw attention to the exchange.
The declaration notes indigenous peoples have a right to self-determination, and to the territories and natural resources they traditionally owned or occupied.
Canada joined Australia, New Zealand, and the United States in voting against the declaration 10 years ago because of concerns about language addressing resources and land. Canada was the only nation to file its objections against the landmark document in 2014.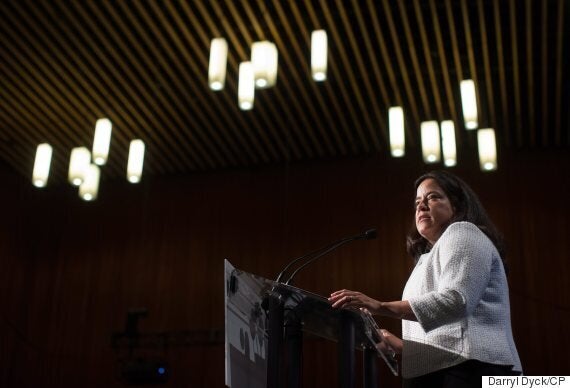 Wilson-Raybould told First Nations leaders in September "the hard and sometimes painful truth is that many of our current realities do not align with the standards of the United Nations declaration, and as such they must be systemically and coherently dismantled."
'A little bit sad' about PM's response
In an interview with HuffPost, Ayton suggested the federal government's approval of the Kinder Morgan pipeline expansion project clashed with both its commitment to fighting climate change and fostering a new relationship with First Nations. Only 39 of the 120 aboriginal groups consulted on the project by Kinder Morgan have given their support, Ayton noted.
She did not think much of Trudeau's response.
"We thought it was really funny, for one. And then, after thinking about it, it was also a little bit sad," she said, adding the prime minister opted for a "scripted" response instead of a candid discussion.
"We want him to stick to his promises."
Ayton admits she had some nerves in the moment, but suggested the exchange shows young people are paying attention to politics, too.
"We want him to stick to his promises," she said. "And we are active and engaged."
"We have to listen to the First Nation community," Ayton said. "They've been on this land longer than we have."
With files from The Canadian Press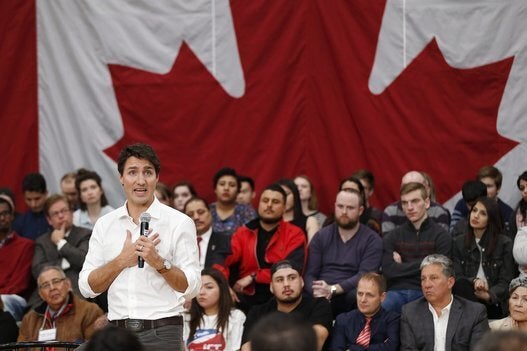 Trudeau's Cross-Country Tour 2017